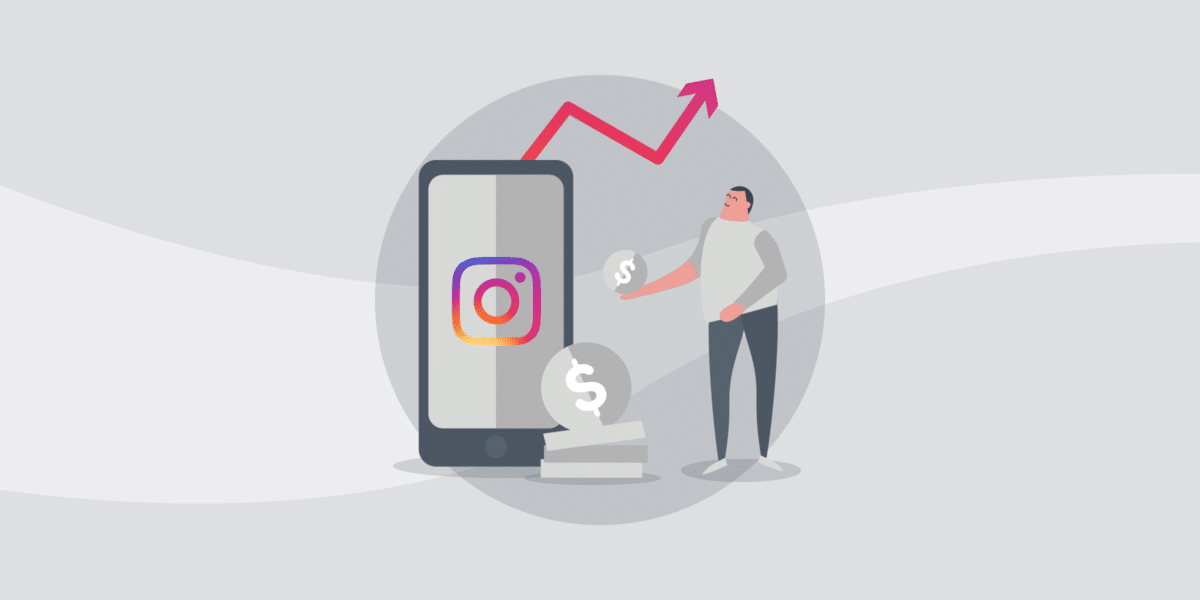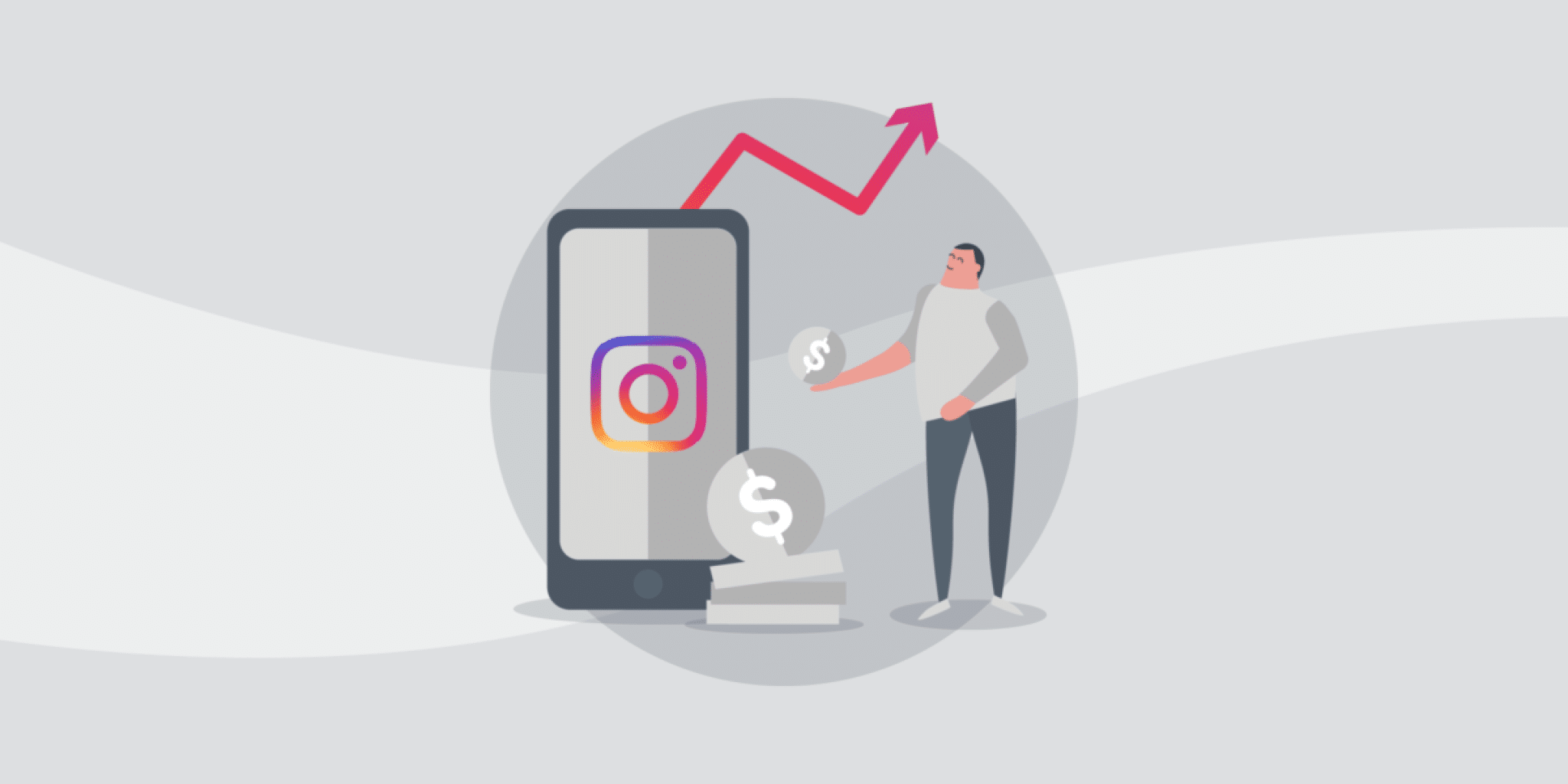 Now Instagram becomes one of the best Traffic sources for the mobile! So lots of Instagram bots coming to the market, we discussed the Instagram bots before, And it does not easy to hand Multiple IG accounts for the beginner, For the IG bots must be used with fresh proxies and Set up those Bots are really taking time!

To help some guys who do not want to take time to set up the IG automation by yourself, Here we recommend you use the Instagram Growth Services that are still working in 2023!
Instagress was one of the most used and famous Instagram growth services on the internet. But Unfortunately, it was shut down a while ago for Instagram restricted their API to Instagress, We all know that IG always fights with those automation services and tools!
It's should not strange! Not just Instagress, Mass Planner, Instaplus and more have shut down for breaking Instagram's TOS. Instagram marketers everywhere are crying out loud and are looking for different Instagram growth alternatives on Dr. Google.
So I thought it would be wise to lay out some of the other options for Instagress. If you loved Instagress, you'd like these as well. So here is the list of Top 10 Alternatives of Instagress that you should use.
---
Compare & Review: 10 Best Instagram Growth Service 2023
---
I start off the list with one of the most commonly used Instagram bots on the internet today, Ingramer. Founded around seven years ago, the company has been working hard on providing decent services for individuals or companies looking to grow their Instagram profiles.
As you would expect to form a service like this one, Ingramer is full of features that will aid in the growth of an Instagram account. On their website, they outline 21 features that the service offers, including post scheduling, automatic likes, follows and unfollows, statistics, hashtag generators, etc. Basically, anything that you would typically do by hand, this service can do it automatically. The way that Ingramer is able to do all the things it can do is with the help of an AI. The code does all the thinking, planning, and acting, so you do not have to.
Naturally, all of those features are not free. The pricing plans for Ingramer are flexible, and you can choose what you want to use and how much you want to pay. You can get their services for two weeks, one month or three months. Regardless of which period you choose, you have the option to select Basic, Direct, Scheduled Posting, or Hashtag Generator. Each of these four categories covers part of the 21 features we mentioned previously. The good thing is that you do not have to pay for all four of them, you can choose the ones you need. Based on that, the prices will change.
It is not all good, though. There is no trial version for Ingramer. Due to the fact that they are using VPNs for the services to run as they should, they cannot provide a free trial, and the payments are non-refundable. There is a way to try out a few options for free, but they are far from any kind of feature-rich experience you might get.
The accepted payment options do not cover a long list of payment services. You can either pay with PayPal or with a credit or debit card.
Lot of features to use
Easy to use service
The entire process is automatic
No trial or money-back guarantee
---
Surprisingly, the next company on the list is not a company dedicated to Instagram only. Stellation Media is a digital marketing agency offering a wide variety of services. Founded in 2016 by a team of creative individuals, this is a company that can offer an excellent organic growth of an Instagram account.
As mentioned, Stellation media offers a wide variety of digital marketing services, and Instagram growth is one of them. The thing that distinguishes them from other automated services is that, in this case, instead of software, the management is carried out by a real person. Before you start paying for them, you can schedule a free consultation. The good thing about this is that you will be able to talk to a professional and explain what you expect, and in return, they will provide you with what you can expect.
If you like what you hear, you have two options for paying. There is Growth and Rocket Growth – the names of their plans. The difference between them is the price, of course, and the options you get associated with. For the cheaper plan, you get moderate growth with an estimate of around 300 to 500 followers each month, targeted audience, and email support. The Rocket Growth plan offers advanced growth speed with 500 to 1000 estimated followers, a hyper-targeted audience, and a dedicated account manager. Do not get confused, both plans include a person running the account, but for the more expensive plan, a dedicated person will be running it.
Due to how Stellation Media's growth services work, do not expect to get a free trial. Also, the pricing plans are paid monthly, so you will not be able to get a refund, so you can just let them do their job till the end of the month.
Real professionals managing the accounts
Good growth deliverables
No engagement needed from the user
Not the cheapest service on the market
Need some more diversity in the pricing plans
---
Next on the list is another marketing agency with a lot of potential. Social Sensei is a company that has not been on the market for too long, but in the two years it has existed, it managed to provide excellent service for their customers.
Unlike some of their competitors, this company is not limited to Instagram only; they provide other services for social media accounts. As for their Instagram Management services, they strive to provide the best possible guide and management as possible. Proof of that is their option to schedule a call with an expert. By doing so, you will get a chance to talk to an expert and see which plan they offer will be suitable for you.
Speaking of plans, they have a lot. All of the seven packages they have to offer a wide variety of features and the features you get will depend on the plan you choose. The two cheapest plans do not have a setup fee, while for the other five, you will need to pay a one-time setup fee. Another thing that differs between the accounts is the actual management. Features aside, some of the plans will allow you to have freedom in regards to creating the content. That means that you will be in touch with their marketing managers that will provide you tips and tricks on how to manage your Instagram account. If you want to pay more, you can have a dedicated marketing manager to run your account full-time; that way; you can just sit back, relax, and watch your account grow.
Since the prices are not the cheapest on the market, most people would want to try out their services before committing to pay for them. Unfortunately, they do not offer a free trial period. Instead, they can offer a 10-day no questions asked money-back guarantee if the results are not what you expect them to be.
Wide variety of features and options
10-day money-back guarantee
Consultation before purchasing
Diverse packages
The plans are expensive
One-time set-up fee
---
If a marketing management company is not what you are looking for, you can always use an automated bot, something like Instato. Unlike some of the other companies on this list, this one has very limited information about it online, but still, we are going to outline it as a service that you should look into.
Instato's service includes Instagram only, but it covers all the basics that an Instagram bot can offer. It automatically does everything that you would typically do on your account. In their how it works section, they outline the entire process in three steps. First, they generate activity, then schedule the posts, and the final step is the growth of your followers. All of the steps and processes are carried out by the software working the automation, so the only thing you would need to do is take care of the content.
They offer three pricing plans, and that is somewhat limiting. The plans are based on the number of accounts you would like to add to the automation process. You can have one, five, or fifteen. The plans for five and fifteen accounts also get Spintax Support, while the single account package does not. The downside is that you cannot get a package with the specific number of accounts you would like, and there is no option to go for more than fifteen.
One good thing is the fact that you get a 3-day trial period. The period is not very long, but you should be able to see some changes in those three days and decide if you want to purchase a package from them.
Another thing to keep in mind is that Instato has an affiliate program. That means that by referring other people to join, you can also earn a percentage of what the referred accounts paid.
Everything is done automatically
Simple and easy to use dashboard
Decently affordable
Support only via email
No custom packages
No ability to pay for the exact number of packages
---
For this entry on the list, we are going to forget about online services. Combin is a company that has been around four years, and they continuously add new features and do their best to improve their services.
The thing that distinguishes the most is the fact that this is a service that helps you grow your Instagram account, but it does not grow it for you. Combin, unlike its competitors, is a software that you can download to your computer and use it as a dashboard, just like any other online service. The good thing is that it is available for all three major operating systems, so it is unlikely that you will not be able to use it. Keep in mind that the Linux version is only available for Ubuntu.
Regardless of which OS you use, Combin is packed will all kinds of features that will help you grow your Instagram account. You can get all sorts of statistics and analysis, automate specific actions for your account, find the right audience, check the quality of the existing audience, and a lot more. The good thing is that the service is backed by a machine learning algorithm, which makes it a much better option for analyzing the data you throw at it.
This is where Combin shines. Most people might be confused by the lack of available packages, but the first one is the one that will get people excited. The first package is the free one, and it is free forever. The features and abilities are limited, but it is more than enough for anyone to test it and decide if they need more. If they do, there are two other paid packages. The features between them are the same; the only difference is the number of supported accounts. The cheaper one is for one account only, while the more expensive one is initially for five accounts with the ability to pay for ten more.
Similar to Instato, Combin has an affiliate program where you can earn money for referring other users to join.
Available for all platforms
Free option
An extensive FAQ and how-to database
No phone support
No option to have more than 15 accounts
Some features are not yet implemented fully
---
With this entry, we are going back to the bots. Instamber is a service that provides an automated bot that will help you grow and maintain your Instagram account. Founded in 2017, this is a small company that has managed to deliver excellent services to many.
Even though most of their services cover Instagram as a platform, in recent months, they have included several other social media platforms. Their Instagram bot is much like any other you might find on the internet. Pretty much everything is done automatically by the software, and all you need to do is create the content and watch your account grow. Apart from the bot feature, Instamber can offer targeting, management of your posts and comments, scheduling posts, and much more.
The pricing plans for the Instagram bot are simple – there is only one. There is a fixed price for the package, and you get the full features of the bot for one account. Naturally, if you need it for more accounts, you will need to purchase them separately. Additionally, you can pay for several other Instagram related services such as direct message, comments, and post manager, likes, and views. Depending on what you need, you can get multiple different packages and use all of them for the same account. All of them come as separate services, and you cannot include them in one full package.
There is some good news though, sort of. They have a free 3-day trial for the price of $1. This might seem weird, but that could be because they must use proxies to provide you with their service, so they want to avoid any misuse by the users. Even though they do not have a free consultation as some might advertise it, you can reach out to them and explain what you need. In return, they will recommend which package or packages you can use.
Lots of features
Proxies included
Email support only
No option to pay for multiple accounts
No option to link several plans for one account
---
Another automation tool you might find useful in your Instagram growth is Instazood. Founded about half a decade ago, the company has provided all kinds of services for various social media platforms.
With the list of included platforms increasing regularly, Instazood is a company that you should take a look at. They offer several Instagram services, but today we are going to talk about their bot. Just like any other bot, this one will follow and unfollow, like, comment, and view stories. Basically, it will do anything that you would typically do on your account, but it will do it automatically. In order to be able to do that, first, you will need to set some parameters. After that, the bot will target accounts and locations, monitor hashtags – anything that you need to grow your account.
Growing an Instagram account is not free, so Instazood's services come with a price tag. The interesting thing is that there is only one price tag. There are no various pricing plans with different features to choose from. You get only one plan with all the features that the bot can offer, and that plan is for one Instagram account. The payment is monthly, and with that, you get all the automatic features outlined previously. The downside is that the service does not offer any kind of reports or graphs, so you will need to figure that one out for yourself. The good thing is that you can get a 3-day free trial before you make payment. Within those three days, you have more than enough to estimate if the service would be right for you.
In addition to the services, Instazood also has an affiliate program. With that, individuals or companies have the ability to make money basically by advertising the product and getting people to sign up.
Cheap
Everything is automatic
Only one plan available
No reports
---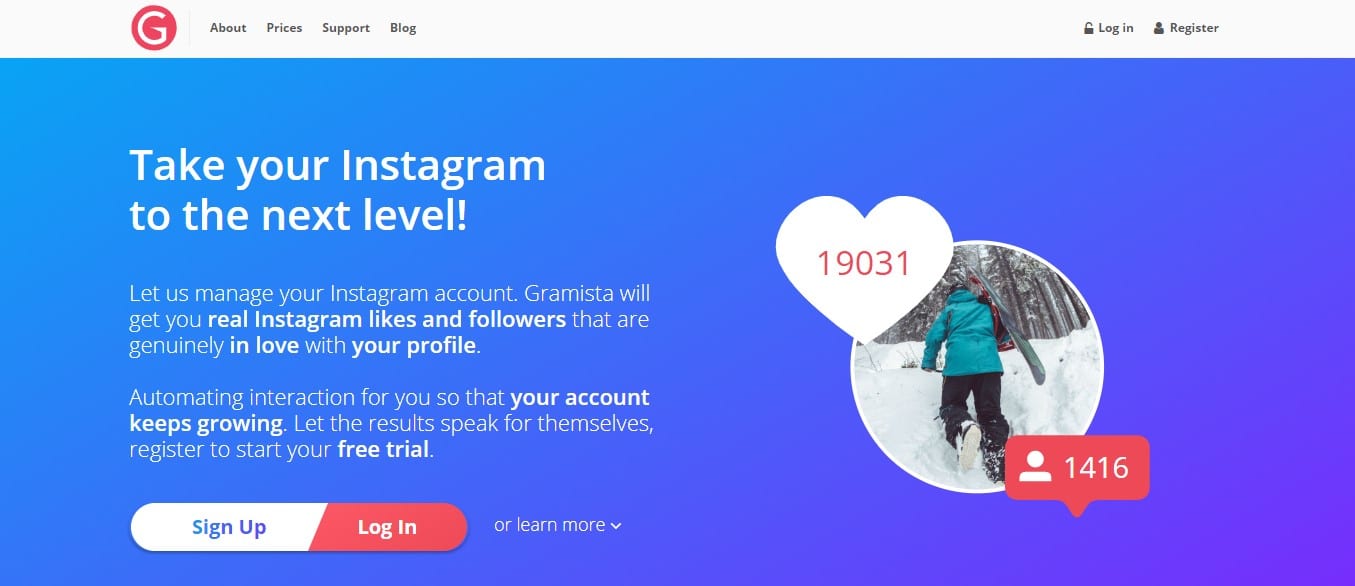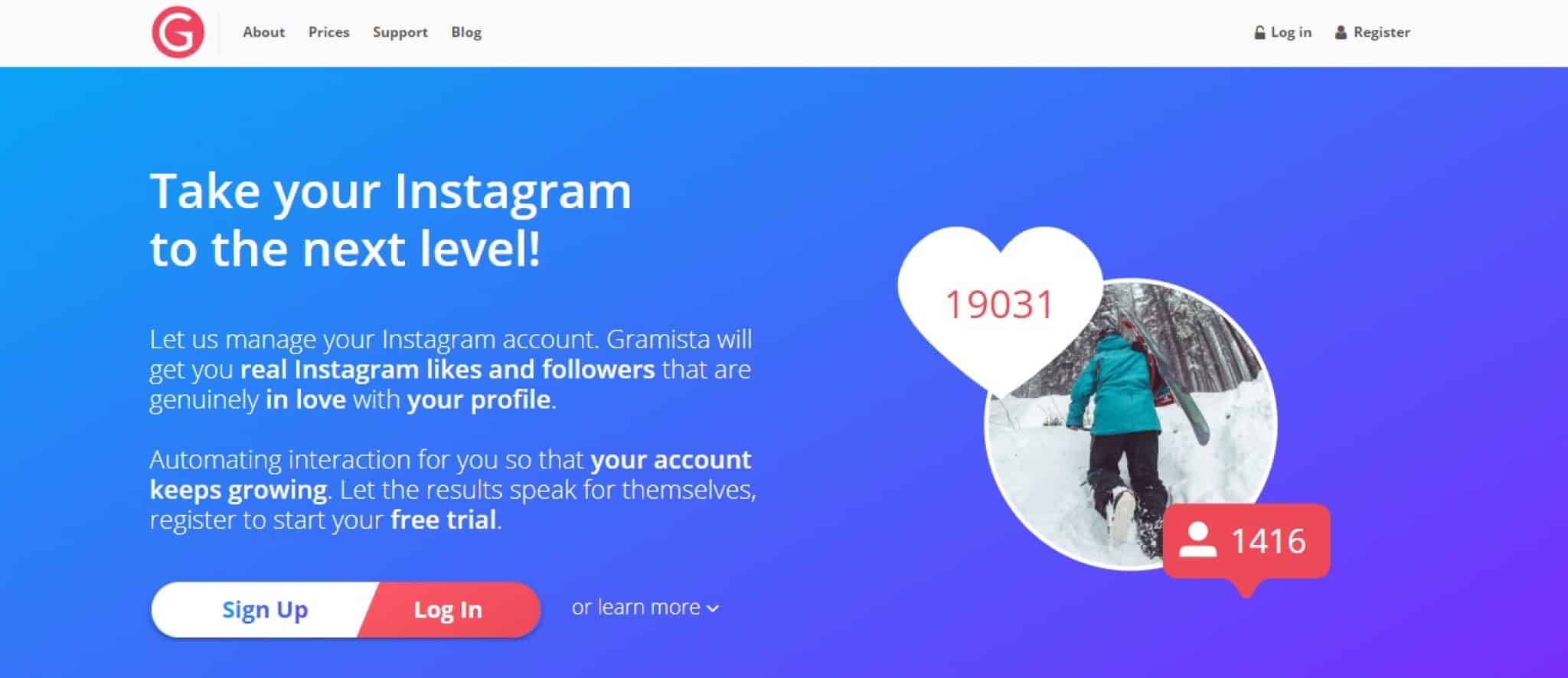 Manually growing an Instagram account can be a hard task, which is why people invented automated bots that will do that job for you. Gramista is one of those bots. Founded in 2016, the company has been providing automation services to thousands of companies or individuals looking for an Instagram bot.
Gramista is an Instagram bot that will manage your account automatically. The automatic management includes linking following and unfollowing. One thing that they advertise is that their bot does all of that like a real person would, so people will not notice that you are using a bot. Another great feature is targeting. Gramista will target hashtags or locations based on your parameters. At the end of the day, these features are what will grow your account, and they claim that the growth will be with real accounts. The best thing of all is that setting up Gramista takes only a few minutes, and after that, you will only need to make modifications if you need to.
The pricing plans are flexible but lack a few things. All plans come with the same set of features, and the difference between them is the duration of the bot's work. You can get a plan for one day and go all the way up to 90. This is for one Instagram account only. If you need to run multiple accounts or need to have a bot working for longer than 90 days, you will need to reach out to support. Another downside is that the payments are not recurring, so you cannot get the 30-day package and be automatically charged every month.
They offer a free trial, but it is only for 12 hours. Getting a trial is good, but the duration of it is minimal to see if you would have any results.
On the support side of things, Gramista is not looking too good. There are FAQs, Guides, and How-to sections on their website, and they do provide some decent support. But if you need to reach out directly to the managers, you can only reach out via email.
Easy to use
Relatively cheap
Email support only
No recurring payments
Trial period too short
---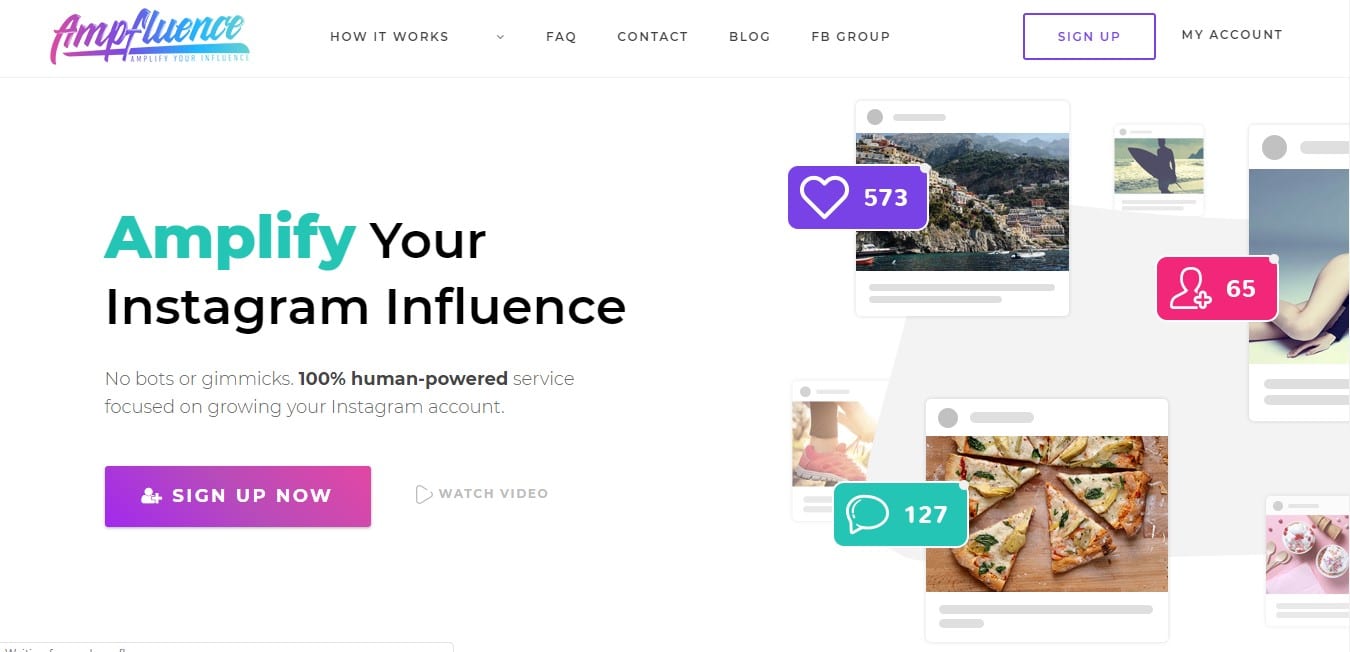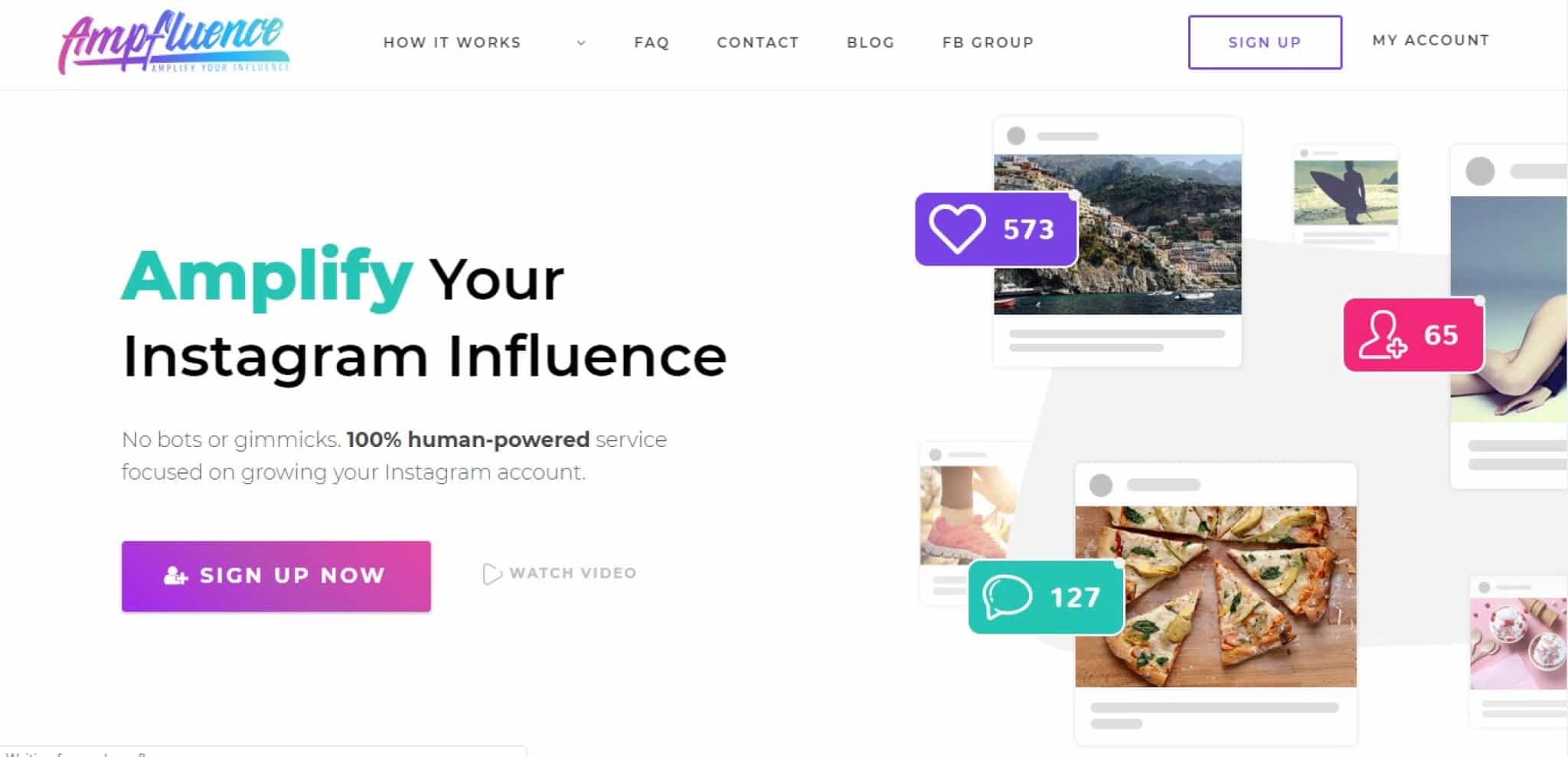 Bots are not always the right choice for growing an Instagram account, which is why there are services where people do the job for you. Ampfluence is one of those services. They have been on the market for several years, and their team has managed to produce great results for customers that needed some Instagram growth.
One thing that Ampfluence advertises is that they never use bots, and that is a good thing. Bots have shown that it is not always the best approach, and let's be real; nothing can replace the human touch. In essence, this is a marketing agency that will run your Instagram account for you. Before you decide to make any commitments, they will insist on some consultation. This will enable them to understand what you want to achieve so that they can start targeting. By doing that, they will be making sure that there is constant engagement as well as regular activity that will grow the number of followers. The process requires some effort on your end, but at the end of the day, it will be worth it.
There are two types of plans. One is for engagement only where they will like, target, and engage. If you want to grow your account, you have two other packages. The difference between them is the growth speed; the more expensive one will grow your account twice as fast. On top of that, you get custom reports as well as people and hashtag research. An additional difference between both growing plans is that with the latter, you also get priority support. There is a downside though, all plans are for a single account, so if you need to run multiple accounts, you would need to get multiple subscriptions.
One thing that might put people off is the fact that there is not a trial or money-back guarantee. The reason for that is people will actually work and manage your account, and the work will be completed, so you would need to pay for that.
Support-wise, if you get the package with priority support, you will always be the first one to get a response from them. Apart from that, their FAQ section covers quite a lot of questions that they usually get asked.
No bots are used
Priority support
Multiple pricing options
No option to run multiple accounts under one subscription
No trial or refunds
---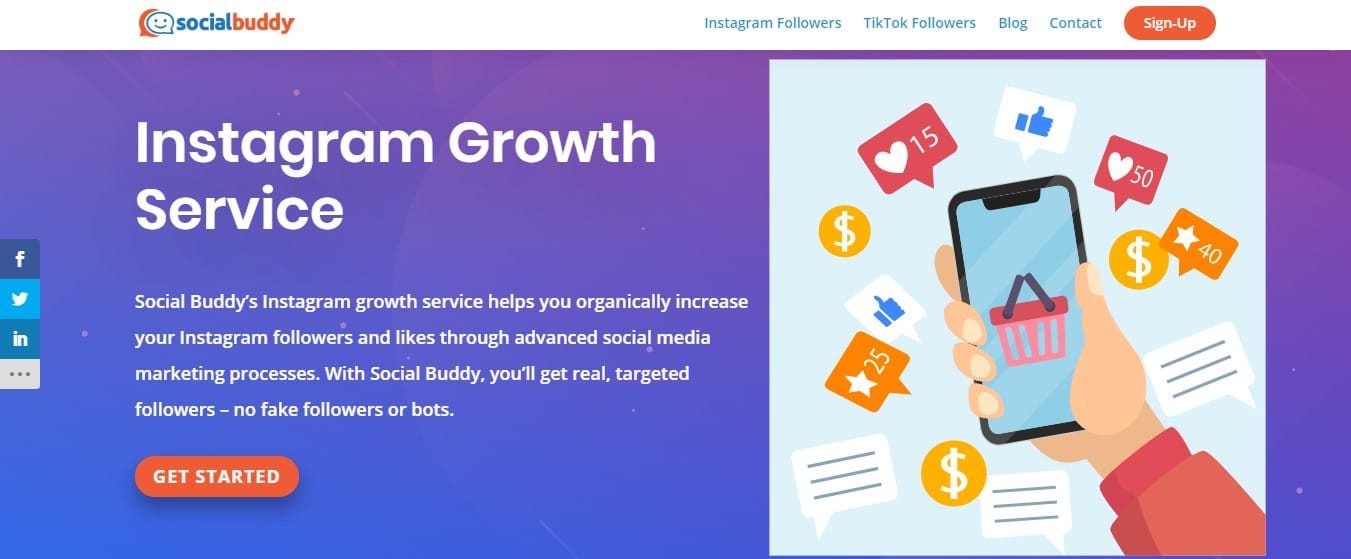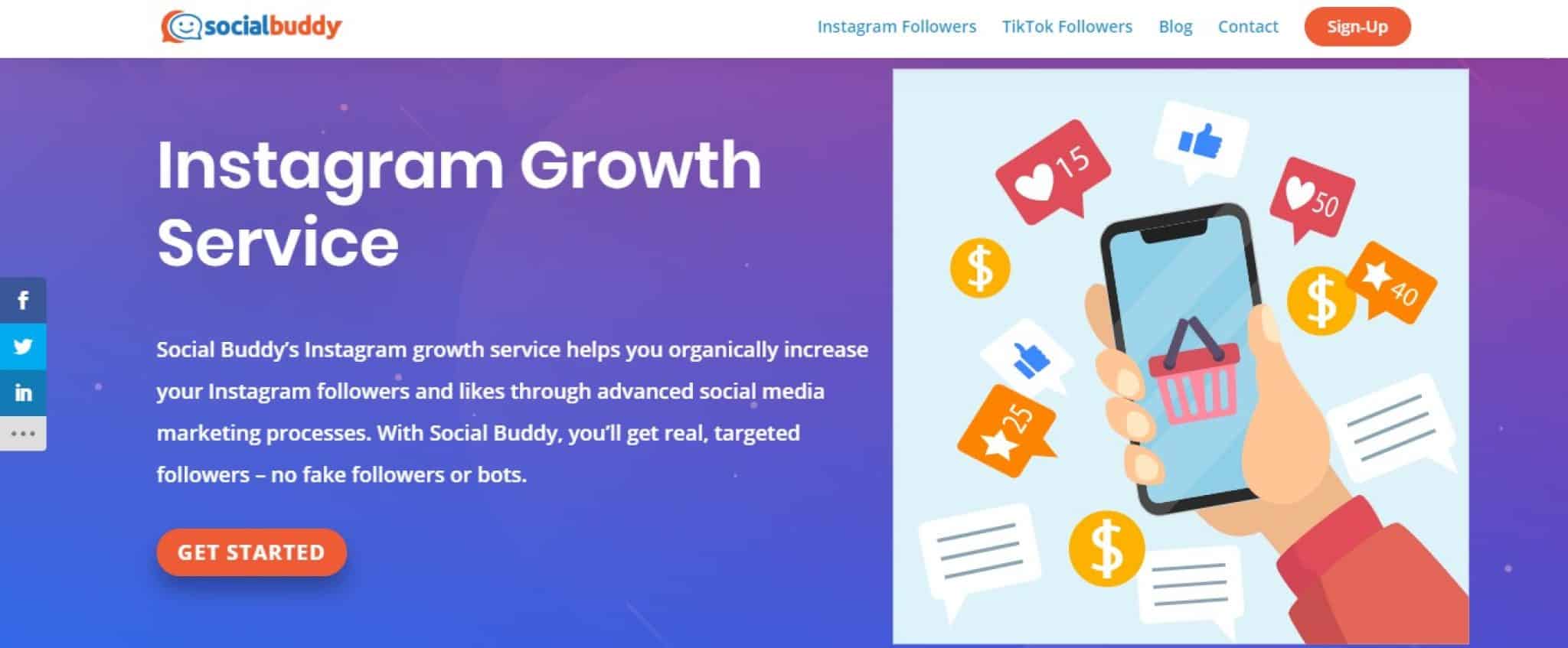 We will finish off this list with another service. SocialBuddy is a service with the primary goal of increasing Instagram followers. Only recently have they added TikTok as a new service. This social media agency exists for around two years, but at that time, they have quite a lot of satisfied customers.
Right off the bat, SocialBuddy's website will let you know that none of the followers you receive will be bots or fake accounts, and that is good because organic growth is what you really need. Regarding the other features, it has them, but the list is not the most extensive compared to some of their rivals. Once you sign up for their services, you will need to get in touch with their marketing managers so that they can learn more about you. The reason for this is so that the managers can get an idea of your niche so that they know which people and hashtags to target. You might need to do some research first, though. On another note, while they are engaging and growing your followers, you are free to keep posting, because their package does not include that kind of service.
Speaking of packages, there is only one. This can either be a good or a bad thing, depending on how you look at it. The good thing is that you do not need to think which package to get – you pay, and you get the full service. On the other hand, other social media services offer several packages with different features, meaning that they can offer something very cheap. Another downside is that SocialBuddy does not offer a trial or any kind of money-back guarantee. Basically, you will have to believe that they will do their job right and grow your account.
Relatively cheap
No fake accounts or bots
Only one package available
Not a lot of features
Final Verdict
So these are the top 10 Instagress Alternatives that you can use. If you had loved Instagress, then you will surely love these as well. All of these services provide the same services like Instagress, some may provide even better. So be sure to try all of them!