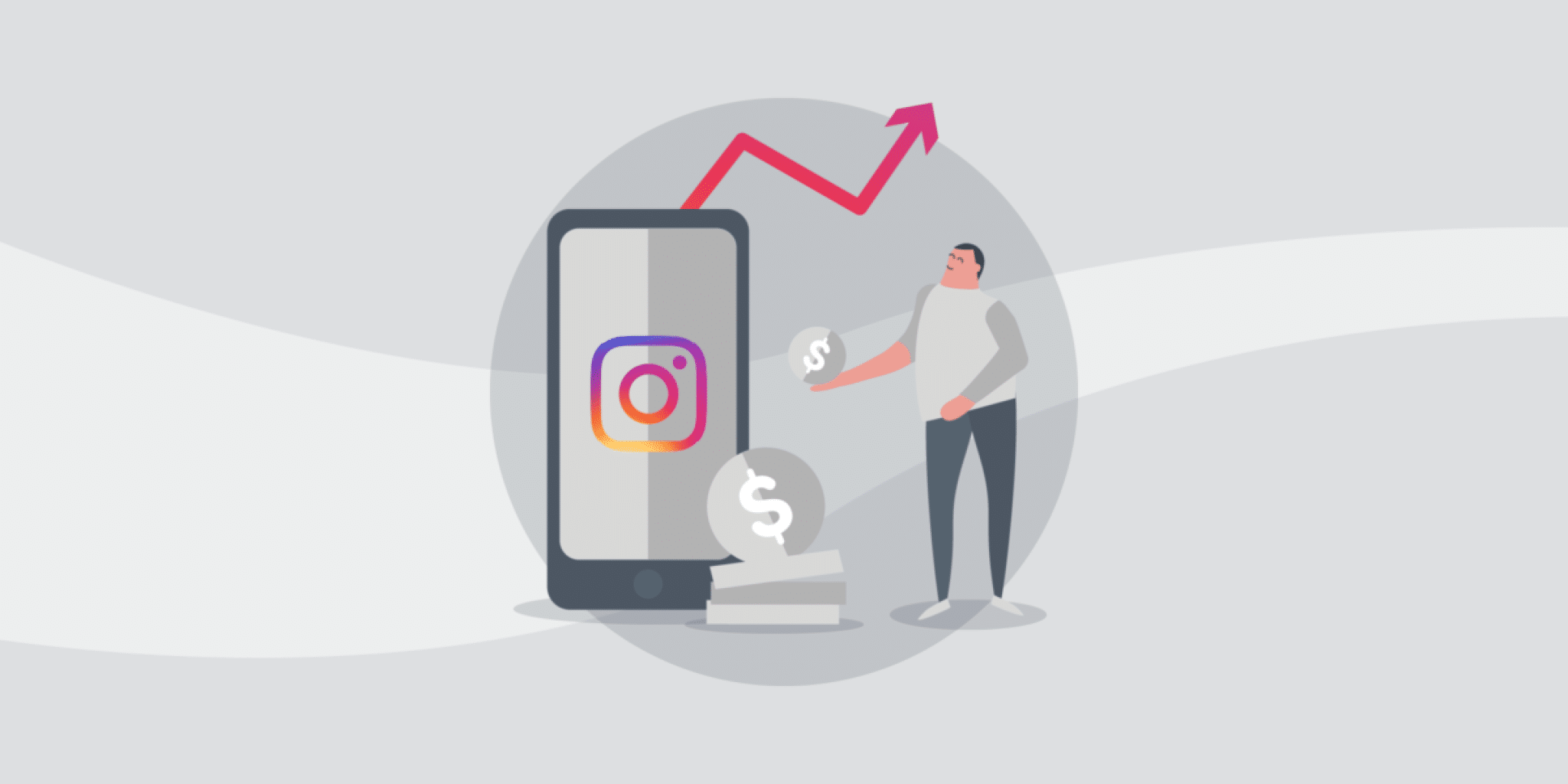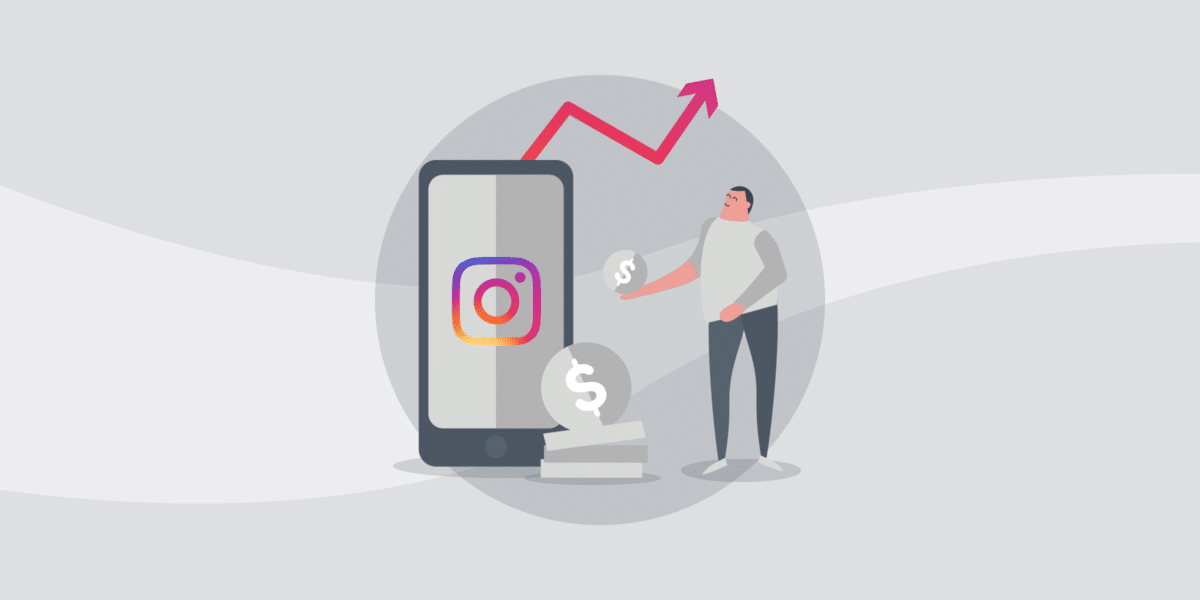 Now Instagram becomes one of the best Traffic sources for the mobile! So lots of Instagram bots coming to the market, we discussed the Instagram bots before, And it does not easy to hand Multiple IG accounts for the beginner, For the IG bots must be used with fresh proxies and Set up those Bots are really taking time!

To help some guys who do not want to take time to set up the IG automation by yourself, Here we recommend you use the Instagram Growth Services that are still working in 2020!
Instagress was one of the most used and famous Instagram growth services on the internet. But Unfortunately, it was shut down a while ago for Instagram restricted their API to Instagress, We all know that IG always fights with those automation services and tools! It's should not strange! Not just Instagress, Mass Planner, Instaplus and more have shut down for breaking Instagram's TOS. Instagram marketers everywhere are crying out loud and are looking for different Instagram growth alternatives on Dr. Google.
So I thought it would be wise to lay out some of the other options for Instagress. If you loved Instagress, you'd like these as well. So here is the list of Top 10 Alternatives of Instagress that you should use.
---
Compare & Review: 10 Best Instagram Growth Service 2020
| Top Picks | Service type | Main Features |
| --- | --- | --- |
| SocialSteeze | Organic Human Consultation | Viral results in a short period of time |
| LikeSocial | Automated IG bot | Easily receive followers, likes and reviews |
| Instato | Automated IG bot | Provides proxy for each Individual account |
| Combin | Automated IG bot | Advanced search system with ease of communication |
| Ampfluence | Organic Human Consultation | Human Consultation with an advanced search system with a no-risk guarantee |
| SocialBuddy | Automated IG bot | Secure site with visible payments and quick results |
| Campground Social | Organic Human Consultation | Better elevatioConsultationtion of credibility of Accounts |
| RiseSocial | Organic Human Powered Instagram Automation | Organic followers, easy signup and weekly analytics report |
| SocialDrift | Automated IG bot | Uses sleek Artificial Intelligence which improvises over time |
| Gramista | Automated IG bot | Unlimited Instagram services with advanced targeting |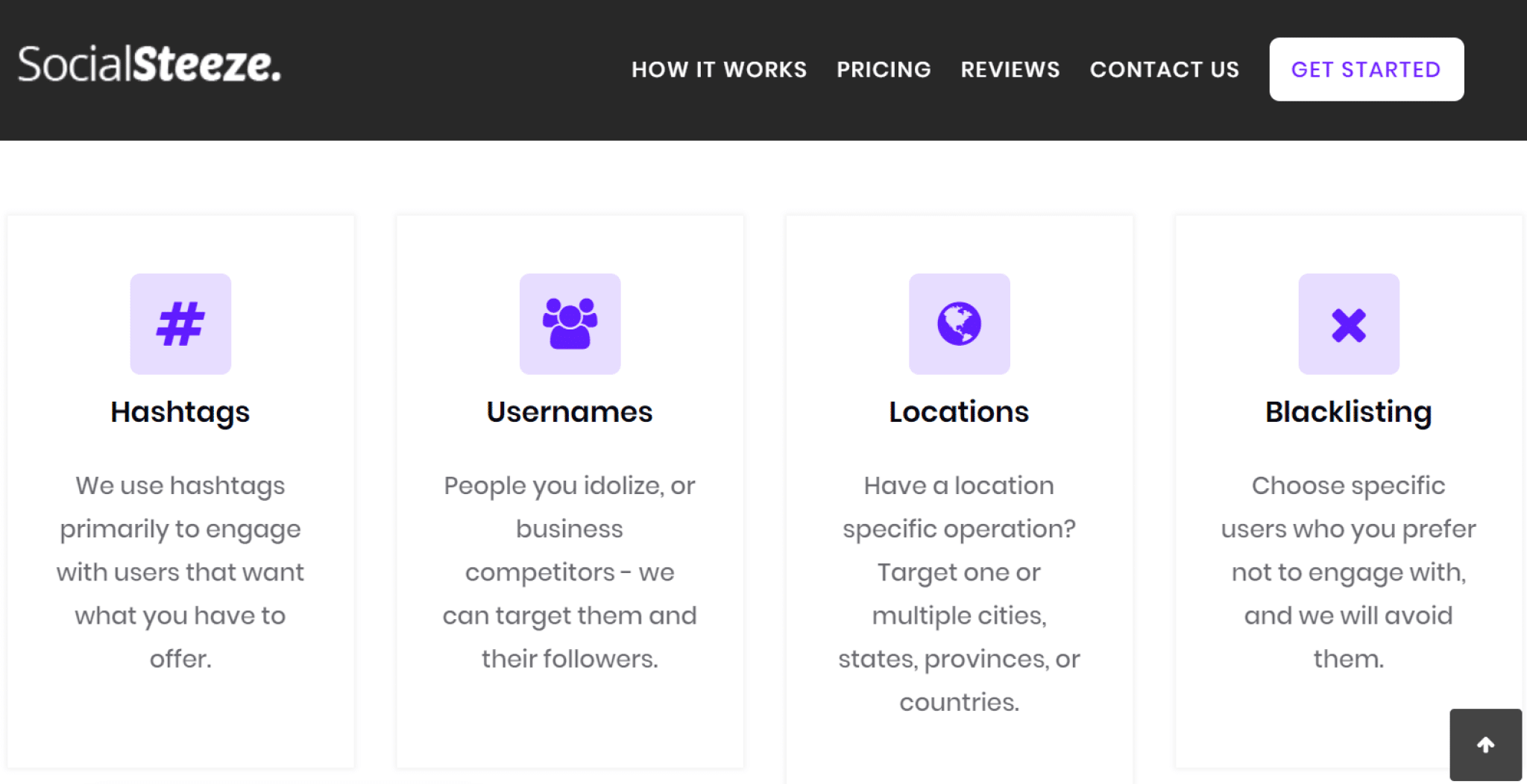 SocialSteeze is a Digital Marketing Agency which does Instagram Consulting for their customers. Their company is based on Melbourne Victoria. They will help you learn how to get real Instagram followers instead of buying likes or comments that will or will not work after you buy them. They are totally against buying likes and provide consultation on getting real Instagram followers for marketers.
SocialSteez prides itself on being a great Instagram engagement growth service that will thoroughly help you gain real followers and better engagement. The best thing about SocialSteez is that it does not use any kind of Bot technology to enhance the engagement of Instagram accounts. Rather than that, they are a team of skilled strategists that will handle your Instagram account for you and experiment with their different strategies to boost your engagement and attract potential customers.
When you sign up for SocialSteeze, you're connected with the account manager that will communicate with you to complete tasks. The account manager will be responsible for your Instagram account and will experiment with multiple strategies to boost your engagement.
The best thing about SocialSteez is that it does not use bots, so this growth service does not violate the terms and conditions of Instagram. They have verified payment gateways and have secured connections to their website, so your personal information remains private. They are known for strictly following the Instagram rules and constraints so that your account is safe from any bans.
SocialSteeze has all the elements of being a safe Instagram growth service, and it is worth trying for.
Fully Organic human-powered Instagram service
Do not violate Instagram terms and conditions
Leading Instagram Growth service in the market
 Expensive as compared to other growth services
---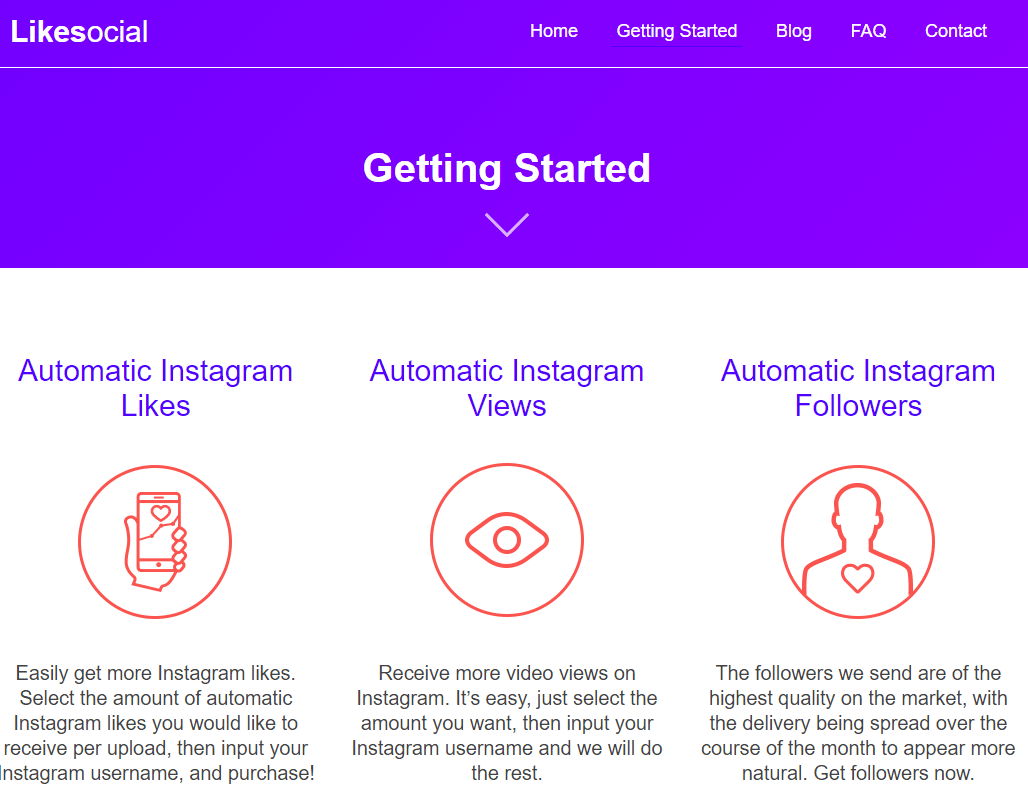 LikeSocial is an Instagram service that will buy likes, Followers and other Instagram services on your behalf. Their primary function is the automatic likes service. That means that whenever you are uploading a picture or a video, that particular post will be automatically liked by Hundreds and thousands of people automatically. Their delivery is very fast, and they also provide a lifetime guarantee for it on every one of their packages. They offer a quick and effortless way to build up your Instagram profile.
Their liking service is straightforward to do, and newbies can easily set up their service. You select the number of automatic likes that you want to receive on Instagram on your uploads, Input the username that you use on Instagram, purchase the package, and you're done. You'll earn that Instagram likes in no time!
You do not only receive likes on Instagram but views on your videos as well. It is effortless, just set the number of views that you want, and then input your Instagram username, and you're done. The rest will be done by LikeSocial!
They also provide followers services, and the followers that they send are of the highest quality on the online market, and the follower's delivery is spread over the month to seem like that the followers that you are gaining are natural.
Real Testimonials on their website
Verified payment gateways
Provide full transparency in prices, and deliver what they promise
Secure HTTPs server which protects your Personal Information
 Do not provide 24/7 support
They do not provide user reviews on their website
You can also read customer reviews on their website, LikeSocial.co for any further queries.
---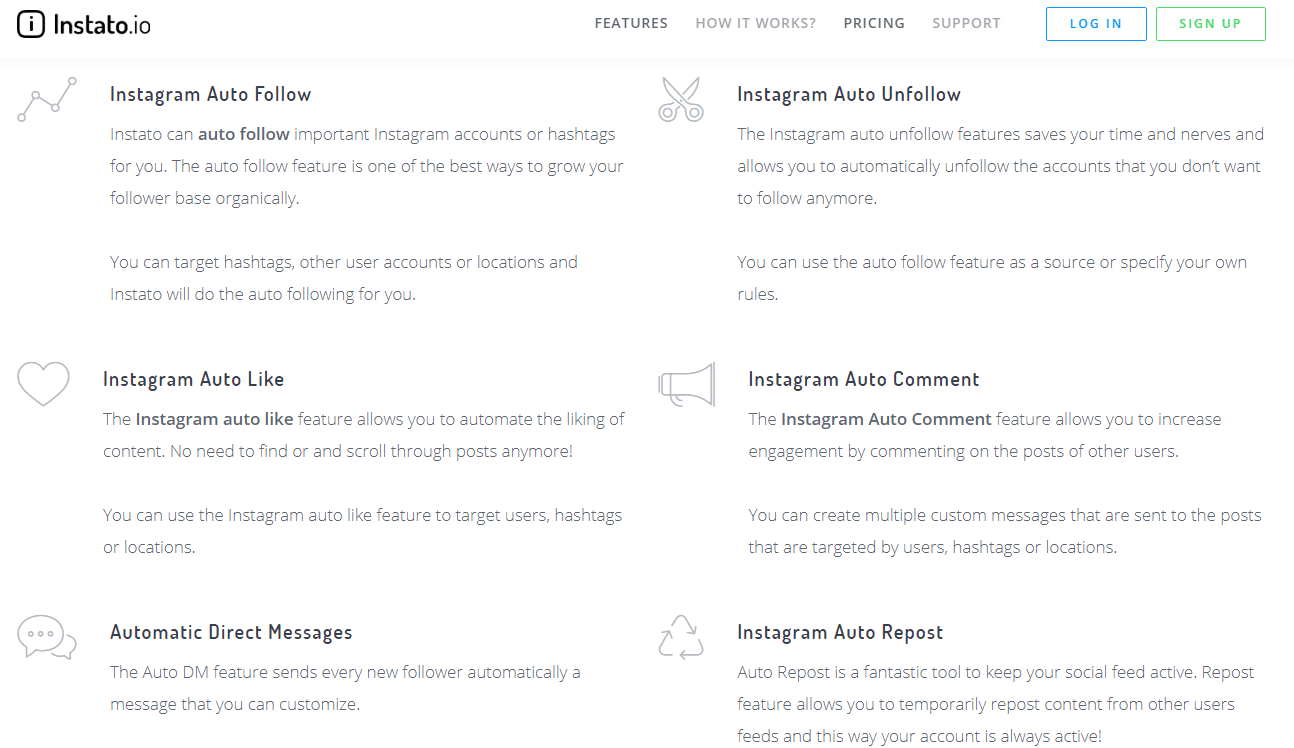 As most of us know, it's really hard even to exist or gets noticed on Instagram without bringing in third-party apps that can potentially help us get noticed and grow our Instagram profile, whether it's for selling products or for any other business. There's a lot of competition on Instagram, and if you're going to be using an automation tool to boost your engagement so you can compete with other people on Instagram, it's worth the money.
Web-based Instagram automation bots have been usually tagged as unsafe to use as they run many requests in a short period from a single IP address, and also their engagement if very generic and can cause problems in the future. However, let's take a look at this latest Instagram Alternative which promises better than all the generic bots out there, and also provide an Individual proxy for each account!
Instato is an Instagram bot service that provides you with great Instagram automation services like Scheduled posting, Following/Unfollowing, and liking, and it does that automatically, so you can sit back and enjoy while Instant does the job. It even features an automatic direct messaging service that can be used to bring potential buyers towards your product if you're selling on Instagram.
It also accommodates the use of multiple accounts from a single interface, which is very useful and prevents the logging in and out of all time. It is a multi-tasking tool that can handle all. This is very useful if you have multiple accounts to run and you want to run automation on all of them.
One of the great features of Instant is that it comes with a free trial! You can try this service before you buy it so you can make sure that your money is not being wasted. This feature is also great if you're researching Instagram bots and you can try this feature to know more about Instagram bots without paying for it.
Instant has  and an easy to use interface that covers all of the features in a pleasing way and looks like this,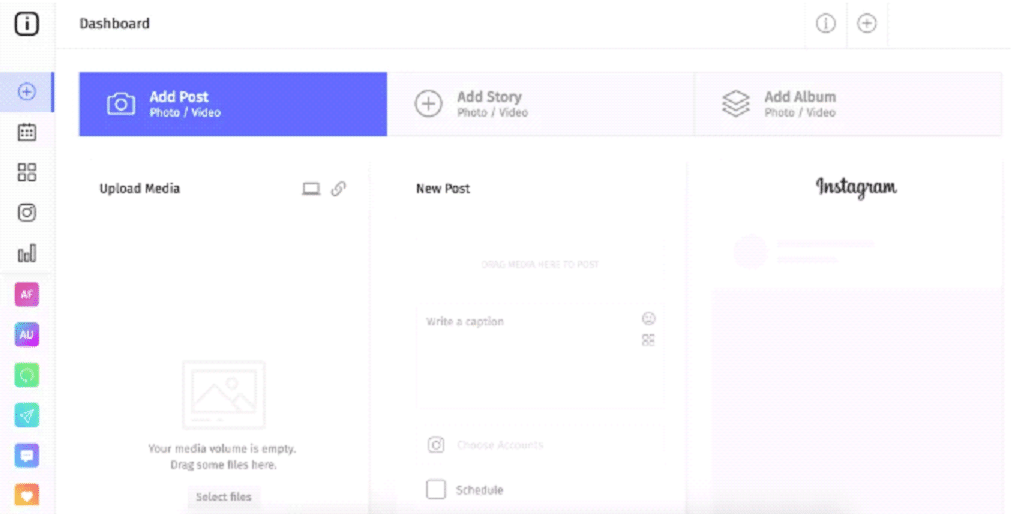 Instato is a great Instagress Alternative and is relatively new on the internet. They have a great user-friendly interface. Moreover, they provide proxies for each Instagram account, so your Instagram account has very little chance of getting temporary bans. If you want to outsource engagement and boost the interaction between your customers and your product, Instato is a great bot tool!
Easy and intuitive dashboard
Provides free trial
Easily change your plans with their easy to use dashboard
Latest Instagress replacement
Do not provide 24/7 support
Use Bot technology
---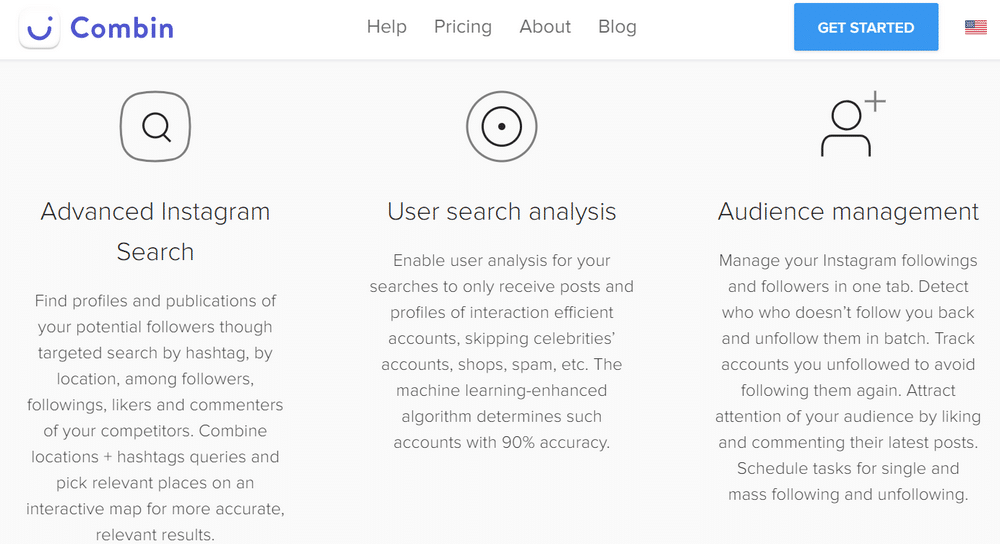 Combin is a brilliant Instagram growth tool that will help you skyrocket your Instagram marketing business. You can get Genuine followers, likes and comments on your posts. Combin is a really easy tool to find new influencers and followers which you can easily communicate and engage with.
It is an Ultimate tool to attract the audience that you wanna specifically target purely. You can predetermine your targeted audience and engage with them by interacting with their posts. It is a great Instagram marketing tool since you can perform the mass following, unfollowing, liking and commenting on your audience's posts. You even don't need to worry about getting temporary bans on Instagram with their Smart Scheduling System.
The first and the foremost thing that you wanna know about combin is that it is a desktop-based tool. They have different versions based on your computer system, whether its Windows, Mac OS or Linux. However, they do not have any apps for Android or Apple. One thing to know about Instagram is that the Instagram API does not allow posting, so if somehow this tool is posting this on Instagram by itself, it may be doing something that it is not supposed to do!
Combin has an Advanced Search option, which allows you to search about posts based on hashtags, locations or both of them! This will enable you to find potential customers for your business that share the same passion as you.
Their Follow/Unfollow system is great; you can either follow or unfollow individually or in mass. However, if you're doing it en masse, it's very risky and can cause your Instagram account to get banned. So you need to set your follow/unfollow frequency lower to avoid any problems.
Communication is made easy with Combin since you can easily interact with posts that come up in your searches, You can schedule your comments that need to be made on posts, keeping the Instagram rate limits in your mind.
One of the best features of combin is that you can effectively manage multiple accounts from a single interface. It saves you a lot of time and effort from logging in and out of your accounts all day, giving confirmation on your accounts and what not. Although you have to pay for the top tier plan to get this feature, it is definitely worth paying for.
Desktop-based tool
HTTPs secured connection
Visible prices
Lack of 24/7 support
Use Bot technology
Lack of authentic reviews and testimonials
---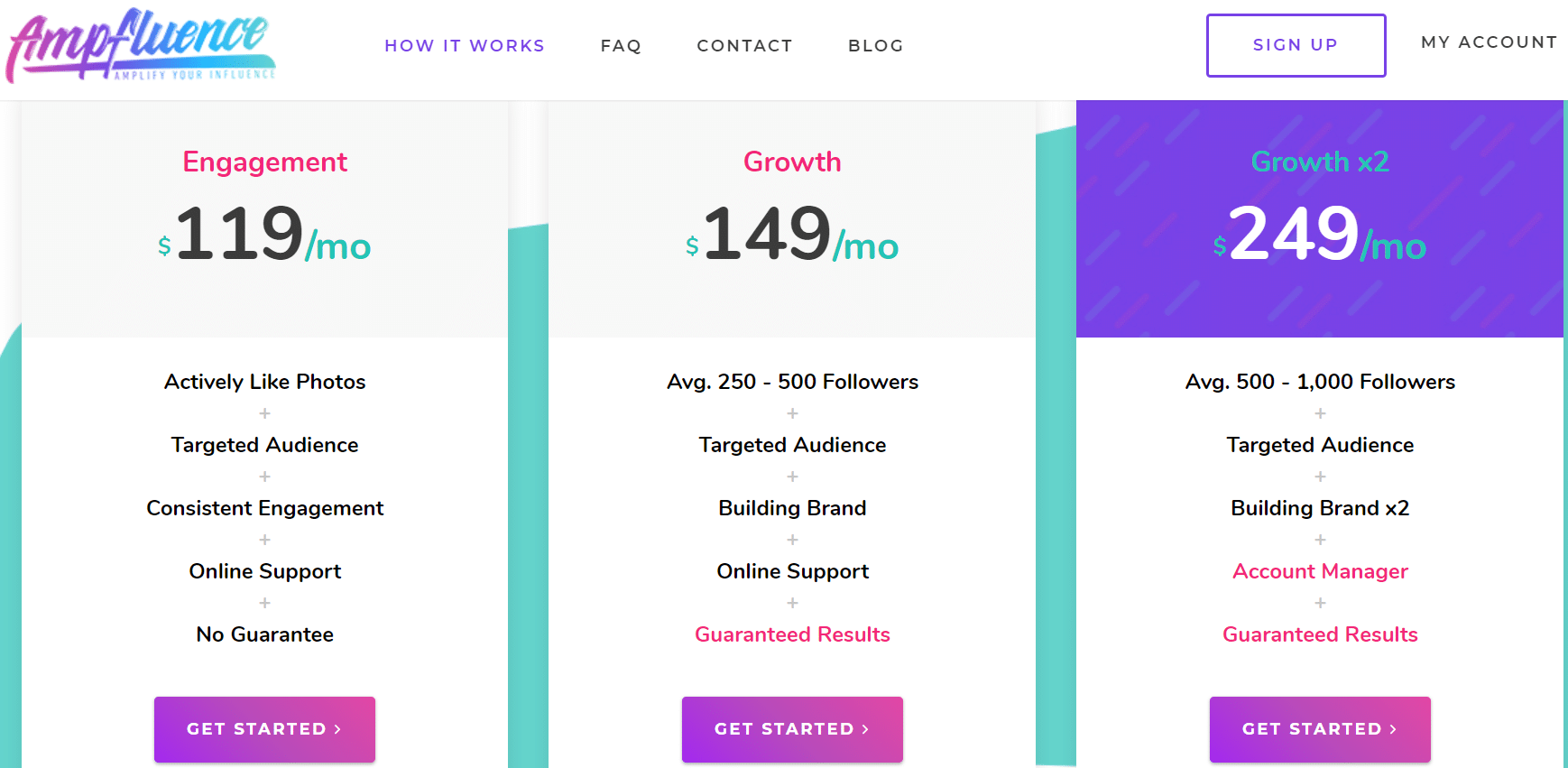 Amplfluence, a mix of Amplify and Influence, is an Instagram growth service that claims to be free of any bots, and that their service is 100% organic and run by humans, rather than bots. They target specific users on Instagram that share the same niche as yours and engage with these users on your behalf. They give you a follower goal for every month, and if Ampfluence does not reach that goal in that particular month, they give you a choice. Either they will overperform in the next month, or they will provide you with a refund based on the difference of how much they have underperformed from their given objective of the month. Although this is not as good as a full refund, the system is really neat and worth trying, as they use full white hat methods to organically grow your Instagram account, without the use of any bots.
The first step of the Ampfluence process is Consultation. After you sign up, their agent will contact you and go over your Instagram profile and your goals that you wish to achieve. They will help you Identify what work have you been doing in the past, and how much of it was wrong, and they will enlighten you with the many opportunities that you have. After that, they will create a customized strategy that will consider all of these personal factors.
The second step is Research. Ampfluence will research the niche of your Instagram Marketing Business and will work out the different content that is being posted, how it is performing on Instagram, how much engagement it is receiving, and which users to influence. After they research about all of this, Ampfluence will reach out to relevant Instagram users that share the same niche and will help you in your Instagram Marketing account. This causes the users to look at your account, and if they like what they are seeing, they will engage and even follow you.
It's worth observing that Ampfluence does not aggressively follow users to increase engagement. They only follow users that share the same niche as yours. They will also unfollow those users that you follow if they are proving to be inactive.
Finally, Ampfluence Measures your performance and also provides you with reports on the growth of your account. Depending on the level of account that you're paying for, if your monthly goal is reached, you're good to go. If they have underperformed your goal, you're given two options that I have discussed earlier.
Ampfluence has a targeted approach on Instagram that is designed to capture the attention of the people on Instagram and expose your account to the people that share the same niche as yours. Using their growth techniques, you begin to gain influence on Instagram and can come to a position that can further your brand towards success. It is a great Organic Instagram Tool that is definitely worth using.
100% Human-powered growth service
Advanced follower targeting system
Get refund or overperformance if they underperform in one month
 lack of 24/7 support
They do not provide user reviews on their website
---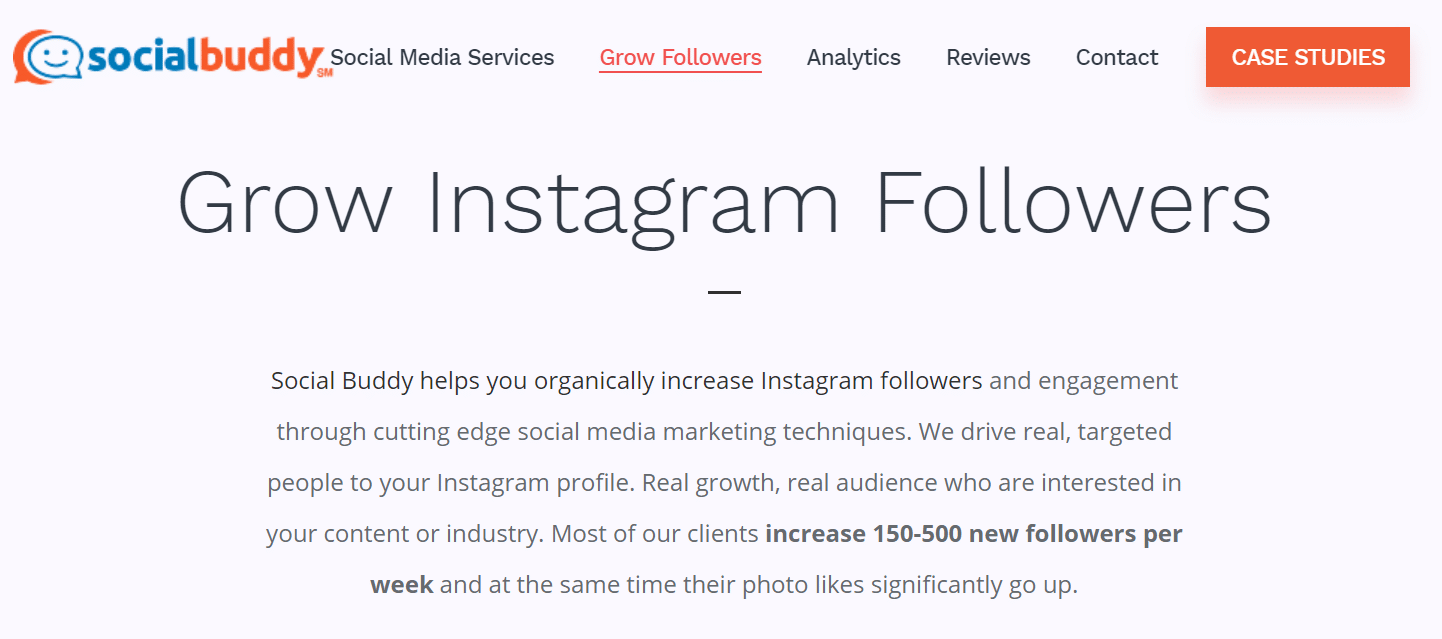 SocialBuddy is yet another great Instagram Marketing tool that lets you organically grow your Instagram follower base and increase your engagement with multiple influencers sharing the same passion as yours. SocialBuddy uses the same engagement logic like everyday use. Whenever someone follows you, you retroactively check out their profile just because they have requested to follow you. Socialbuddy uses the same logic by following different influencers and people on Instagram account that share the same niche as yours. In this way, you get more engagement on Instagram that increases your followers and well as activity on your posts.
SocialBuddy is easy to set up and has a really good interface to use. They have a great Advance Search System that searches for a relative target audience. They will build your real follower base instead of selling you fake followers, and these followers will be engaging with your posts, unlike fake followers.
Their Advanced Targeting System searches for relative audiences based on four things.
Hashtags: They use relevant hashtags to search for users that will engage with your content.
Competitors: You can tell about your competitors to SocialBuddy, and they will effectively target their followers!
Location: This is better working if you're running a local operation or a local scheme. You can target individual or multiple cities, states, provinces or countries to find out relative users that the same passion and niche as yours.
Influencers: Every Industry, including Instagram, have a tonne of Influencers that have great influence on social media. Using social buddy, you can target the followers of these influencers.
SocialBuddy will take care of liking, following, Unfollowing and commenting on your account, just like any other social media growth service.
SocialBuddy is a completely safe and secure tool to use online, and they have hundreds of thousands of happy clients that use their service. According to them, your safety and security is their number one priority!
Moreover, there is no commitment at all. They offer a month to month subscription. You can cancel their subscription at any time, and you won't be using any followers that you gained through them. So it is your choice to continue with your subscription or cancel at any time you want.
SocialBuddy is a really good Instagram growth tool to work with, and can effectively grow your Instagram Marketing Business!
An advanced targeted search system
Easy to set up
Do not provide 24/7 support
Uses Bot technology
---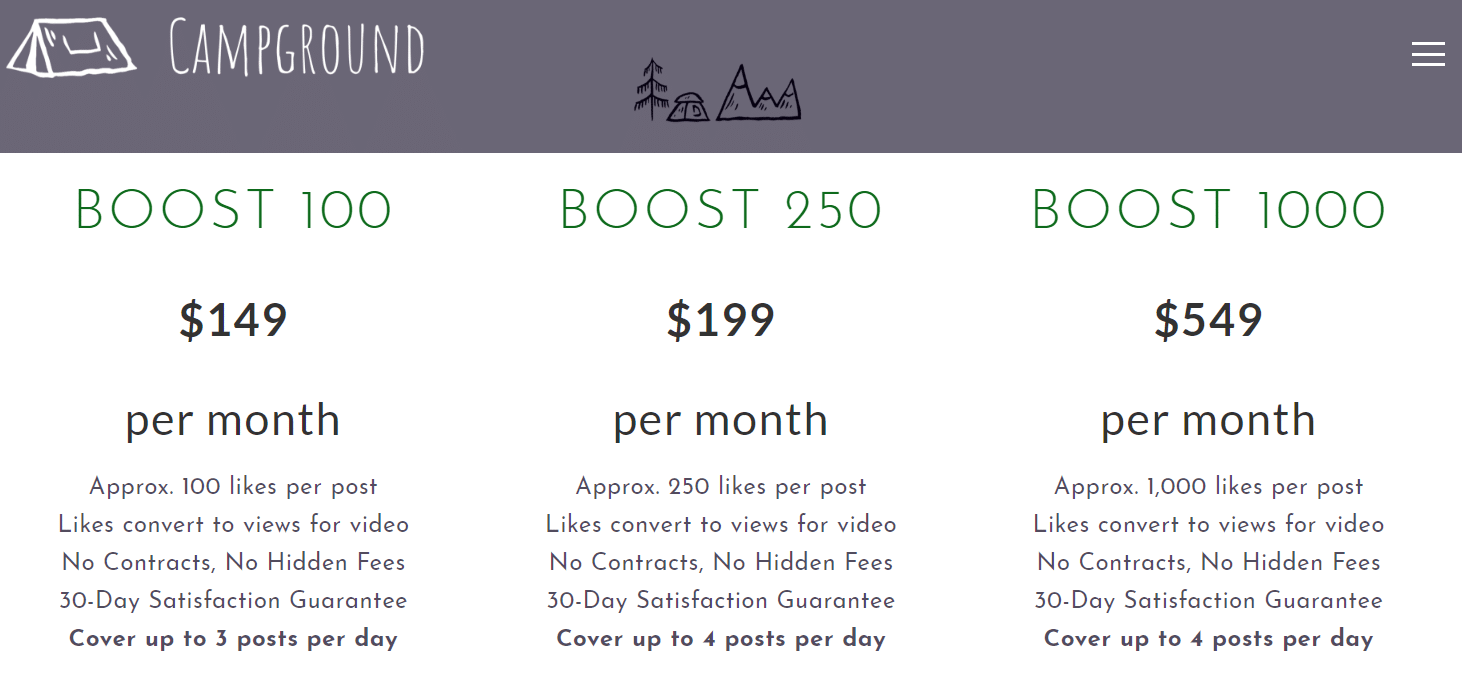 Campground Social is another Instagram Growth Service that emphasizes themselves as 100% Human Powered growth service. They are a great Instagram service that brings together multiple social media experiments to grow your social media profiles and boost your engagement with other people.
They claim to provide the following services to their customers
Increase in the number of people that lie within the demographics of your account.
Elevating the credibility of your account, brand or product via increasing the engagement with other people
24/7 Funnel that keeps looking for new potential customers
Automatically interacting with existing followers to create better relationships with them
After signing up for Campground Social, They will provide you with a team of social strategists that will gather information about your account from you. They will go over many details of your account and talk about your ambitions and goals that you wish to achieve through your Instagram.
After their thorough analysis, they will give you some tips about social strategies and ways to improve your Instagram account so that your product or your Instagram profile attracts the attention of people and to potentially boost your engagement.
After that, Campground Social will then use their strategists to start working on your Instagram account and engaging with people on Instagram. The way that Campground social interacts with other people on Instagram are unique, as complemented by various of their customers, rather than being generic like 80% of Instagram automation tools out there. Thus you have a better chance of getting better engagement with Campground social, since the engagement provided will be far more authentic, and people will be prompted to check out your Instagram account or even follow you!
However, several clues lead to the realization that Campground Social may be using Instagram bots rather than real humans to boost the engagement of the Instagram accounts. Although this may be only a rumor, it doesn't mean that we can ignore it. On their website, they have used terms like "Automatically interacting" and " Growth machine" that give people doubt about their credibility. However, they have also given a paragraph on their website that clearly states that they do not use any technology or the usage of bots to boost the engagement of Instagram accounts and that they only use Humans for the job.
Provide 24/7 support
User and like targeting
Monthly Insights
Secure HTTPs server which protects your personal Information
There are rumors about this company using bot technology
---
RiseSocial is another Organic Instagram Growth service that will boost the engagement of your account with other people to grow your Instagram account, and if you're using it for your business, grow your business. RiseSocial is a great tool for Instagram for reaching out to potential customers, Liking, commenting and following people that will help boost your product engagement.
RiseSocial Claims to be the number 1 Instagram growth service out there with the fastest growing service on the internet. RiseSocial provides your  Instagram account with the best, State of the art software to ensure the best engagement of your account towards the people.
The best thing about RiseSocial is that there is no software to download, and everything is done online while being connected to the manager in charge of your account, which is assigned to you when you sign up for your account.
Their packages are planned on a weekly basis, so even if you don't like the service, you won't be stuck with it for long! Each of their packages come with organic growth, safer engagement, and Targeted followers. Choosing the right package to fulfill your essential needs is very important you be wary of what package you are choosing.
If you're a seller on Instagram, you need targeted followers. Having more of these products will ensure better engagement and interaction of customers with your product. RiseSocial has a great targeted search system. These searches can be concerning demographics, hashtags, locations or even more!
You can also search the usernames of your competitors to target their followers and get them towards you. If you're selling for a specific gender, for example, women's clothing, you can set RiseSocial to do that as well! The opportunities with RiseSocial are endless.
RiseSocial provides you with weekly analytics to show how much engagement your Instagram account has received in a week and how well your product is selling on Instagram. After setting up RiseSocial, you can request them for a weekly analytics report for every week to help you see how much you are getting far with your growth and engagements.
RiseSocial avoids the usage of bots and uses organic ways to boost your engagement with the people on Instagram to attract the attention of people towards your Instagram followers and bring in more "Organic" followers. With organic followers, your Instagram business grows better than followers gained by purchasing, and you have a better chance of your product getting noticed and slowly climbing up the ladder of success!
When it comes to growing your Instagram account, you have to be tactical and have a better mindset. The right followers and better-growing service will help you get noticed by the right audience, which will build your brand better!
Easy sign up
Advanced targeted search system
Weekly analytics
Fully Organic followers
Do not provide 24/7 support
Have bad reviews on multiple websites which leads to downed credibility
---
SocialDrift is yet another great automation tool that lets you organically grow your Instagram account by accessing it and engaging with other users on Instagram that will boost your engagement. It does activities like liking, following and commenting on people that share the same profile and influence as yours to bring potential customers towards your product.
Their unique feature would be the Artificial Intelligence that powers their systems. Their Artificial Intelligence is programmed to learn and optimize over time, so this means that the longer you use it, the more effective it becomes.
Safety and security is the number one priority which should be taken into account when using any Automation tool. When it comes to social drift, this automation tool is as safe as it can get. Its safety certification is up to date with a secure HTTPs secured connection. This means that you can give any information on the website and it will remain private.
SocialDrift service comes with great sleek filters that can be used to narrow down the category of an audience that you want to target on Instagram. They have an Artificial Intelligence that learns over time to become more and more effective, a SecureBoost engine that will regulate your activities with time and a turbo mode to speed things up!
SocialDrift also provides you with progress reports that you can request every week, every month to ensure that your Instagram growth service is making progress and you can check how much you have progressed over the past week and month.
SocialDrift is a worthwhile service that can be used for any business or product selling or any influencer that is looking to increase their following size, visibility and engagement boost.
 Cheaper than most services
Provide 24/7 support
Provide viral results in a few weeks
Safe and secure website
Many customers have had a problem with getting a refund.
Has been shut down in USA by Instagram and Facebook
---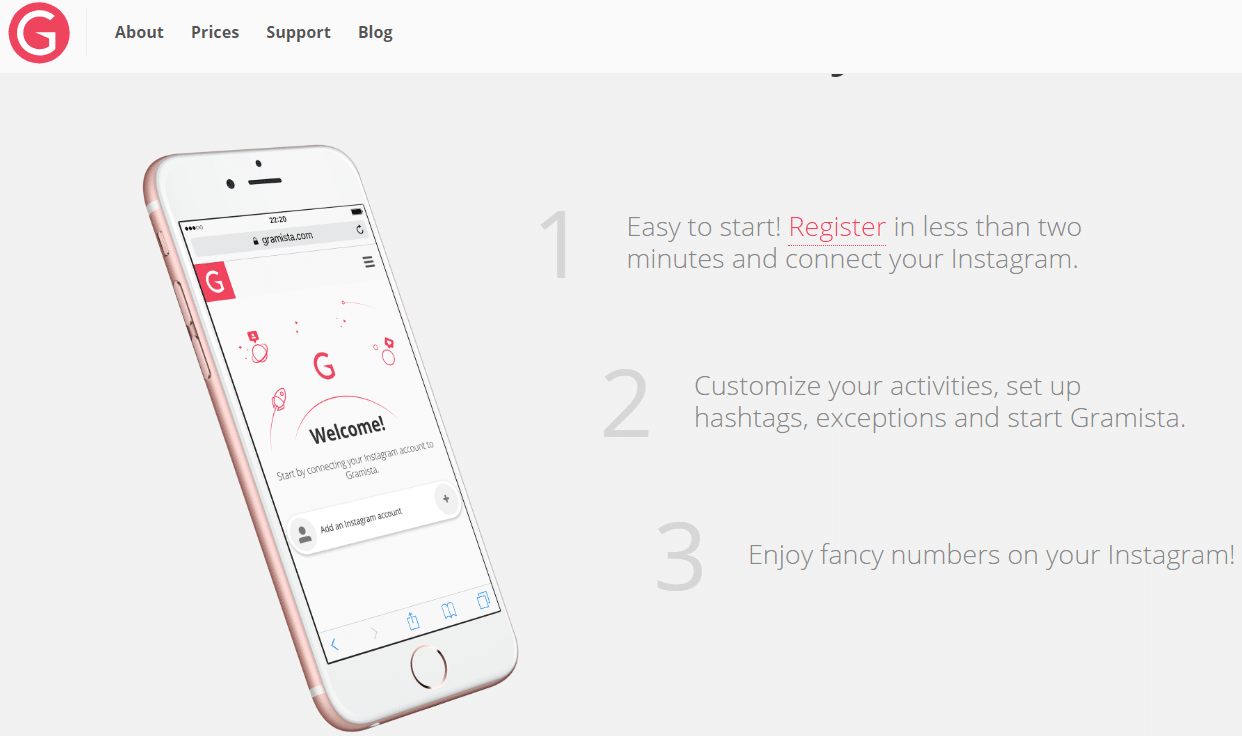 Gramista is an Instagram automation tool that uses the latest technology to boost your engagement with the engagement and increase your visibility on Instagram.
Gramista uses Instagram bots to boost the engagement of its customer's Instagram account, and these are the same kind of bots that got Instagress to get banned in the first place. We should consider that claiming that their technology is the latest doesn't make them more secure or having a lesser chance of getting a ban. However, they have a lot more features than other Instagram Automation tools out there.
Gramista Explains to you how the Instagram automation works and helps you in setting up and customization of your activities on Instagram, setting up your Hashtag as well as your exceptions.
⦁    They cover a lot of features on all of their packages, which are the following.
⦁    Unlimited Liking, observing and commenting using bots
⦁    Several Targeted search options using a username, hashtags, and locations, etc
⦁    Unlimited support
⦁    No hidden monthly charges
However, there are certain flaws in the service like the lack of 24/7 support, and also that their service is expensive as compared to what they have to offer. Other than that, the service is excellent and is worth trying for.
Advanced settings
Visible prices and packages
Verified payment gateways
Expensive service
Uses bots
Final Verdict
So these are the top 10 Instagress Alternatives that you can use. If you had loved Instagress, then you will surely love these as well. All of these services provide the same services like Instagress, some may provide even better. So be sure to try all of them!