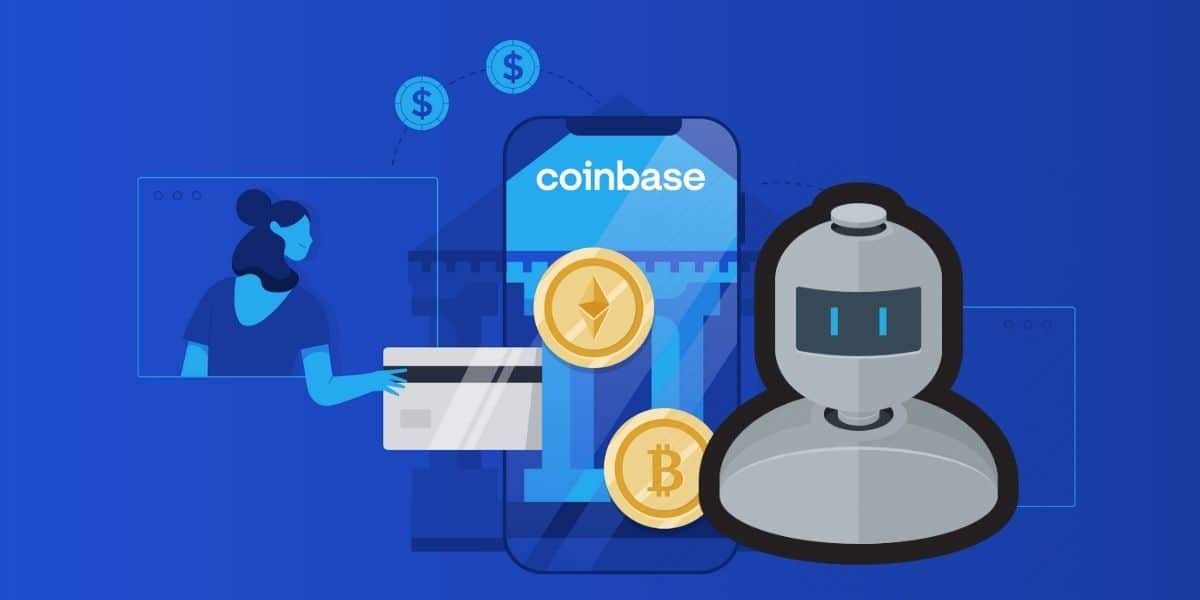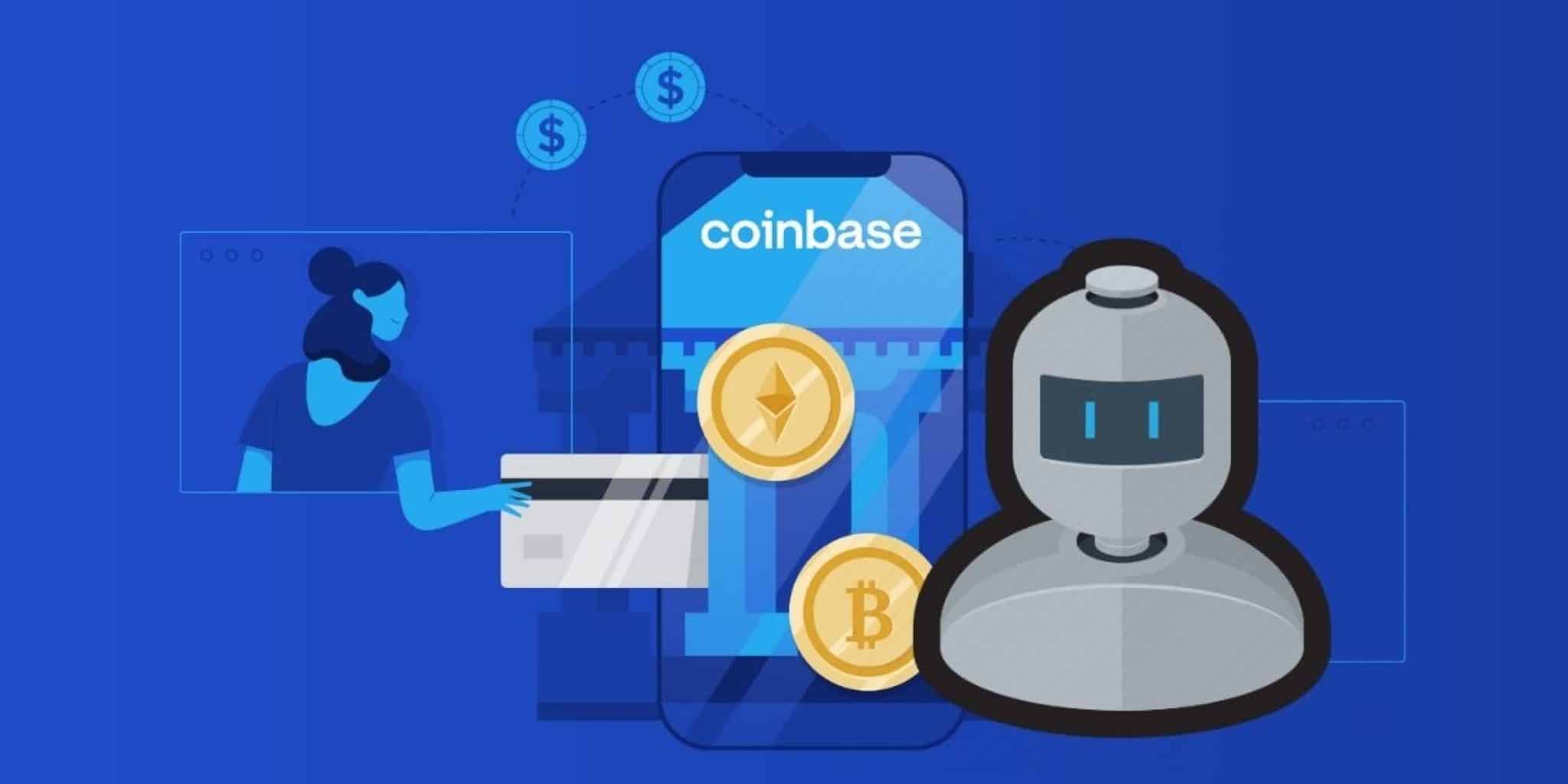 Do you want to trade your cryptocurrency according to data and trends on the Coinbase platform? This article provides you with the top best Coinbase bots that can help you carry out day-to-day crypto trading based on current data and trends as against trading with emotions.
What are Coinbase Bots?
Automated trades are made on your behalf by a cryptocurrency trading bot, which functions as a type of computer program. They allow you to trade cryptocurrencies automatically based on trends and facts rather than emotional factors. Coinbase is just one of many places where you can enhance your profit, minimize your risk, and limit your losses.
You can also use bots to generate a continuous stream of income while you sleep. Automated trades can make money while you sleep, ride your bike, or eat your breakfast. Automated trading using cryptocurrency bots is now supported on an expanding number of platforms, including Coinbase.
In this article, I will walk you through the current top Coinbase bots for 2023, which you can use to aid your crypto trading and investment.
Overview:
---
Top 12 Coinbase Bots
1. Coinrule — Best for Advanced Trading Indicators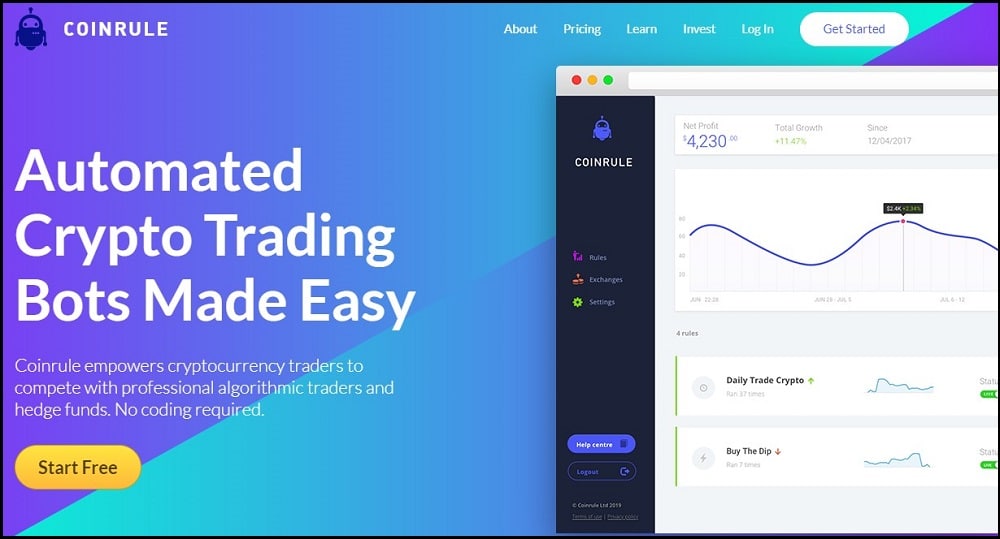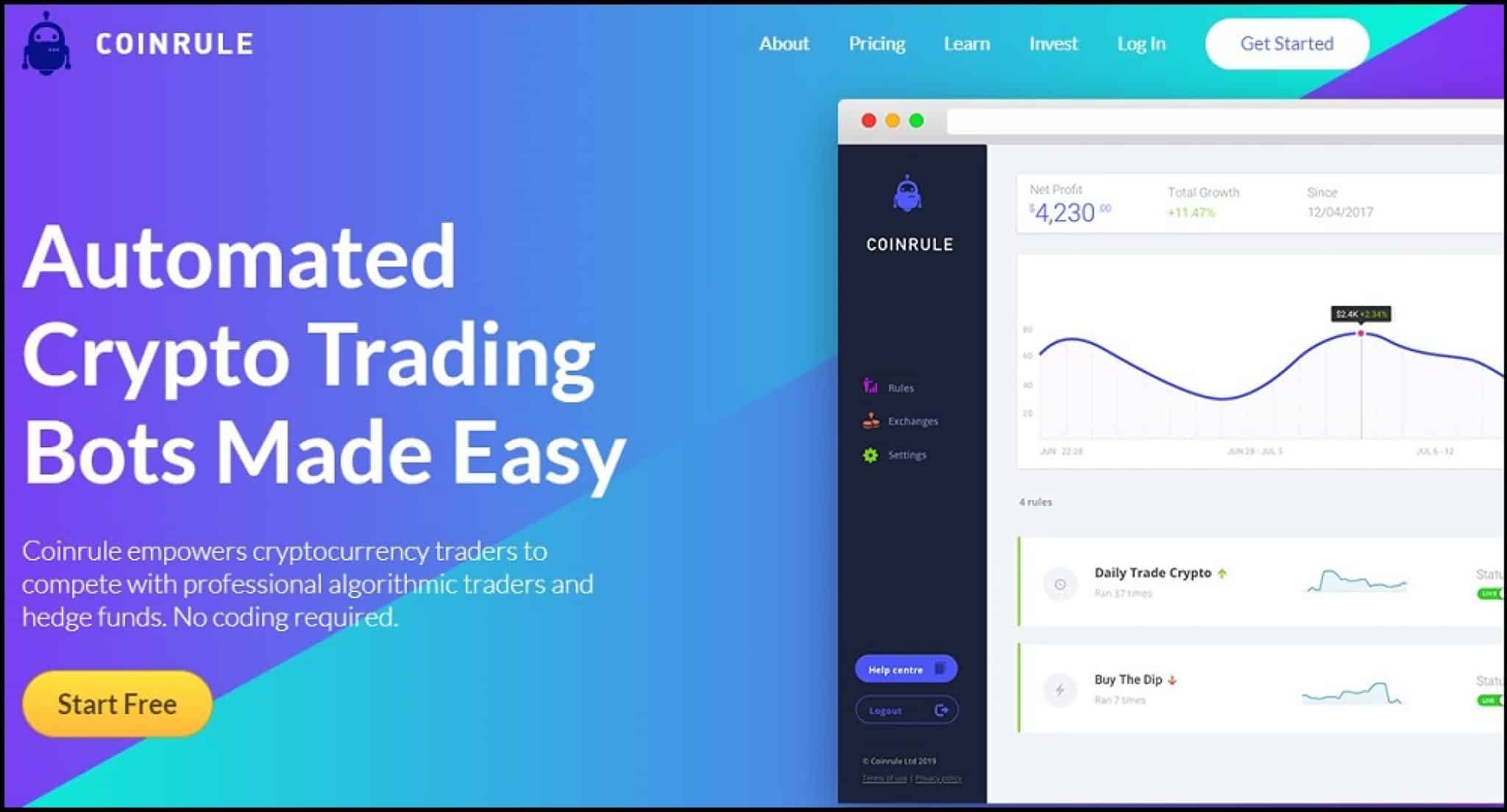 You don't need to know any code to use Coinrule, a superb Coinbase trading bot that makes its trades simple, and they claim that their traders can compete with professional algorithm traders and hedge fund managers. Additionally, these folks claim to work with nine other big exchanges and provide military-grade encryption and security, so you can use them with Coinbase.
The Coinbase trading bot allows you to set automated trading rules and to do so 24 hours a day, seven days a week so that you never miss out. If you like to proceed with your trades cautiously and don't want to send anything out into the world until you've tested it, they provide a section on their website dedicated to testing your technique. This way, you'll be able to observe how that technique has performed in the past and decide if it's right for you.
---
2. TradeSanta — Best for Long and Short-term Strategy Trading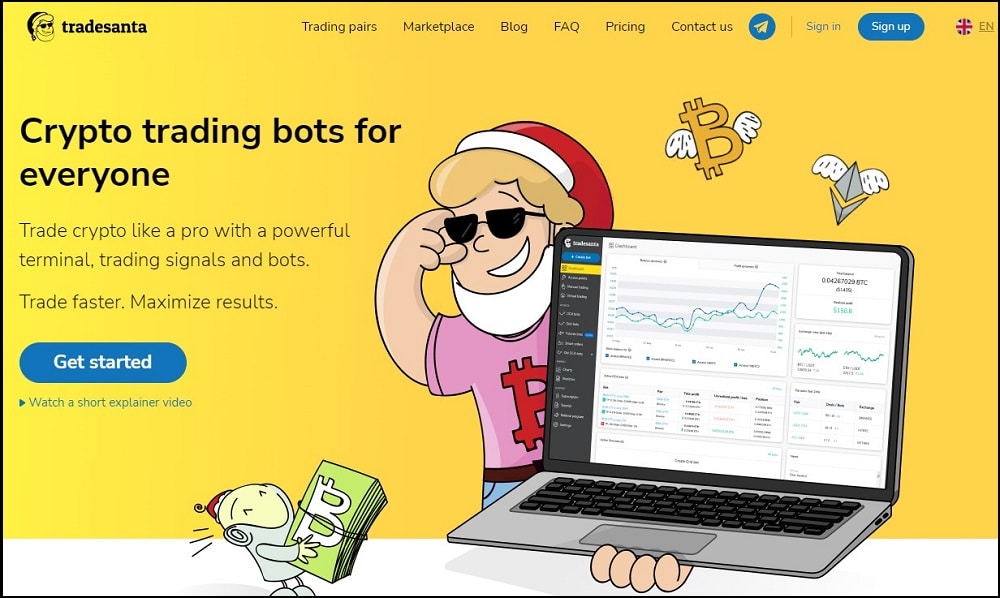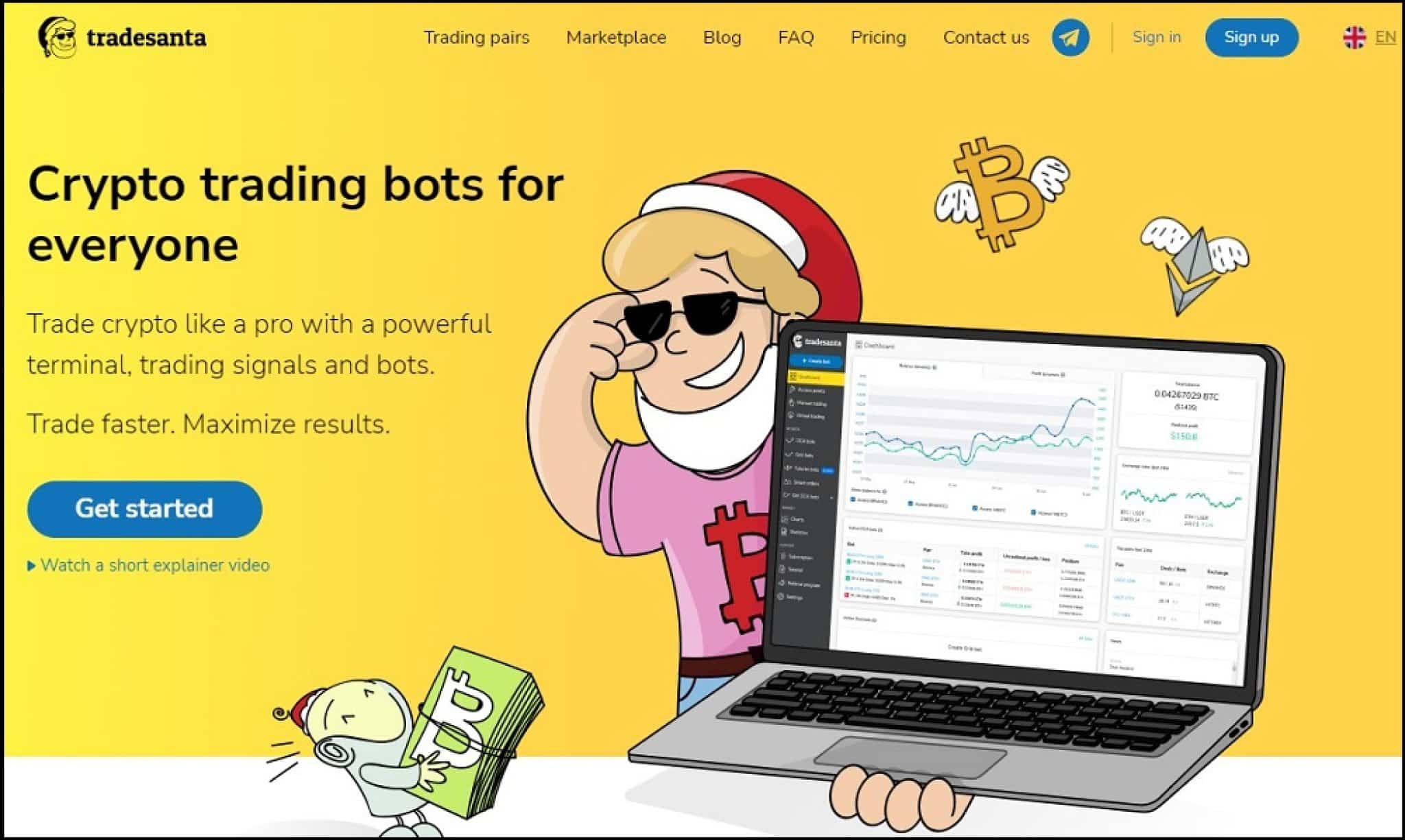 You don't have to download anything to use TradeSanta's features because they are hosted in the cloud, which means that you don't have to download anything to access their features. It's important to make the most of these deals if you don't want to spend too much time trading but still want to make money. With their long and short trading bot, you can quickly apply market-wide trading strategies.
This is perhaps their most well-known feature. Many technological indicators, like real-time tracking and bot templates, are also available. They also have a mobile app that is compatible with both iOS and Android. There are three price packages, with the lowest at 14 USD monthly, the most at 30 USD monthly, and everything in between. A free trial period is available so that you can test out their bots before deciding to purchase them.
---
3. Quadency — Best for Retail and Institutional Trading and Managing Digital Assets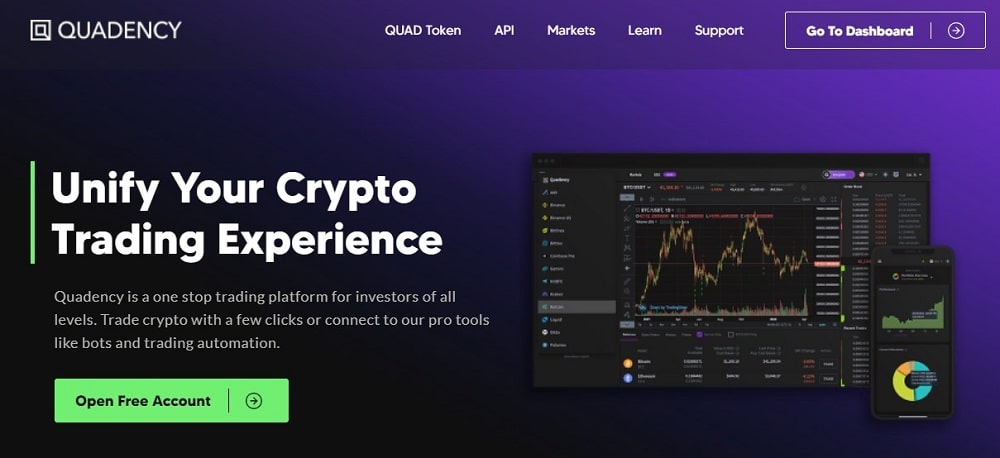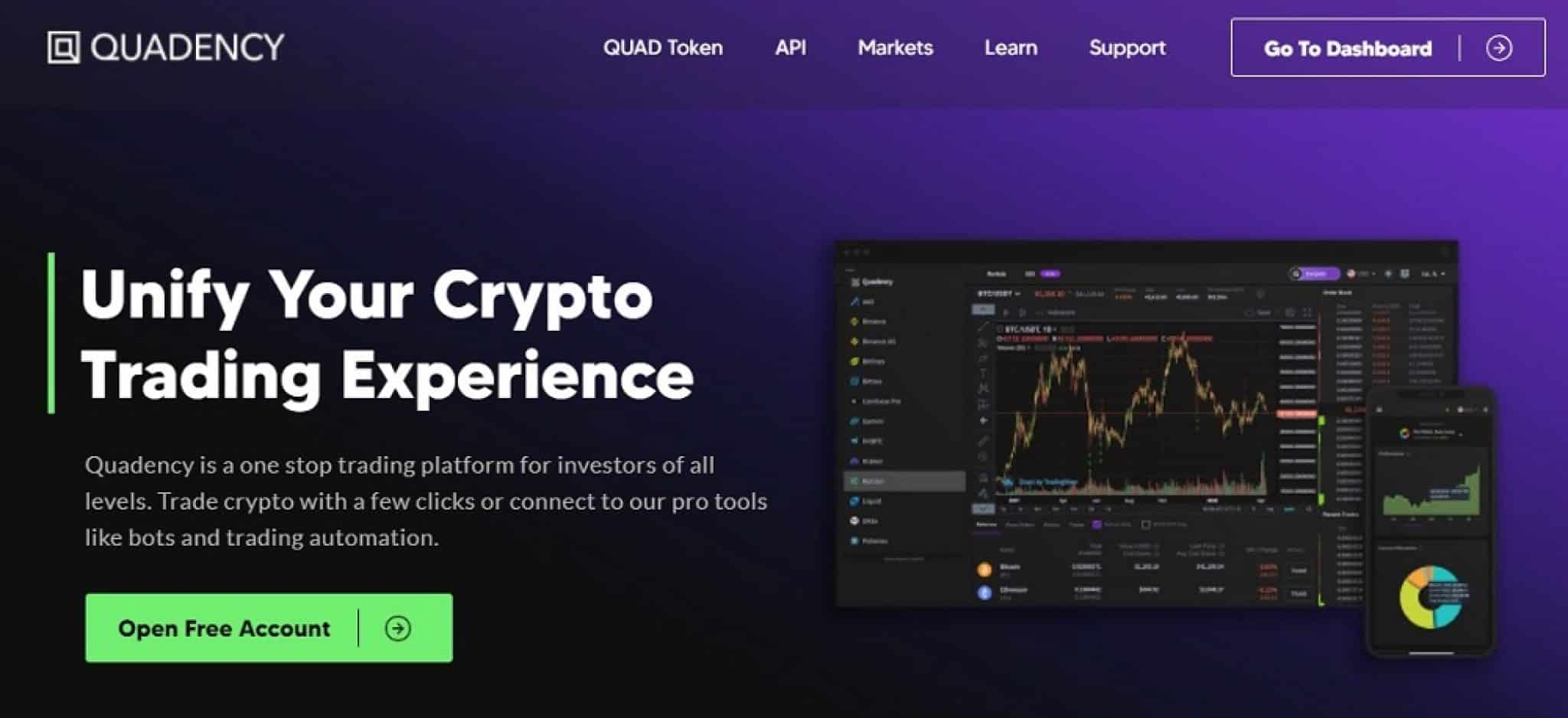 It is possible to automate your trading activities with the assistance of Quadency, yet another popular Coinbase bot. They serve more than 35 crypto exchanges, and they offer 15 market techniques from professional traders. In addition to helping you gain free access to their pro version, this cryptocurrency trading bot offers a variety of unique features, like dashboard administration, an options trading bot, and automation.
They're safe and secure, and they're also simple to use. The Coinbase bot has three subscription packages, with the first being free and the second being 49 USD monthly for the pro plan. Monthly, they charge 99 USD for an unlimited trading account with them. This is the place to be if you prefer to conduct your business in a professional manner.
---
4. Bitsgap — Best for Crypto Assets Management and Arbitrage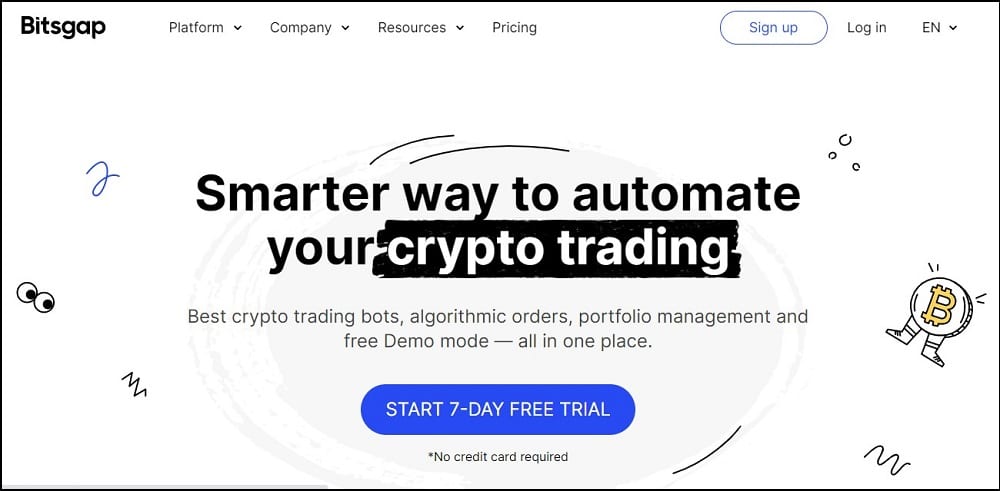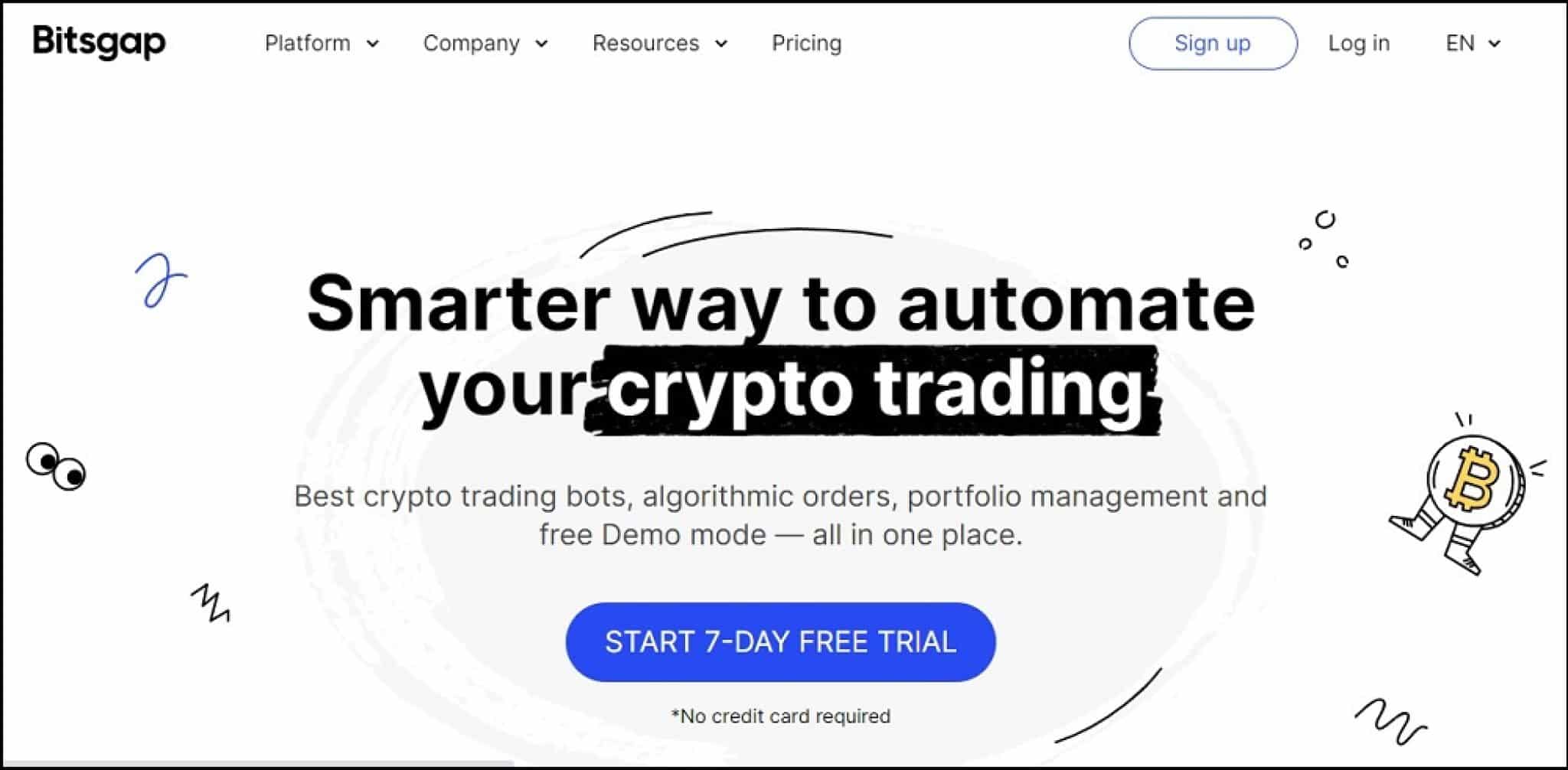 A Coinbase trading bot like Bitsgap is an all-in-one platform that allows you to succeed with your Coinbase trading bot and so much more. Additionally, they can help you trade different cryptocurrencies and answer your initial questions about how they function using the chatbox on their website. To help you make calculated trades with minimum risk, they offer some of the best crypto trading bot options in the globe and clever algorithmic orders.
They claim that they are committed to providing their clients with all the information they need to manage their assets in a simple and efficient manner, and all of this can be done in one place. As a bonus, they have a one-minute tutorial on their website that you should definitely watch if you want to learn more about them and how they operate. A difficult task, but not impossible, when you have a Coinbase trading bot on your side like this one.
---
5. Pionex — Best for Advanced and Beginners Crypto Traders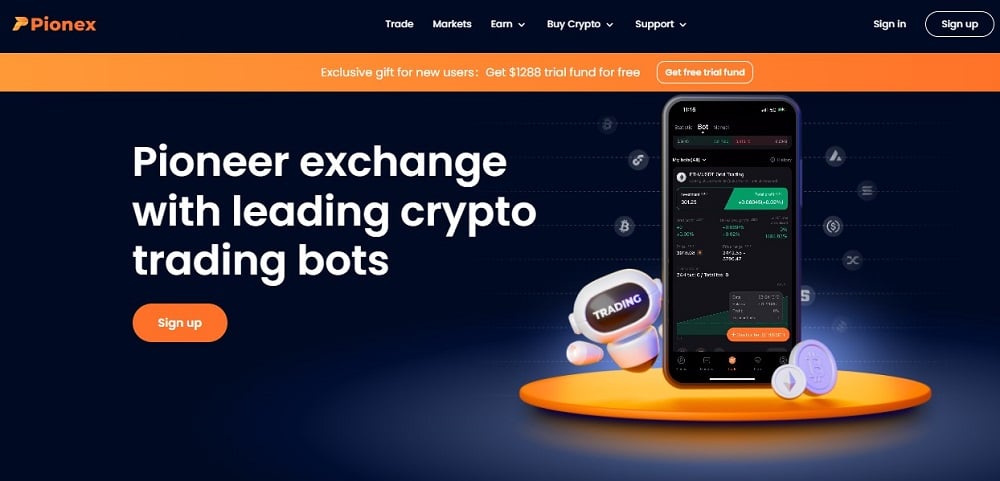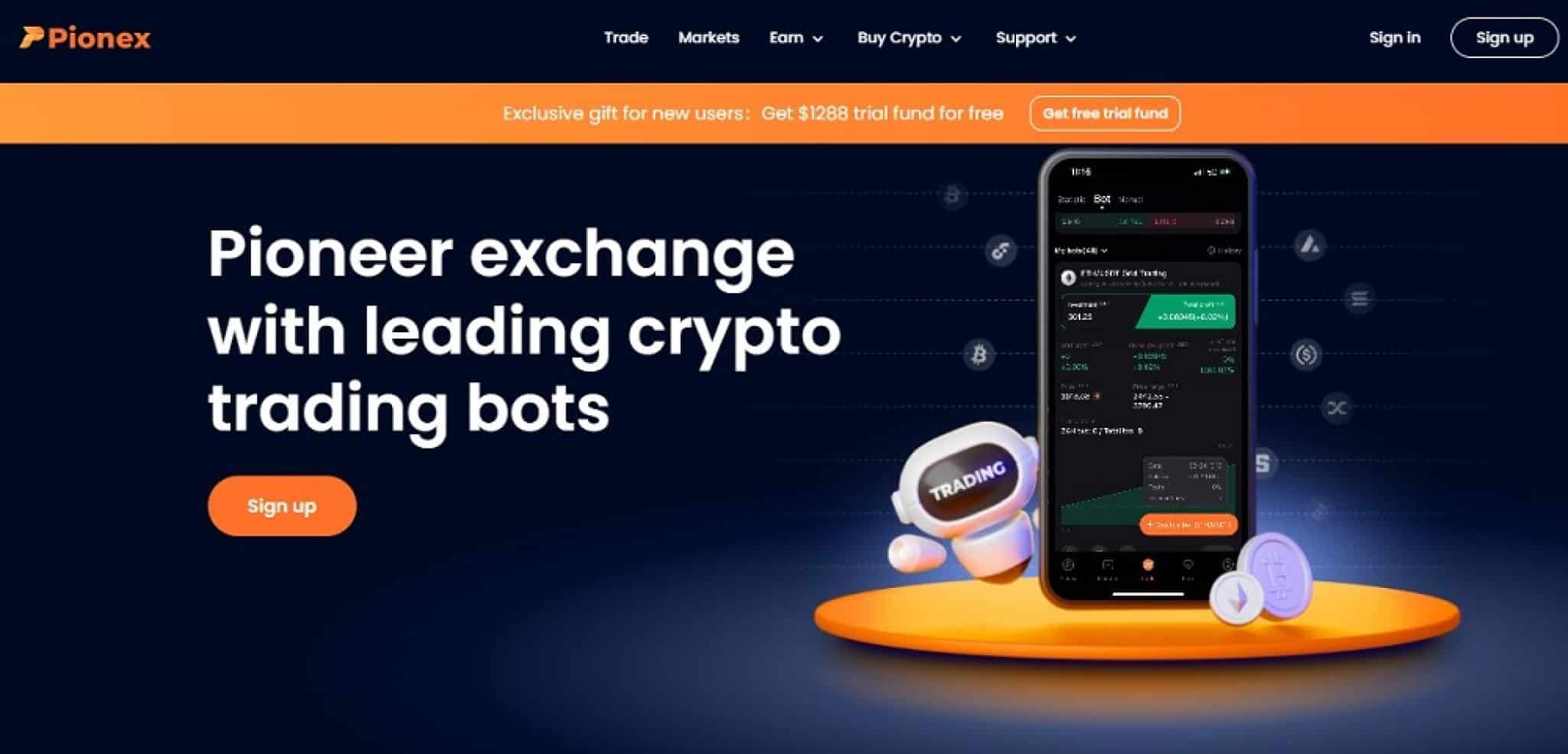 Pionex is by far the best Coinbase trading bot in the business because of its extensive experience in both grid trading bots and arbitrage trading. This means that no matter what you want to accomplish with your Coinbase trading bot, you can do it with Pionex.
There are 16 bots incorporated into the system, and they're all free to use. You don't need a specific quantity of crypto to get started investing with them because they have exceptional customer service, and there is no minimum deposit requirement. In light of all I have seen so far, I believe these guys are exactly the kind of Coinbase trading bot you need to succeed in the cryptocurrency market.
---
6. Shrimpy — Best for Monitoring the Market and Building Portfolio Strategy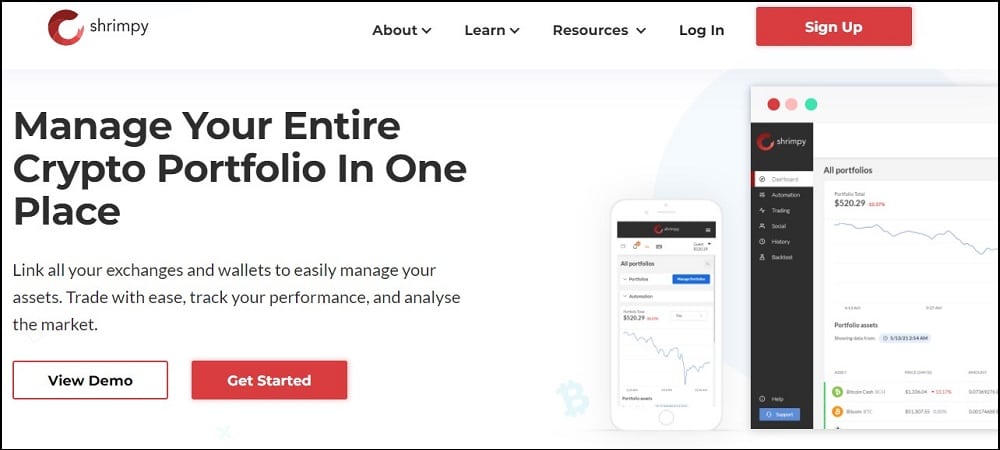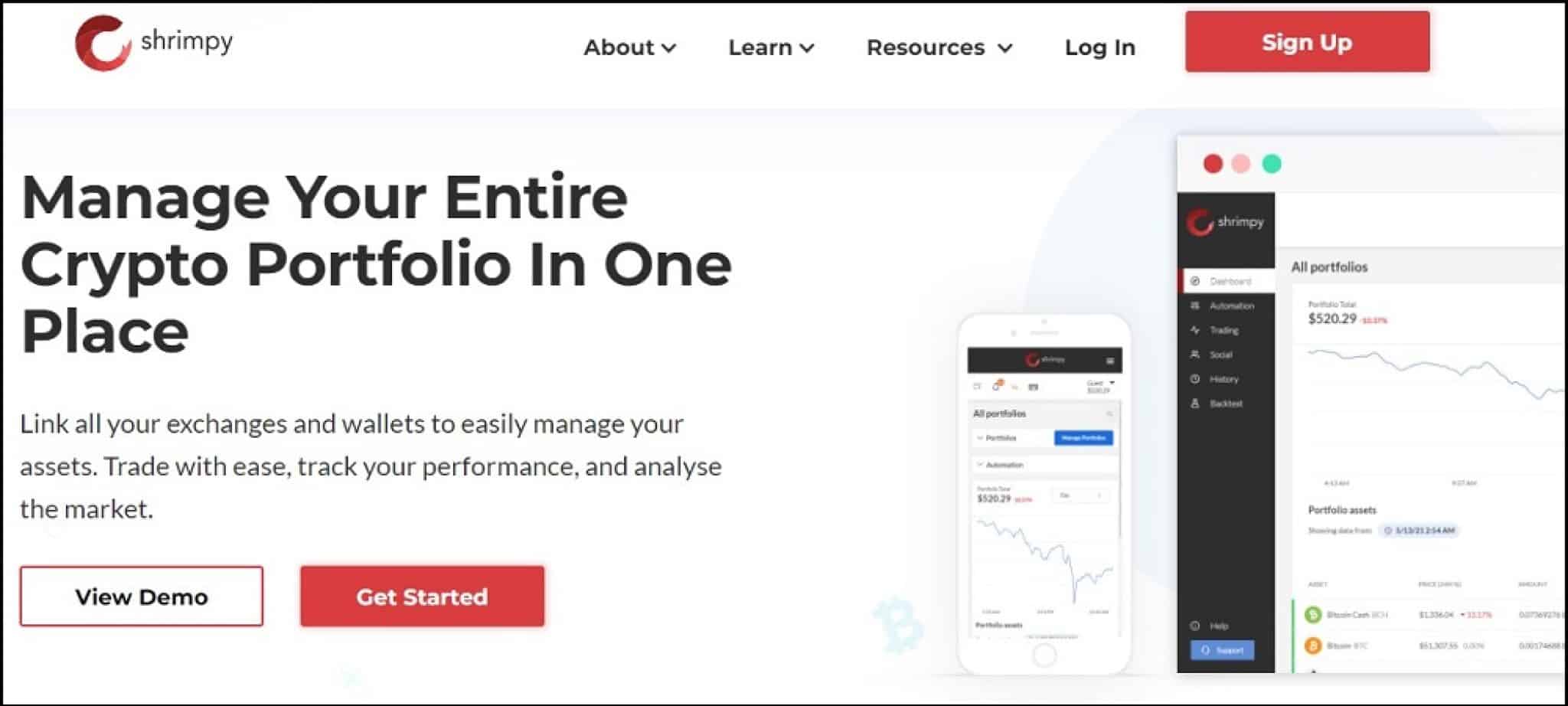 For long-term portfolio management, Shrimpy (a Coinbase bot) comes in handy. Additionally, it provides portfolio rebalancing, automatic trading, and performance monitoring of different exchanges. As a result, you'll be able to learn from some of the most successful traders in the crypto market by copying their tactics.
In addition to providing a community, they also provide a wide range of supported exchanges and an extremely user-friendly layout. If you want to take advantage of all of Coinbase's trading bot's features without having to know anything about coding or programming, their monthly prices start at 19 USD and go all the way up to 299 USD.
---
7. CryptoHero — Best for Managing Portfolio and Trading Terminal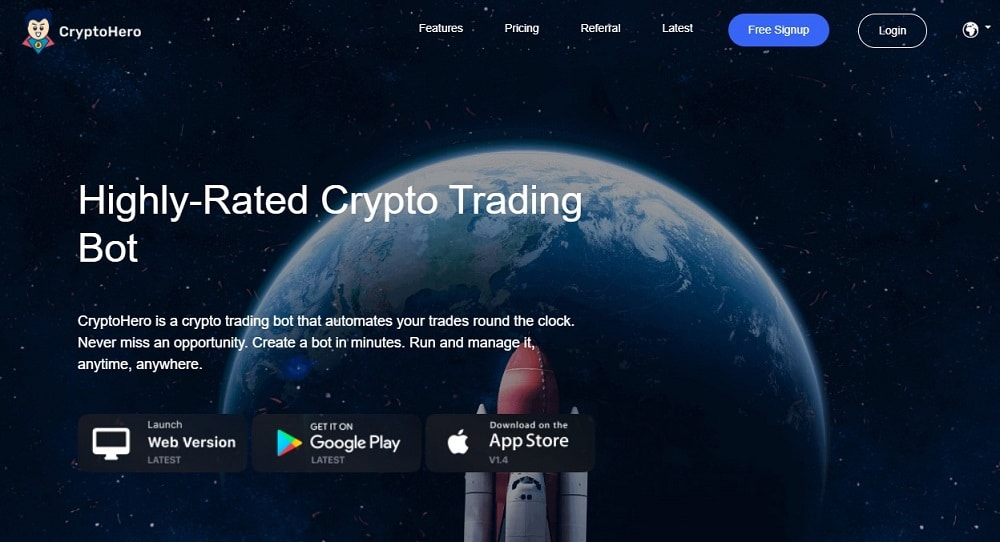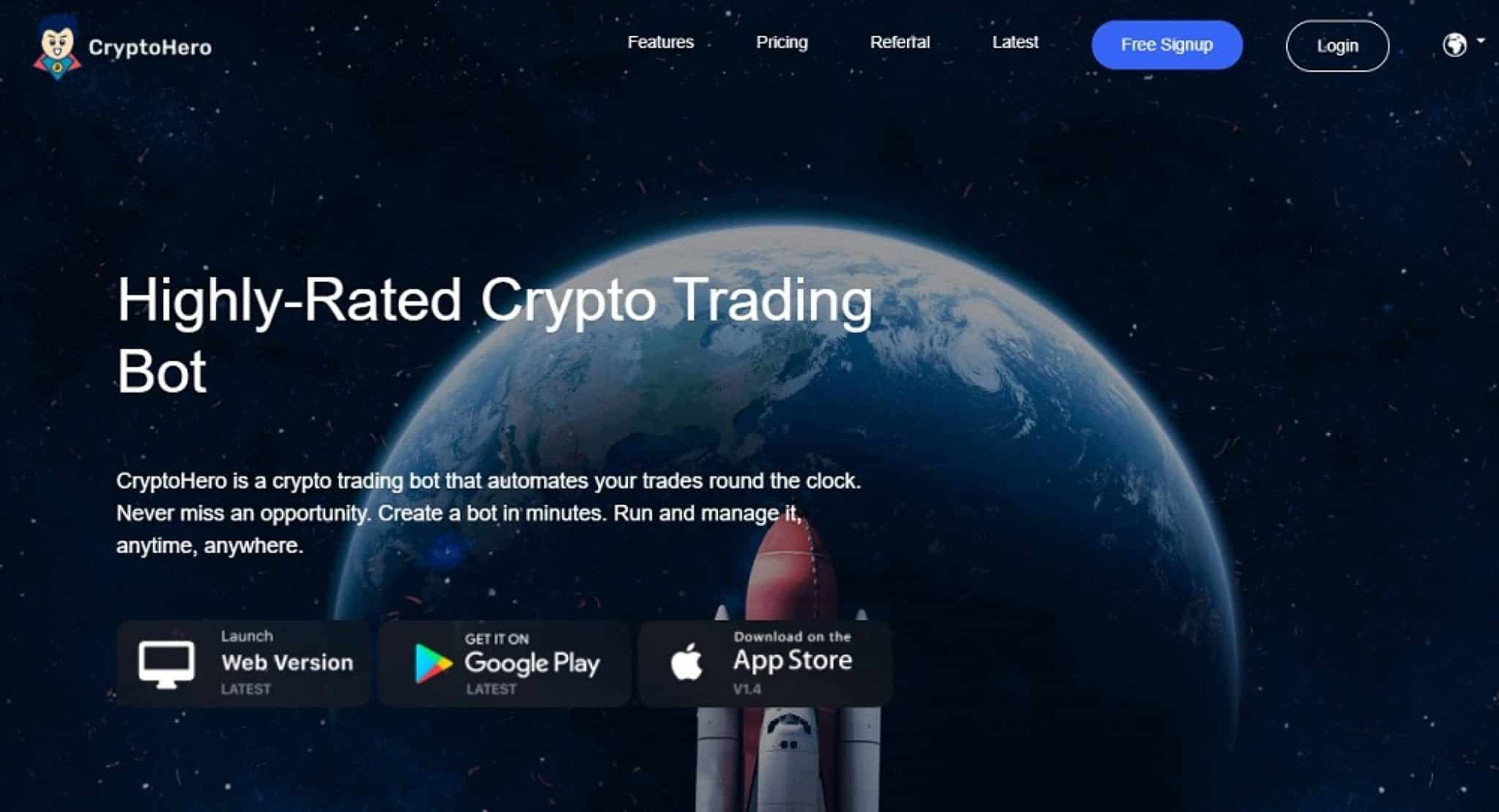 If you're just getting started with cryptocurrencies, you'll want to take advantage of the next Coinbase bot on this list because it's designed specifically for newbies. Traders who are new to cryptocurrency bots will find them excellent because of their low prices and user-friendly interfaces.
AI-optimized software is another benefit if you're short on time or just starting out in the market. You can use their services for as little as 29.90 USD monthly, and you don't need any programming skills to do so.
---
8. 3Commas — Best for Advanced Traders and Earning Funds in Sideways, Bull, and Bear Markets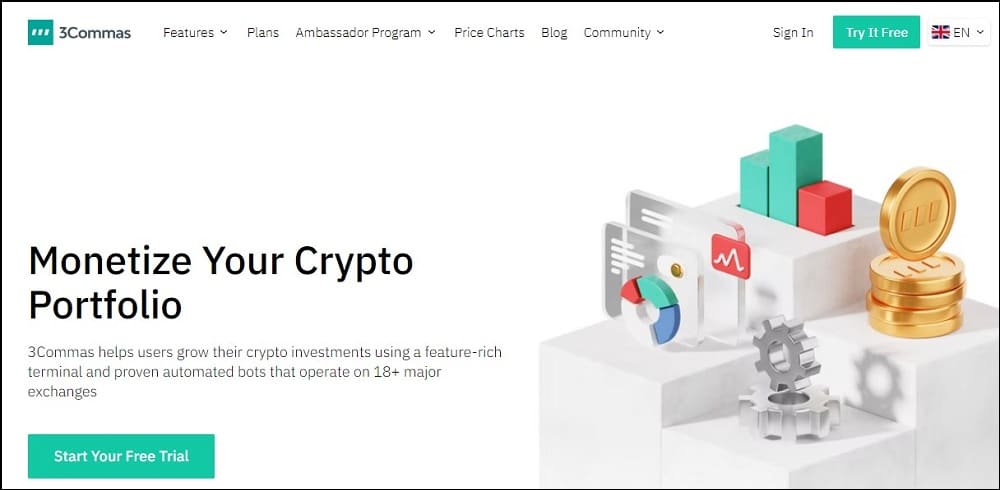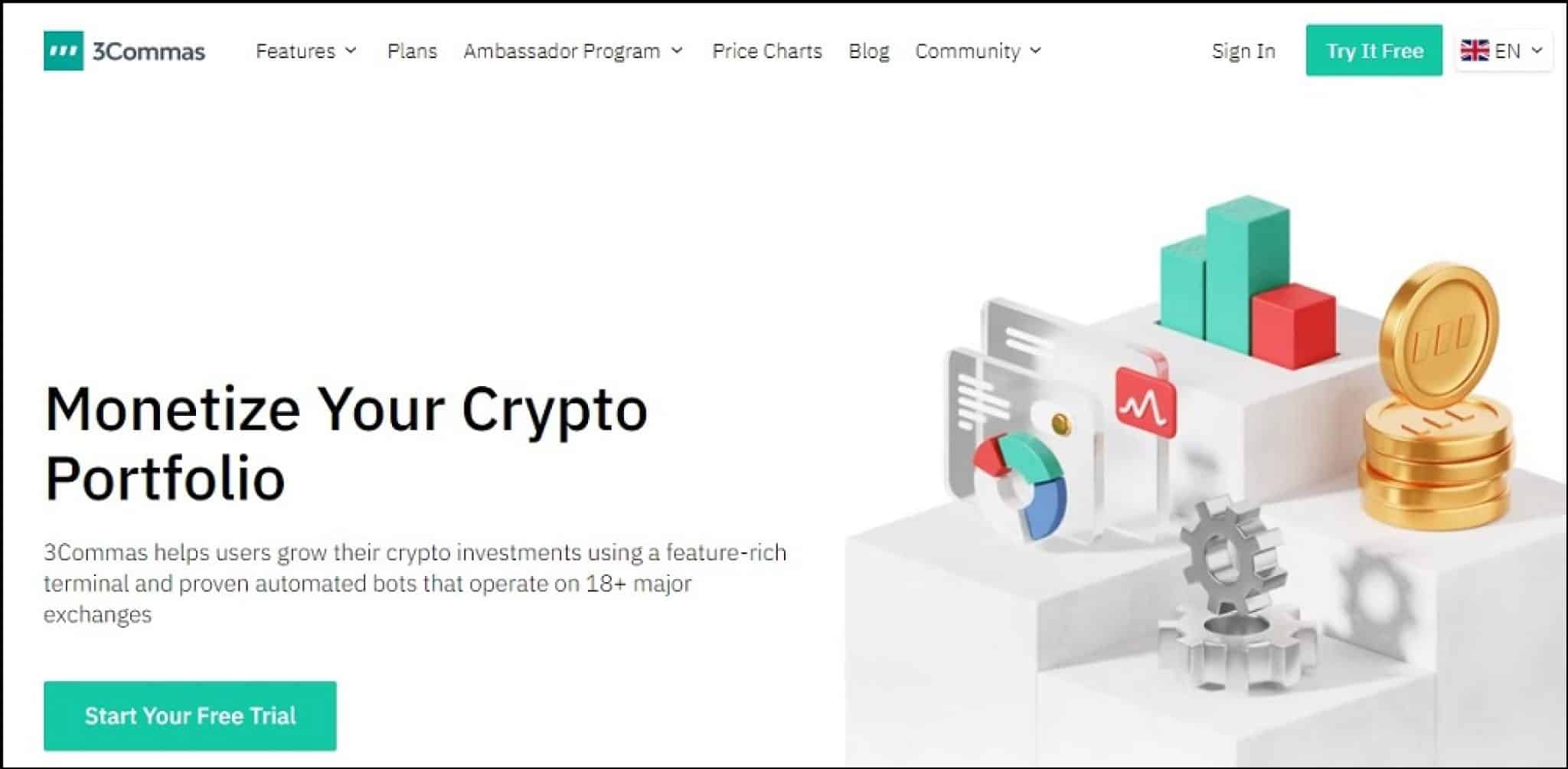 Coinbase bot 3Commas is best used by experienced traders; nevertheless, they are still user-friendly and provide surprisingly reasonable packages, so if you are an independent trader who wants to take on more difficult techniques, these guys are a viable alternative. In order to get the most of their investor program and automate your personal methods, they provide a highly graphic, straightforward user interface.
As a bonus, they also provide a blog where you can use analytics, insights, and recommendations to help you along the way. If you buy a membership with them and pay for it annually, you'll spend 50 USD monthly instead of 99 USD monthly. You don't have to know how to program to use this interface, which is one of its advantages.
---
9. Trality — Best for Advanced and Beginners and Building Selling Bots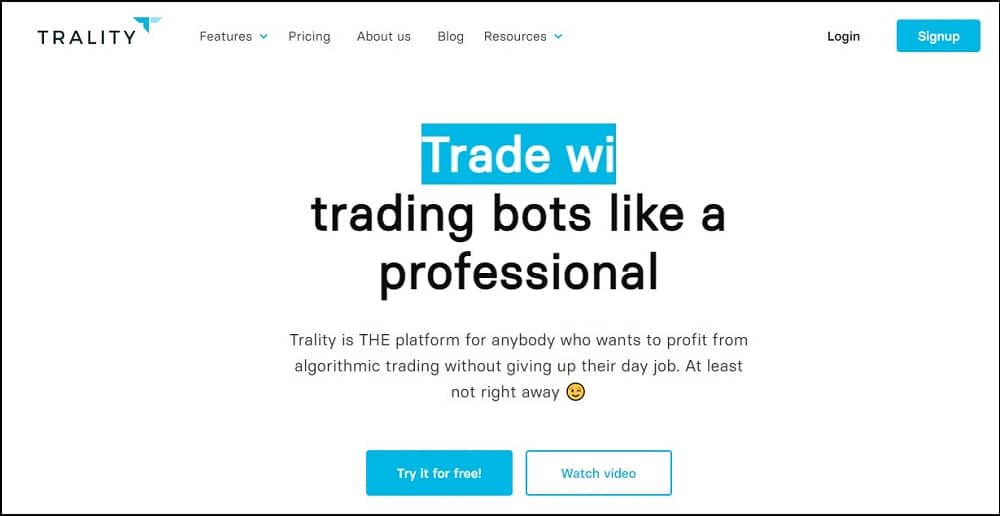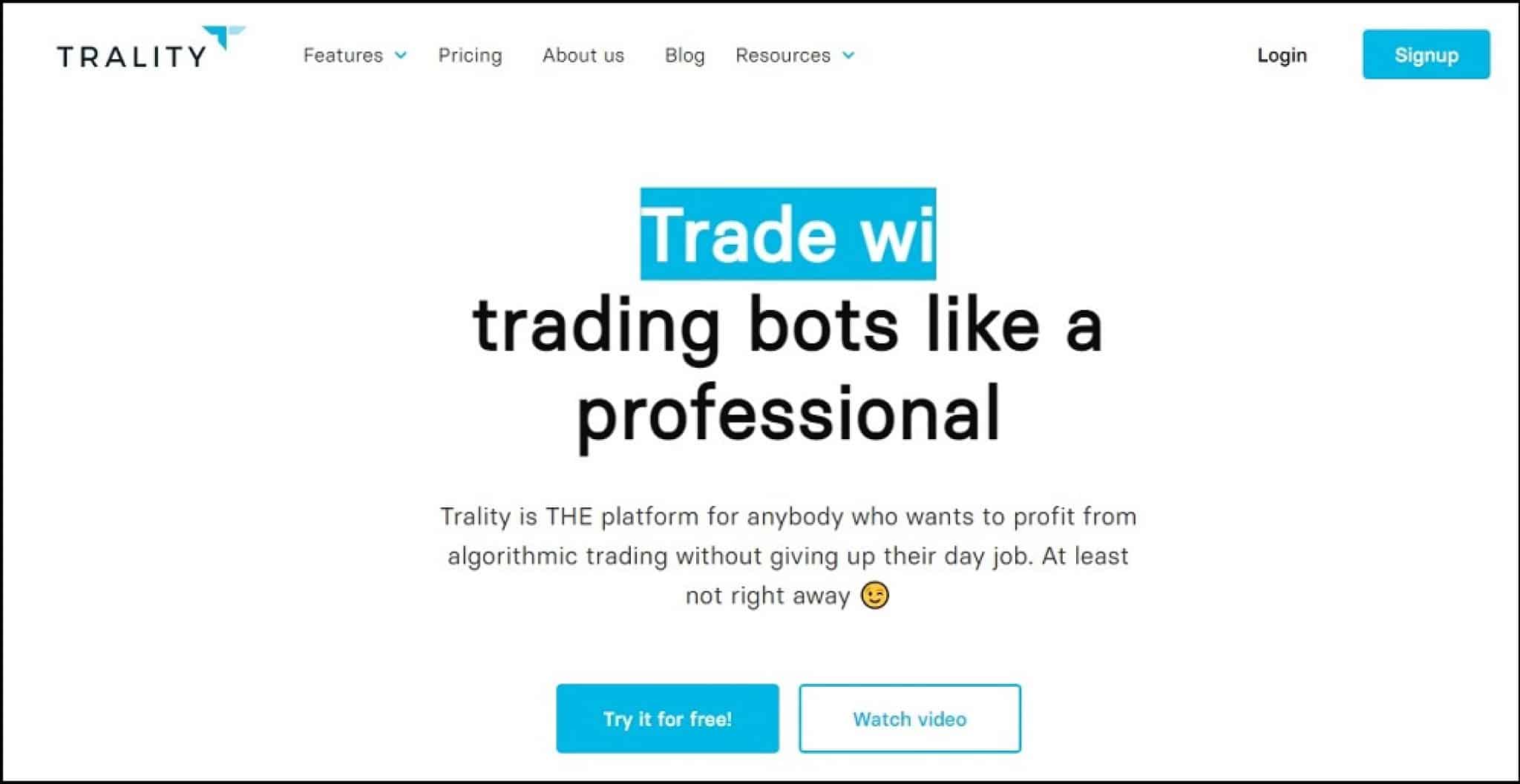 Using Python API, Trality is one of the best Coinbase bots since it allows traders to take advantage of this familiar language and tools to create their own bots.
Despite the fact that they've been a little slow to add new exchanges and features to their platform, I love that their Python integration is simple to use, and they provide detailed documentation, making the entire process of building a bot a little more straightforward and transparent.
---
10. WunderTrading — Best for Cloud-based Cryptocurrency Trading and Investing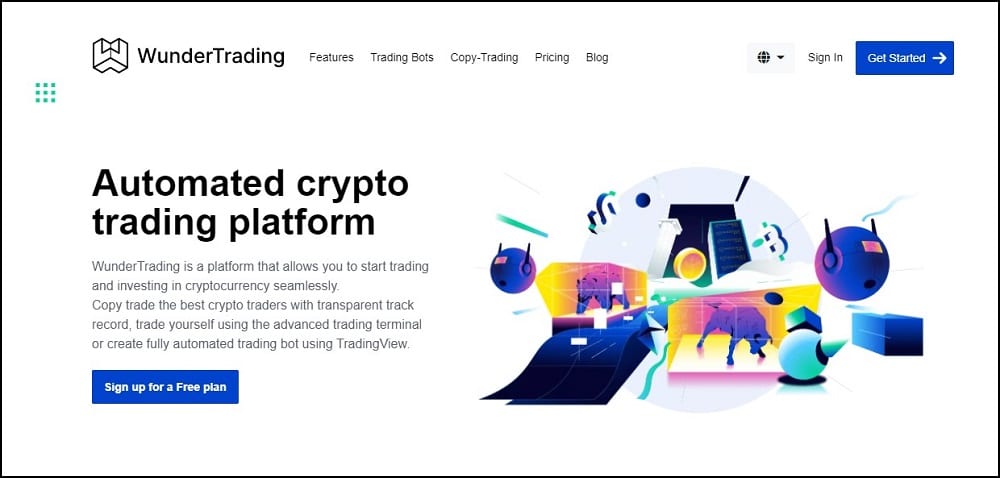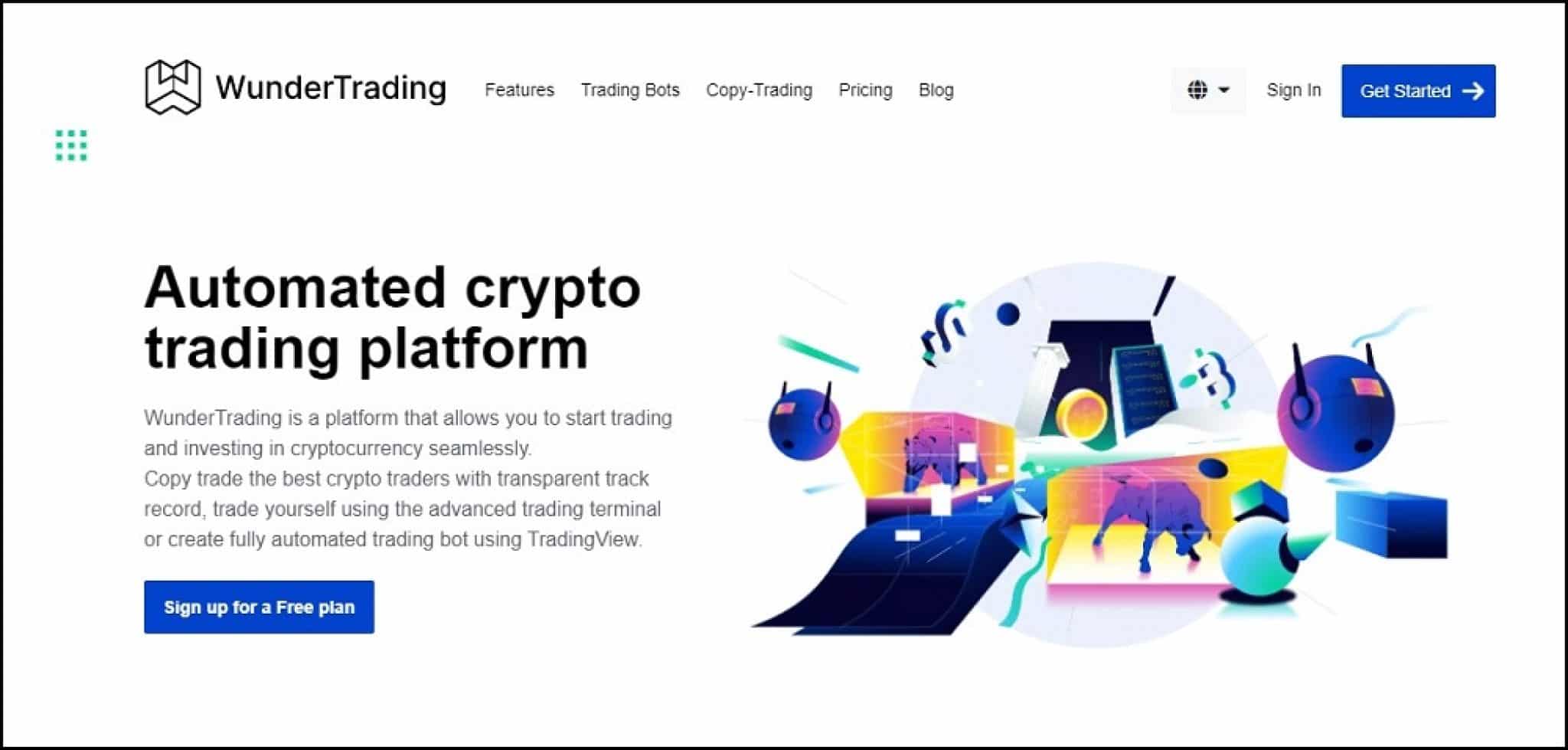 Trading and investing in cryptocurrencies has never been easier, thanks to WunderTrading, a cloud-based platform with a simple user interface. You can use the advanced trading interface to trade, or you can construct a fully automated trading bot using TradingView.
There is an easy-to-use TradingView integration with WunderTrading's Spread-trading interface. A TradingView script can be turned into a fully functional cryptocurrency trading bot with this tool. In a matter of seconds, you may create your own unique cryptocurrency bot. It also allows you to manage the portfolios of multiple crypto exchange accounts at once, avoiding the need to execute individual transactions on each API.
---
11. Cryptohopper — Best for Fixed Fee Option and Copy Trading Investors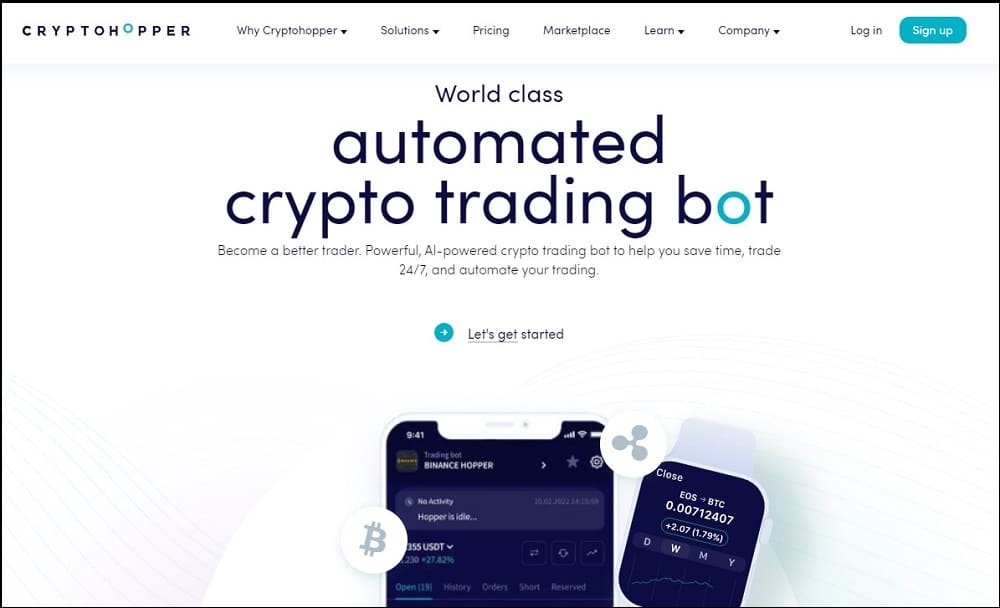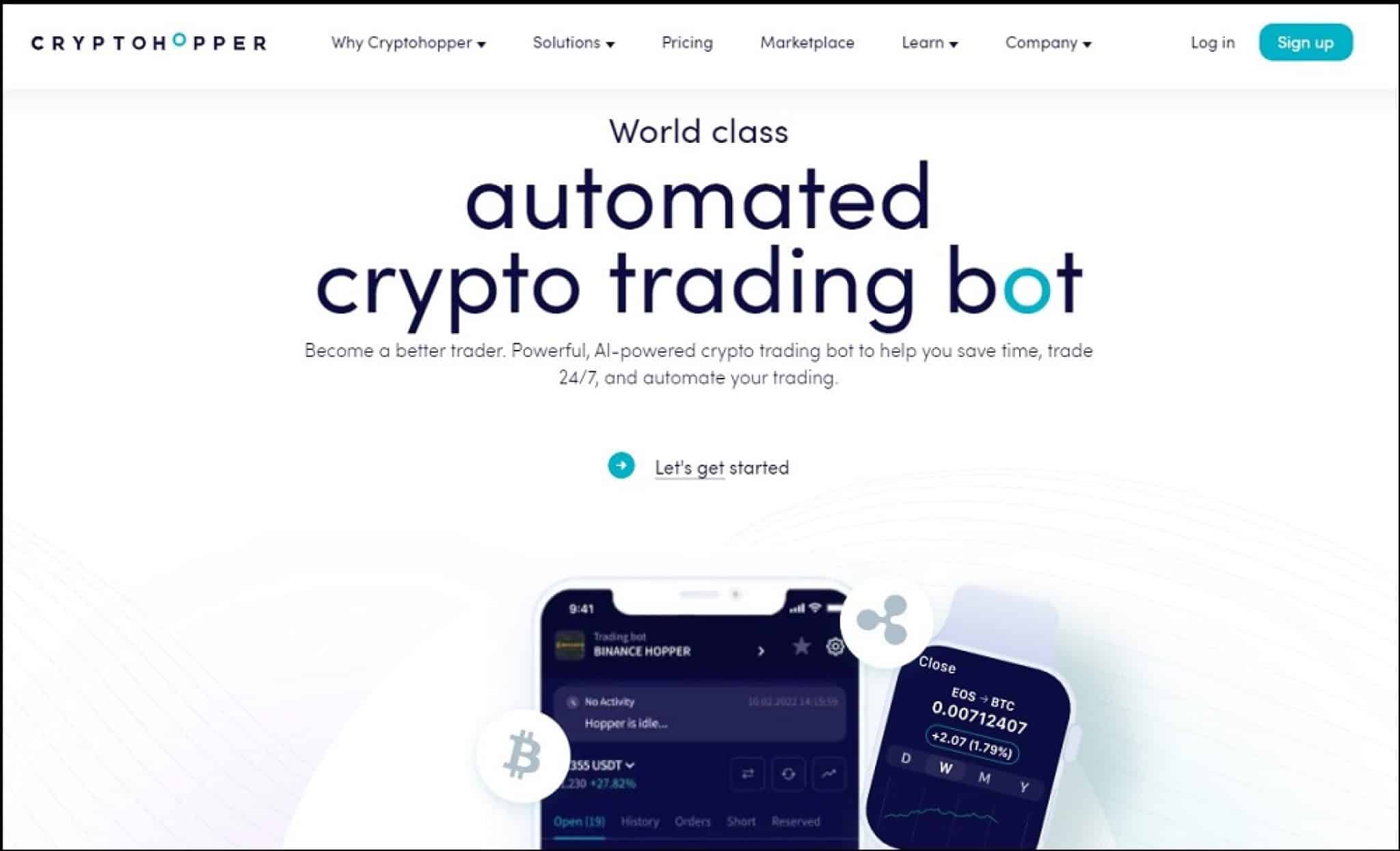 When it comes to becoming a Coinbase bot, Cryptohopper is the industry behemoth, working with more than 100 tokens and being available on over 15 exchanges. Since they have a large client base and a wide selection of packages, they can offer something for everyone, from free to 99 USD monthly.
If you're new to cryptocurrencies, there are a ton of tools and signals available to you, but if you already have some experience, you may create your own trading techniques and test them out. If you use them, you won't have to download anything because they are cloud-based. I also like how simple the interface is, so it doesn't matter if you are an expert or a novice while using them. In order to get started with them, you don't even need to know anything about programming!
---
12. HaasOnline — Best for Automating Crypto Trading Strategy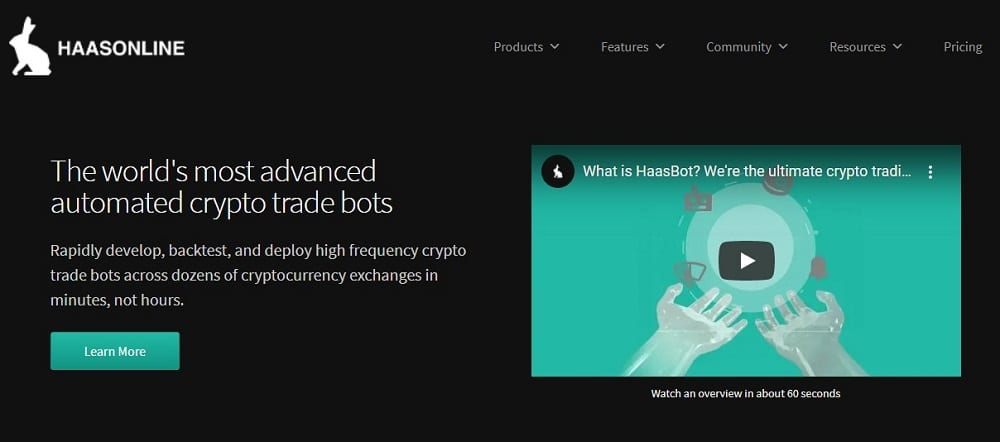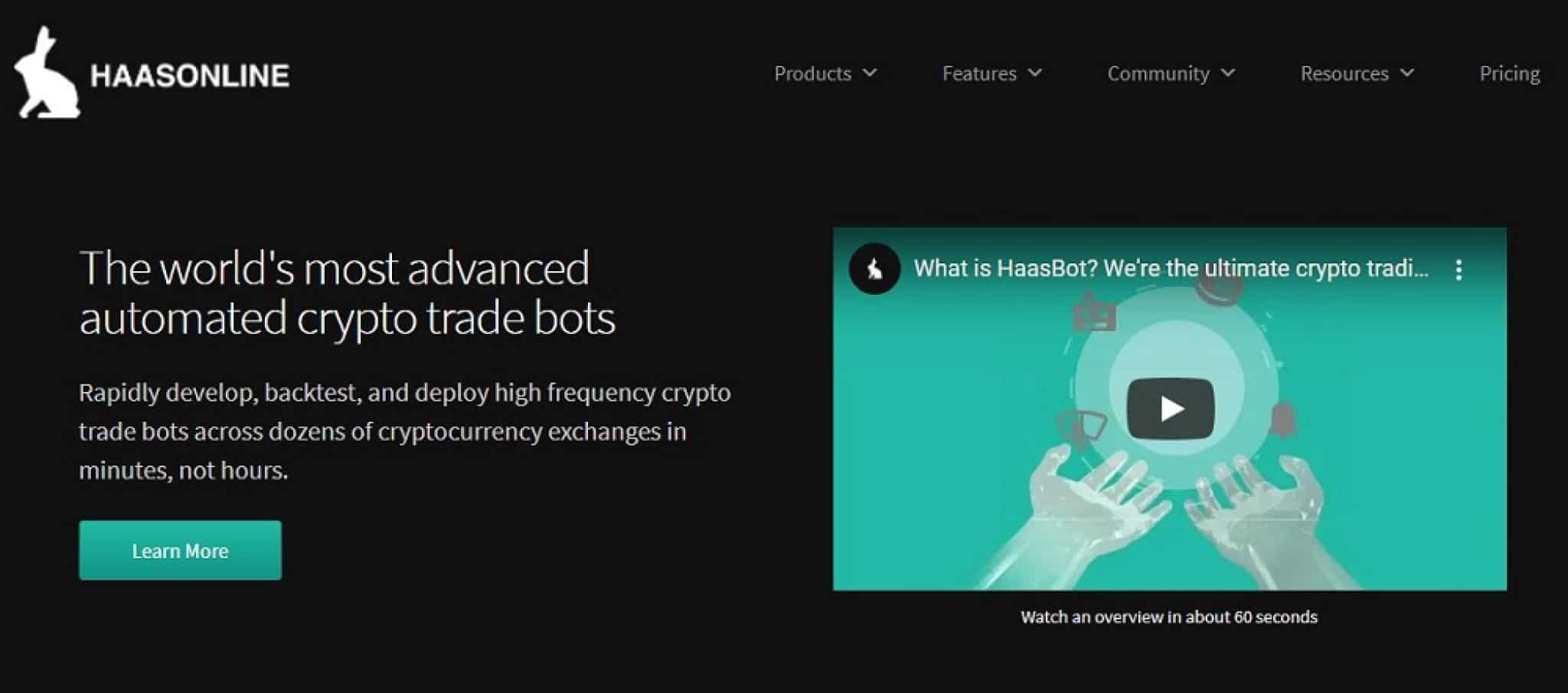 Price: 0.009 BTC (Beginners Plan), 0.016 BTC (Simple Plan), and 0.026 BTC (Advanced Plan)
HaasOnline is a unique paid Coinbase trading bot. Pre-built trading bots for methods like arbitrage and market-making are available. HaasScript, the scripting language that they have released, allows you to build complicated trading bots using a drag-and-drop designer or an intelli-sense editor. Thereby providing the greatest automatic trading program currently available in this field.
Backtesting your techniques on over 25 exchanges is also an option, as well as paper trading. Your trade strategies and data are protected from prying eyes because your crypto trading software is now housed locally and is non-custodial. Retail traders will be able to use a cloud-based version as well. They don't provide a free trial; however, they do have a 14-day trial license that is reduced.
---
FAQs
1. Is there an investment bot on Coinbase?
Coinbase doesn't have its own investment bot. While there isn't a Coinbase investment bot, you can connect to one of the third-party trading bots I have talked about above.
2. Which free Coinbase bot is the best?
The greatest free Coinbase crypto trading bot is Pionex. This Coinbase trading bot also has the benefit of not requiring you to connect your exchange via API keys.
3. Why Should I Use an API?
You'll need an API key to connect your trading bot to your Coinbase account. 'For reasons of safety, the bot will be unable to remove money from your profile. In order to establish a connection with your trading bot, practically all cryptocurrency exchanges employ API keys.
4. Is it Legal to use Trading Bots?
A Coinbase bot is fine for automating your trades, but you'll need to verify with your local jurisdiction before deciding which one is best for your situation. Although automated trading is subject to rules and limits, utilizing a Coinbase bot is as simple as ensuring that it is compatible with the platform.
---
Conclusion
If you connect to any of the Coinbase bots I have talked about in this article, you're likely to be able to make low-risk, high-yielding trades that will inspire you to trade more frequently in the future. Coinbase, like Binance, is well-supported and allows users to invest in a wide range of different cryptocurrencies. It also integrates with all of the other services I have listed thus far. To choose the choice that best meets your requirements and achieves your goals, try out several different possibilities and see how they compare.