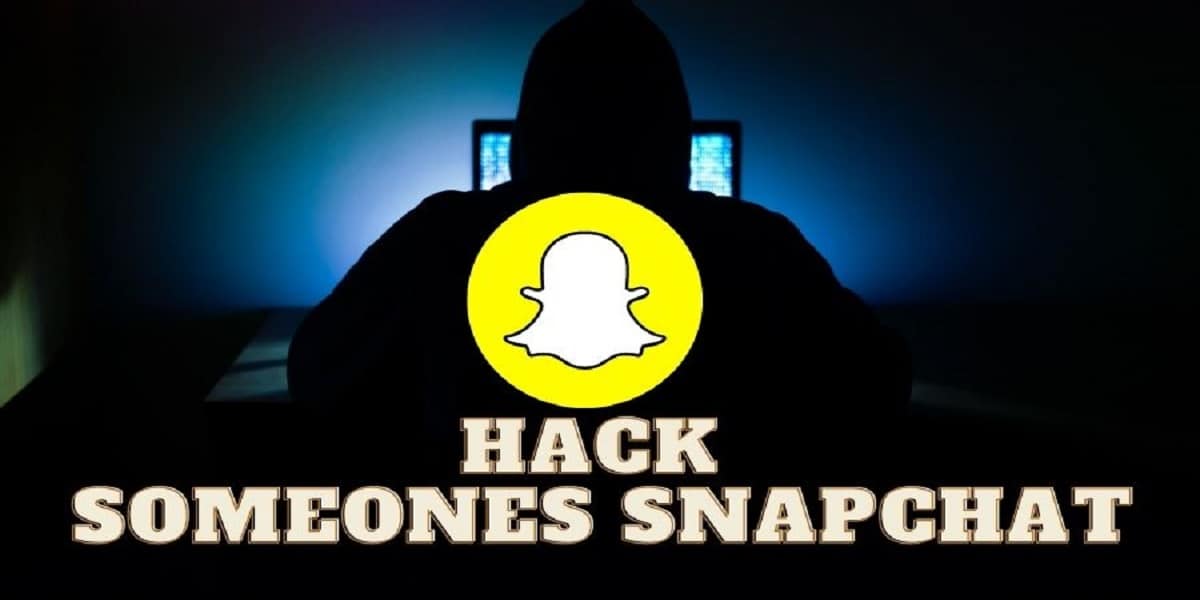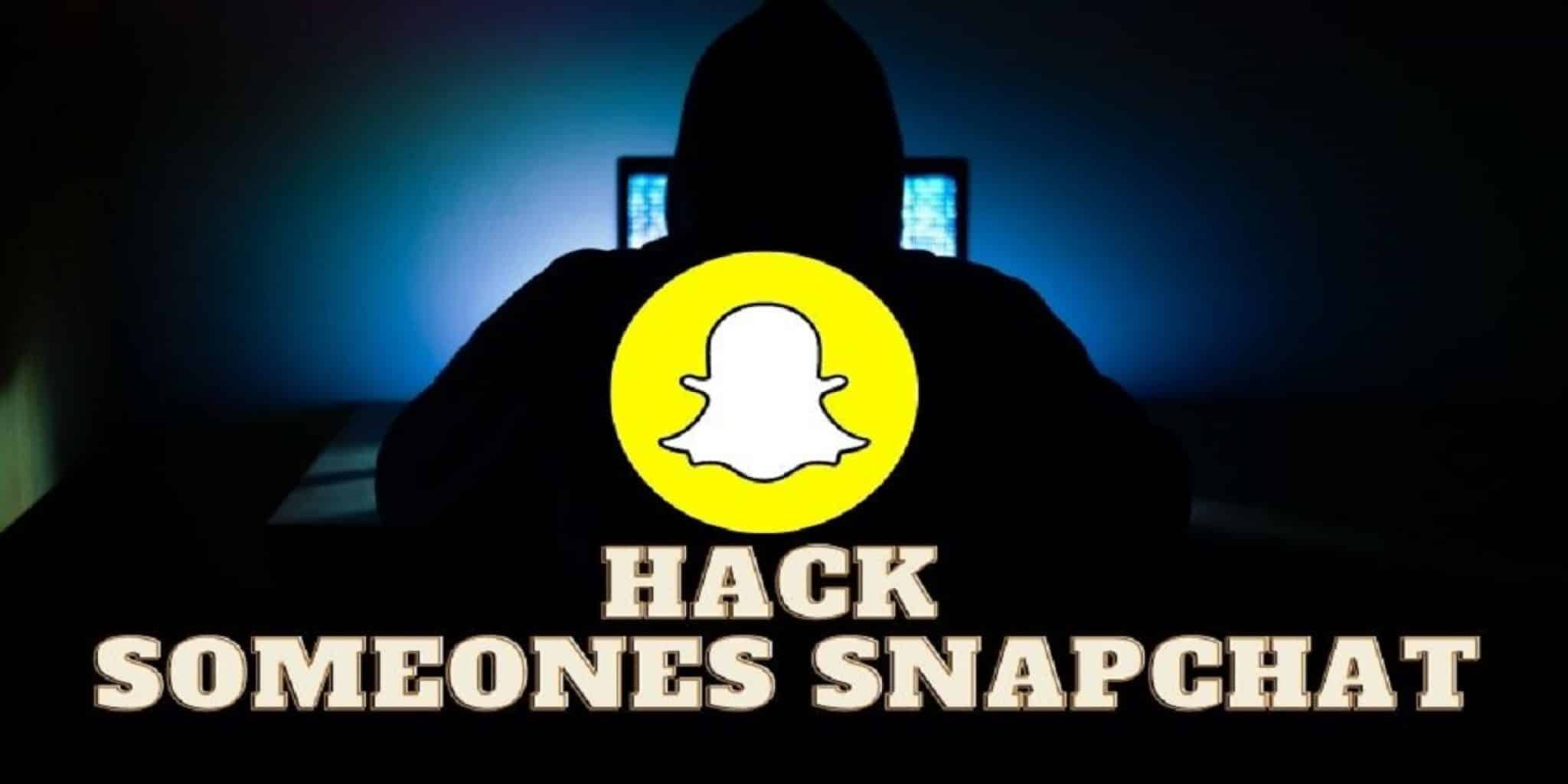 Do you believe your child or partner is up to something on Snapchat? Continue reading to learn more about how to hack someone's Snapchat.
Snapchat is a top-rated social media app that offers users the ability to send pictures and videos to friends. Users can also send messages that disappear after being viewed. However, Snapchat does not offer any security measures for its users. This means that any message or picture sent through Snapchat can be hacked by anyone with the right knowledge.
As a result, there are many ways that work for anyone that would like to hack Snapchat. However, there are also several ways you can protect your Snapchat from getting hacked. Here let's check out how one can hack into someone else's Snapchat.
Best Spy Apps to Hack Someone's Snapchat
Spy apps are the most efficient way to hack someone's Snapchat. However, most of these apps require the hacker to have physical access to the target device. Instead, these apps work by installation on the target's device, where they will secretly operate.
The apps will then send their data to the app's dashboard without the user's knowledge. The hacker can then access the data using another phone or computer device registered on the hacking app's user account.
Here are some of the best apps that can help you hack into someone's account:
---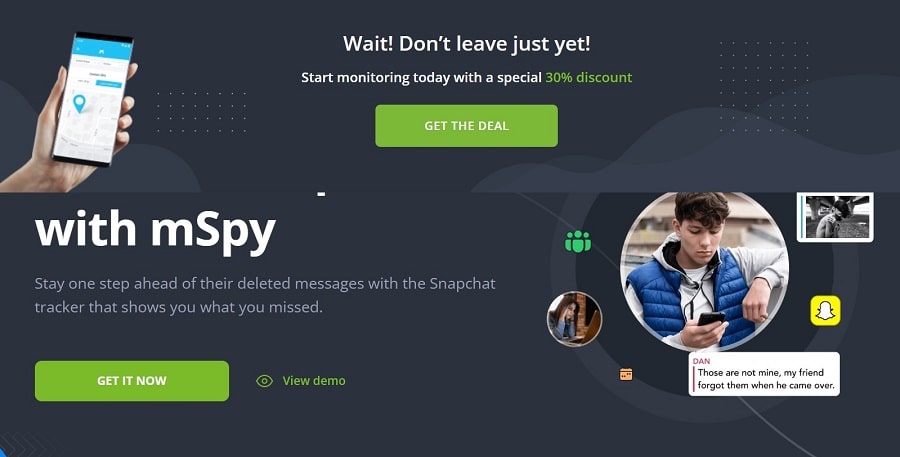 Price: $27.99/month (3 months license)
mSpy is one of the best spying apps out there. It can help you monitor your child's activities on their mobile phones, including messages and calls. This app can also track your employee's activities by monitoring their GPS location and other online activities.
It offers an easy-to-use interface for all users, no matter how technical they are. You can easily set up the app on any target device with just a few clicks. All you need to do is download and install the app on the target device and activate it from your control panel. Once activated, you will be able to view all incoming and outgoing text messages and call logs from that device in real-time from your control panel or online account.
---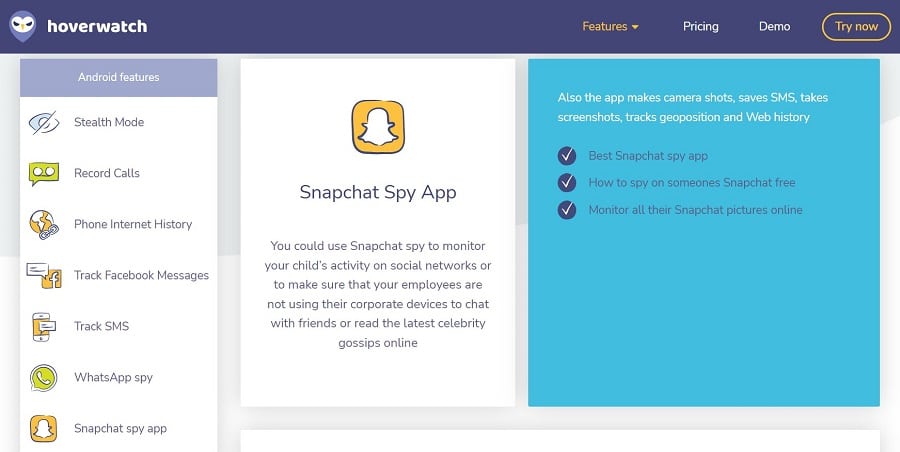 Price: $27.99/month (3 months license)
Hoverwatch is the best spy app for monitoring Snapchat. It allows you to monitor all activities of your target phone and receive the data in real-time. In addition, you can view the list of all installed apps on their phone, including the details about new applications being installed or uninstalled.
To use Hoverwatch, you first need to install it on your device and then register with your email address and password. After that, you will be directed to a page where you can add multiple users who you want to monitor. Once added, Hoverwatch will start monitoring the activity of all added devices instantly, regardless of the location.
---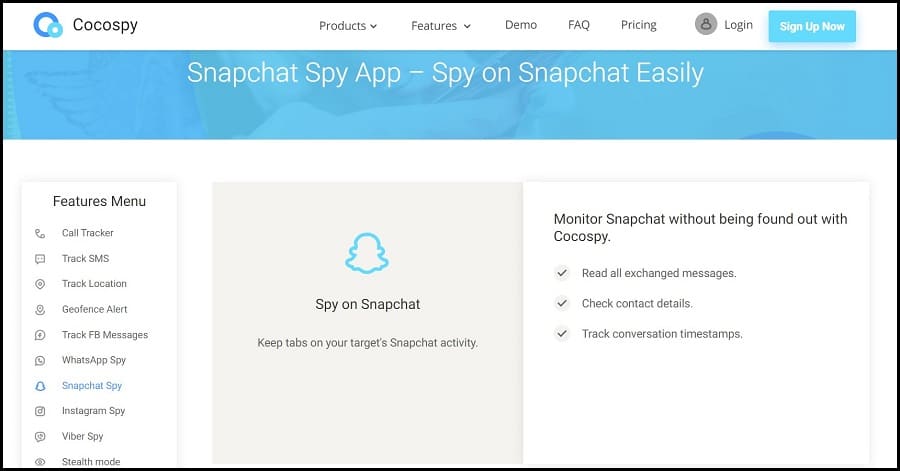 Price: $9.99/month (12 months license)
Cocospy is a Spy App for Android and iPhone, which can be used to monitor all activities of a target phone. It is one of the best spy apps to hack someone's Snapchat. It allows you to monitor all activities on a target phone. For example, you can view all messages sent and received on the target phone, including deleted messages and call logs.
With Cocospy's advanced features, you can easily monitor your children's activities, whether they are at home or away from home. For example, the app allows you to check their call history and SMS messages, even when they are using an internet-based application like Facebook Messenger or WhatsApp.
---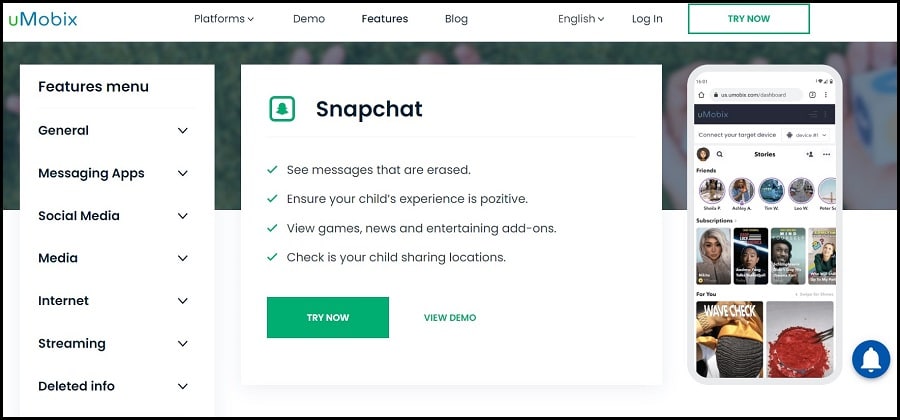 Price: $27.99/month (3 months license)
This is one of the best spy apps to hack someone's Snapchat. It will allow you to track all the activities on the target phone. You can access all the SMS, chats, voice calls, and GPS location history of the person without their knowledge. This app is a must-have for all parents who want to keep an eye on their kids' activities.
It has been designed in such a way that it can be used by both Android and iOS users without any problems. All you need is to install this app on your target device and then log into your account from any other device that has an internet connection.
---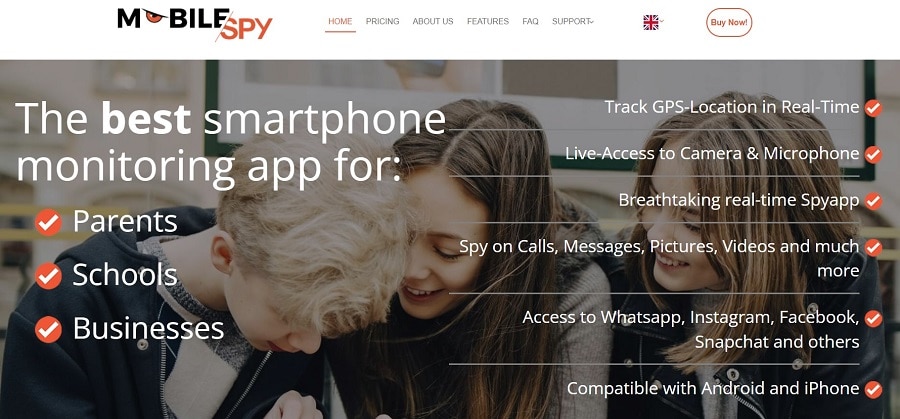 Price: $49 for 3 months ($16/month)
Mobilespy has been rated as one of the best mobile tracking software by many users around the world due to its features and ease of use. It is compatible with all Android phones and tablets. This app has many features like call recording, remote locking, and unlocking, SMS spying, etc.,
The best part about Mobilespy is that it does not require rooting or jailbreaking your phone before installing it on your target device making it easier for anyone to use this app without any prior technical knowledge or skills required. This makes it one of the most popular among all other spy apps available online today!
---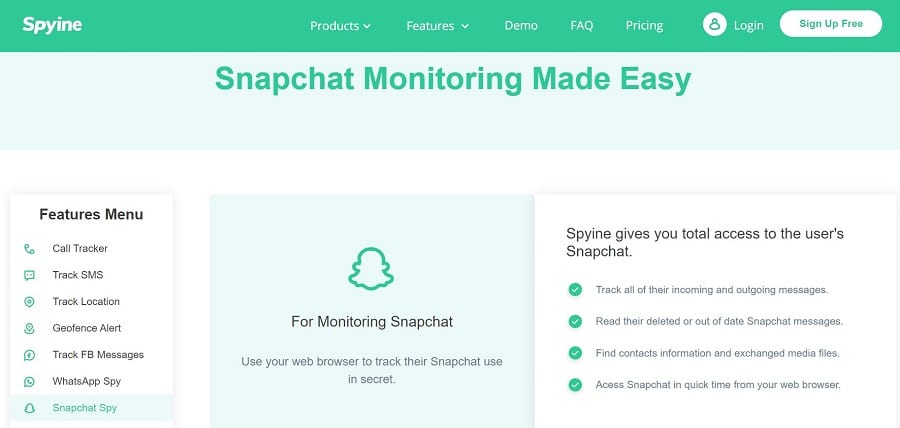 Price: $16.66/month (12-month license)
Spyine is the best spy app to hack someone's Snapchat. The app works on Android and iOS devices and can be installed without being detected by the user. This app allows you to hack your target's account and access their private data, including Snapchat messages. The best thing about this app is that it will not leave any traces behind, so the user won't even know that they are being spied on!
In addition, Spyine allows you to view all videos and photos shared on Snapchat by the target user. Furthermore, it provides you with an option to save them for future use if required.
---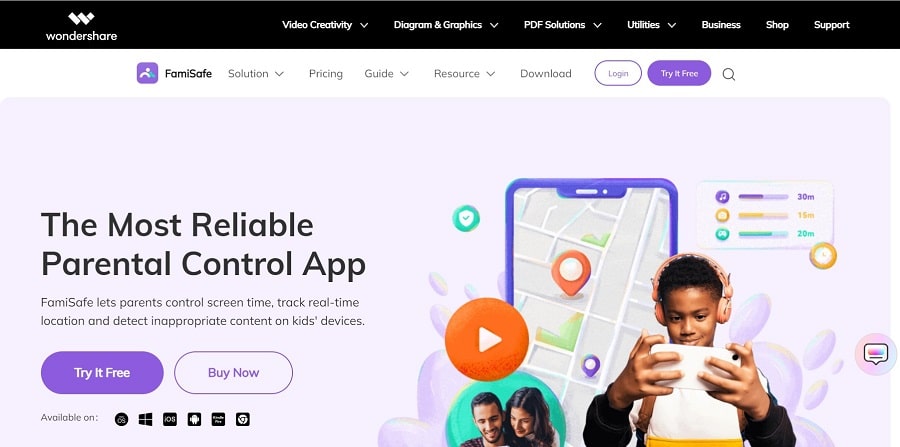 Price: $60.99/year
Famisafe is a wonderful parental control app available for Android and iOS,
The FamiSafe app is one of the most popular spy apps for Snapchat. It can provide you with access to all private messages, photos, videos, and call logs. This means that you will be able to see every single message that they send and receive.
The FamiSafe app also allows you to see exactly where your child is at any given time. This can be extremely helpful if your child has left home without telling you where they are going or if they have fallen asleep on public transport and forgotten where they are heading. In addition, you will be able to track the location of their phone in real-time, meaning that you will always know where they are going.
How to Use Spy Apps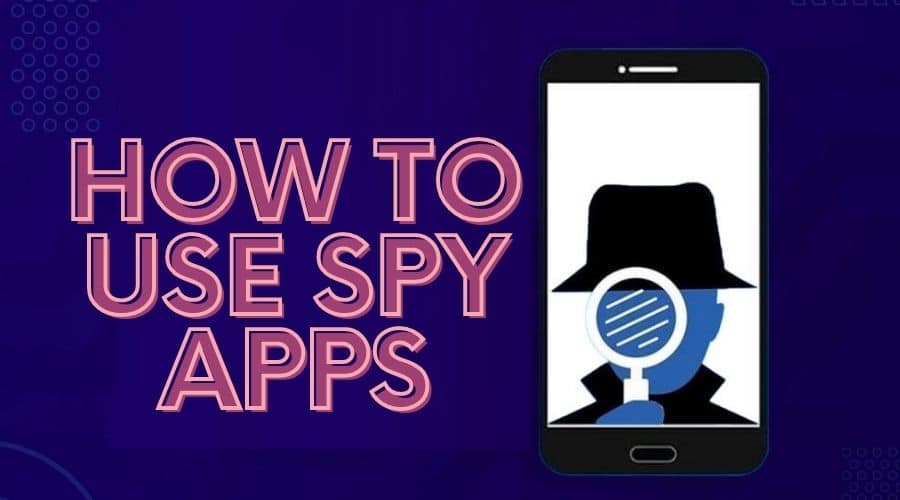 There are numerous spy apps available in the market. However, each of them has different usage methods. However, here is a guide that applies for all spy apps:
Step 1: Go to the main website of a reputable spy app.
Step 2: Register and create your profile using your valid email address.
Step 3: After verifying your email address, select the plan that best matches your needs
Step 4: Once completed, you will be prompted to enter the target device's information.
Step 5: Complete the process by following all of the steps recommended by the website.
Step 6: After that, you can begin monitoring the victim's phone.
Other Ways to Hack Someone's Snapchat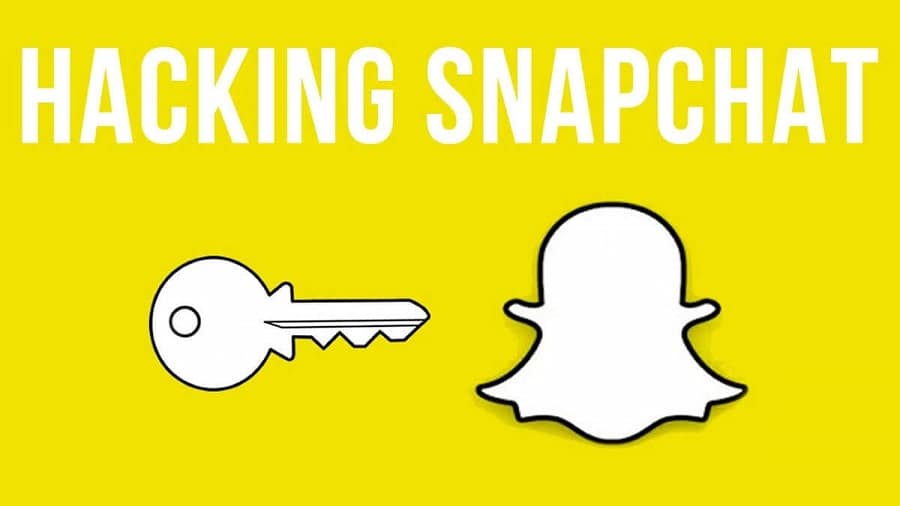 There are different ways to hack someone's Snapchat other than using third-party apps. These include:
This is one of the most common ways to hack someone's Snapchat account. But, this method doesn't work every time as it depends on the authenticity of your account. In addition, it also needs the target's phone and email access for you to get the password recovery option. So, it's quite a complicated process.
If you have tried these methods and still have not found any success, then it's time to hire a professional hacker with expertise in hacking Snapchats. You can hire an expert from different freelance ethical hacker sites. However, the success rate may vary from one hacker to another.
Create a Phishing/Fake site
All hackers have in common their ability to create fake websites that look like the real thing but are just traps set up by them to catch unsuspecting users who visit these sites looking for information about the service in question. They then proceed to steal their login credentials so as to access their accounts without any difficulty at all.
Cloning Snapchat Accounts
If you want to hack someone's Snapchat account without actually hacking it, then cloning is the way to go. By cloning someone else's Snapchat account, you can see all of their messages and stories without having access to any of their personal information or data on your device or computer. This, however, needs some knowledge level before doing it.
Signs that Your Snapchat Account Has Been Hacked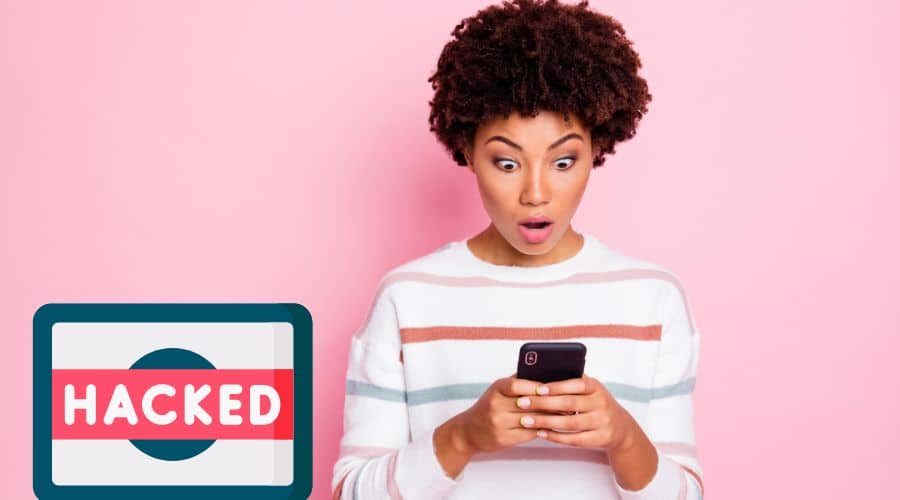 If you are using Snapchat and have noticed some strange activities on your account, such as a lot of people following you or sending out messages, then it's possible that someone else has hacked into your account.
There are various signs that will let you know if your Snapchat account has been hacked. Here are some of them:
If the username and password of your account change without your knowledge
If someone else is sending messages from your account.
If you see unfamiliar snaps or stories pop up in your inbox.
If you notice that there are new friends added to your account.
If you receive an alert about a new login into your account from a new device with a different IP address and location.
How to Avoid Snapchat Hackers?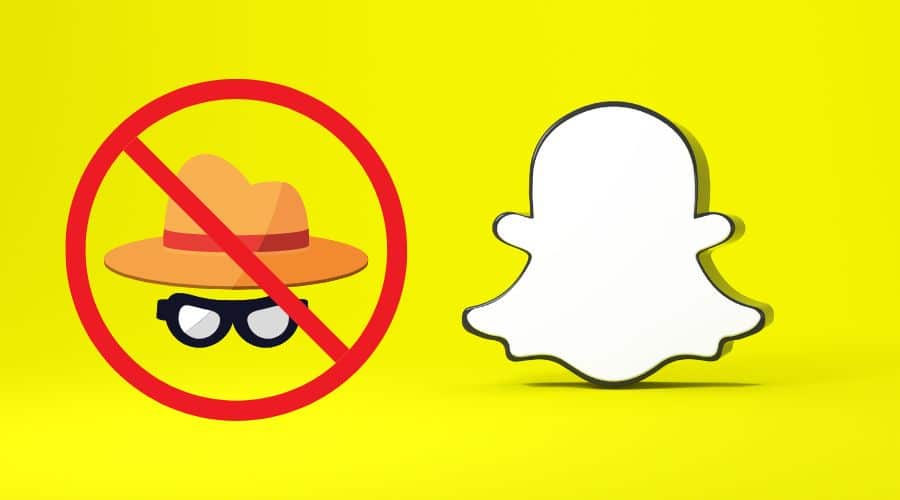 Snapchat might be fun, but it can also be a dangerous platform for your privacy. Snapchat Hackers are on the lookout for new victims and are not afraid to use malicious software to steal your personal data.
Here's how to avoid Snapchat hackers, and keep your account safe:
A strong password should be at least 12 characters long and include numbers, symbols, and upper- and lower-case letters.
Avoid using the same password over different apps and social services.
Make your Password hard to guess. If possible, use a combination of words instead of just random characters so that it's harder to guess.
Verify your phone number and email address
This will help ensure that only you can log in under your account name. If someone else tries using a different email address or phone number, they'll be prompted to verify their identity with a verification code sent via text message or email.
Set up two-factor authentication
Two-factor authentication adds an extra layer of protection to your account by asking for a secondary password before allowing people access to the system.
Add actual friends from your contact list
Ensure that you only add people from your contact list or those you're familiar with. Never add strangers because they might be using someone else's identity or trying to gain access to your account using their password hacks.
Snapchat is one of the most popular social media apps available today. It's fun to share photos and videos with your friends and family. However, many people are worried about Snapchat hackers. If you're using Snapchat, you need to know how to avoid being hacked.
You should only add people who you trust and are actually friends with. Otherwise, it will be easy for someone else to add themselves as a friend so they can hack your account and steal your pictures or videos.
If someone asks for your username on Snapchat and wants to see your account, do not give them any information! This is an obvious sign that they could be trying to hack into your account. If someone asks for this information, block them immediately!
Do not leave your phone anywhere if you don't have a passcode on it! Many people leave their phones unlocked or don't put in passcodes at all because they think their phones are too old or "boring, " making them less likely targets for hackers; however, this is not true!
---
FAQs
1. Is it legal to hack into someone's Snapchat?
Hacking into someone else's Snapchat is unquestionably illegal. However, when viewed from a different perspective, there are several legitimate reasons to hack into another person's Snapchat. For example, as a parent, you will want to know where your children are on the internet.
So, if you are a parent who believes your child is not yet mature enough to distinguish between good and bad on the internet, you can definitely use any of the methods discussed here to keep track of your children's activities.
2. Why is it hard to log into someone's Snapchat?
There are a few reasons why this could be so difficult:
First, you need to know the password of your target account. This might be quite hard to come by, or you can try guessing, which is also not close to a log-in.
You may be logged out. Even if you successfully log in, Snapchat will send a confirmation email to the legitimate account owner, who will either log you out or change the password.
3. How to log into a Snapchat account without Email or password?
You can use your phone to access a Snapchat account. Snapchat will send you a code via text message to your registered phone number, which you can use to log in to your account.
---
Conclusion
So it is very easy to hack someone's Snapchat. All you need to do is follow these simple steps, and you will easily become a hacker. So, the next time you want to spy on someone's Snapchats, just do what we've learned about in this article.
However, since most people consider it unethical, Besides making sure that no one is harmed as a result of your actions, always make sure to keep things clean behind the scenes. You don't want anyone digging around your servers or computers to find out that you were being unethically acquisitive.