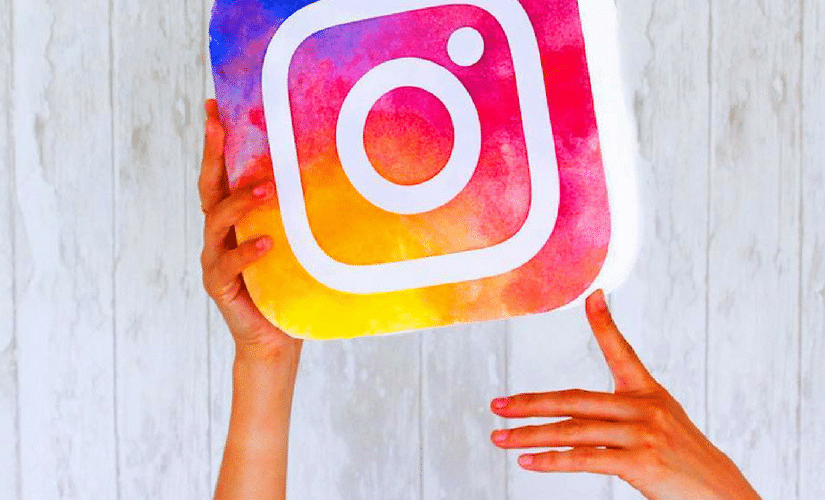 The social media buzz keeps us on our toes, doesn't it? It has turned us into predators, hungry for attention. All of us are a part of this virtual competition today where each one of us is eyeing to gain as much popularity as possible.
In fact, social media has turned each and every one of us into an uncontroversial celebrity, but this level of popularity is not as easy to achieve. The hunger for popularity has reached a level where people work hard to craft their thoughts, projections and pictures so that they are able to build a connection with the masses. However, this growth in popularity cannot be achieved overnight. Apart from the organic growth in the online following, there are several other services available on the Internet that can help you gradually increase your following for a nominal fee.
Instagram falls 3rd in the list of the most popular social media websites, with over one billion active users every day. With this many active users, there is bound to be competition over who is going to be in the limelight. Many celebrities use Instagram to share the personal moments of their life, so do businesses to advertise, promote or share their deeds as socially responsible entities. Therefore, the public has no choice but to reach out to their idols and favorite brands, and end up getting tangled into the tightly knit web of social media.
---
The Hunger for Fan Following
Each and every one of us is hungry for attention. You may not be an extrovert in real-life but social media has offered you the opportunity to portray a different side of you. Many of us use social media to:
Stay in touch
Stay up-to-date
Fill up extra time
Find entertaining or engaging content
Share options
Share media (photos and videos)
Meet new people
Converse with friends
Share life details with the world
Network in general
If you go through the options carefully, all options relate to passive networking. This means that most of the users of social media have an intention to consume content rather than contribute. On the other hand, users seek fan following, which is a concept created by social media sites to articulate a sense of belonging or superiority.
Many have concluded that social media websites and apps like Instagram waste time but these are actually very useful tools if you use them for the right purposes, whether you are an individual or an association.
Who is known as a "Quality Follower?
You do not want your followers to be inactive or one with little-to-no interaction. In fact, it is just like an online shell that never opens up, similar to that kid who never steps out of the bubble to interact with the outside world. Buying these followers is cheap, and is often what such services tend to provide.
Quality follower accounts can be classified into three types:
Decent Quality –This is a real person's profile that has not been active for a long time. They do not engage but have a real profile, comments and images, and may have some followers too. These followers come in cheap.
Good Quality –This is a real profile, but it is current and more engaging. They are active and will comment, share content and will have a decent fan following. Some of the Instagram automation platforms sell these accounts. They are expensive and even have an increasing trend of unfollowing.
Excellent Quality –These followers are ones gained organically through the website, and are highly active and interactive on Instagram. These profiles will have many pictures and comment very often, but are rare and expensive than the two above. Buying these followers is next to impossible but credible services do manage to provide you this benefit at a premium membership plan.
What was Instagress and why was it closed?
Instagress was a social media automation platform that closed its operations on 20th of April, 2017. It was one of the most affordable websites that used bots to help would-be or true Instagram influencers to improve engagement and rack up fan following. The website violated Instagram's terms of service and therefore was requested to shut down after Instagram's legal team intervened.
Instagram strictly monitors automation platforms for breach of terms of service. Thankfully, there are a number of Instagress alternatives that can help you enjoy an elevated status online.
Here is a quick comparison table to help you make an informed decision:
| Service | Price | Automation/Bots | Analytics | Targeting | Multiple Account Management |
| --- | --- | --- | --- | --- | --- |
| SocialDrift | $13 | Yes | Yes | Yes | No |
| Combin | $10 | No | Yes | Yes | Yes |
| Kiscksta | $49 | Yes | Yes | Yes | No |
| Ampfluence | $119 | No | Yes | Yes | Yes |
| SocialBuddy | $59 | No | Yes | Yes | No |
| Likesocial | $34 | Yes | No | No | No |
| CampGround | $149 | No | Yes (premium) | Yes | Yes (premium) |
Top 7 Instagress Alternatives for Social Media Buffs
1
SocialDrift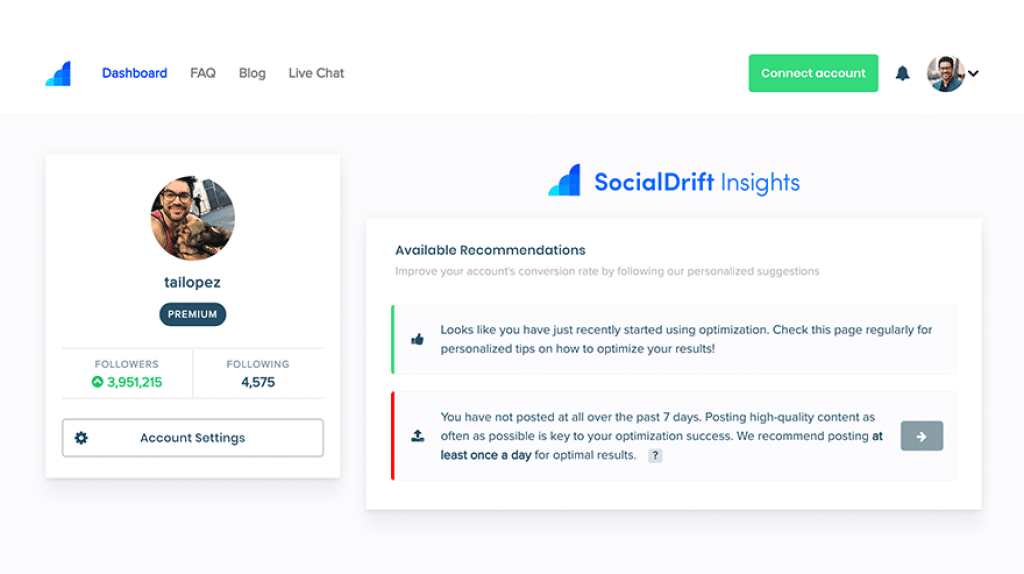 SocialDrift ranks in the top as the most simple and user-friendly automation platform that allows targeted marketing. All you need to do is Sign In with Instagram and SocialDrift works its magic by offering:
Improved Audience Engagement
Activity Automation
Targeted Growth in Following
Turbo Mode – for accelerated growth
Dedicated Proxy (only in Premium Account)
SecureBoost– Makes sure your account operates under limits
Analytics – Access monthly or weekly reports
Artificial Intelligence – for better optimization
Instagram ToS (Terms of Service) Compliant
Along with world-class customer support, SocialDrift offers weekly and monthly (30 days) pricing plans, which will cost you $13 and $39 respectively. No matter which account you select, you will receive unlimited optimization, real-time analytics and reports, advanced targeting and full filters access.
---
2
Combin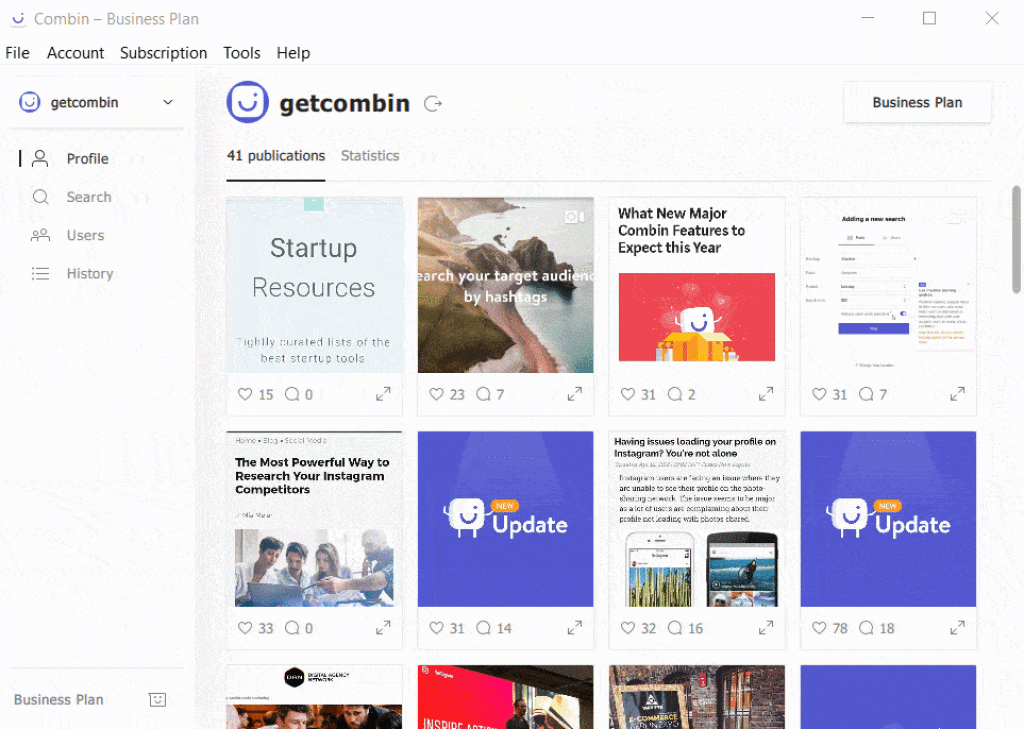 Combin is another social media presence booster that helps you grow and manage your Instagram profile without breaks. It offers safety and organic growth in fan following. It is an amazing marketing tool that hunts for influencers and increases the number of real followers through communication and engagement. It offers the following features:
Advanced Instagram search (through location, hashtags or a combination of both)
Targeted Search for influencers
Easy communication and scheduling of Insta-posts
Unfollow / Follow tracking system
Multiple Account Management
Sorting & Preview
The tool operates in 5 simple steps:
Download, install & Login with one or more Insta accounts
Open the 'Search tab' and click on 'Add Search' to grow your audience
Start your search of posts with relevant locations and hashtags, and start commenting
Find new people, key influencers of competitors and engage them
Follow, Un-follow, and track followers
With new features coming soon, Combin costs you only $10 a month for its personal packages and $30 a month for its business package. There is one good thing about Combin that it offers its Starter package free of cost, which includes 1 Instagram account, 50 results for posts and users and a 250 action limit daily.
---
3
Kicksta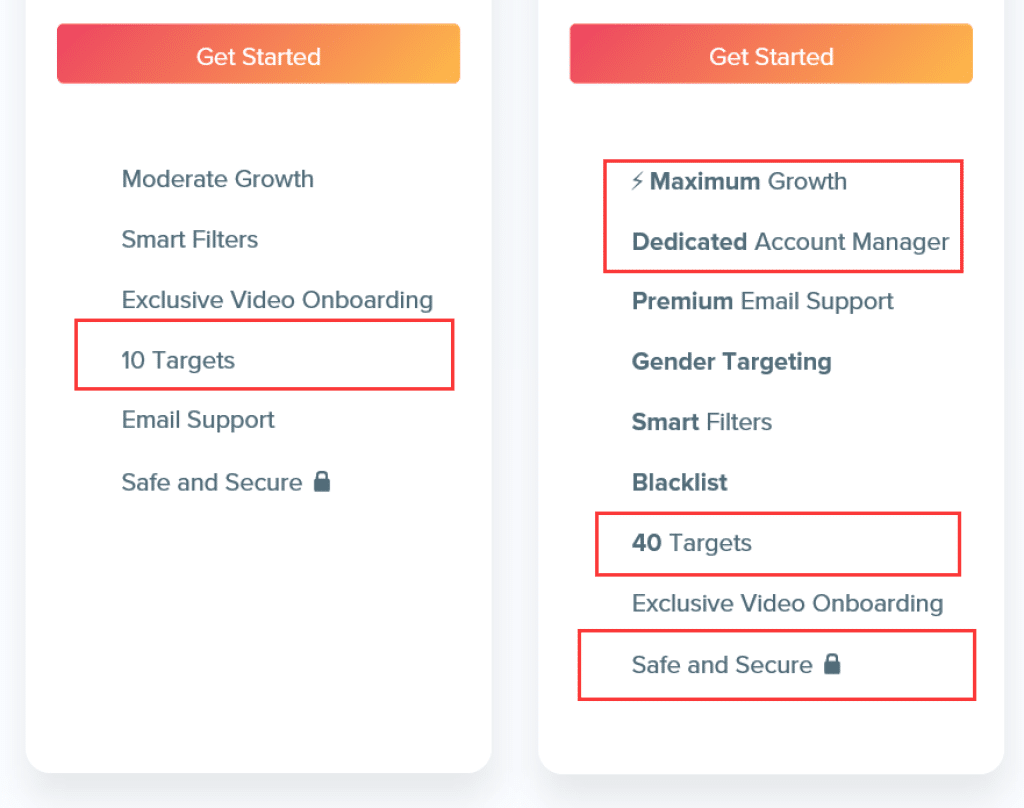 Kicksta markets itself as more of a street-level, community tool that masters the art of racking up Instagram followers by turning new connections into paid internships, public gigs and sales. It is one of the most popular tools amongst Instagram marketers, and offers the following:
24 / 7 Growth
Complimentary Call for Strategizing
Smart Algorithm for Targeting
Bank Level Security (SSL Encryption)
Smartly Designed, All-Inclusive Growth Reports
Customer Success Manager (US Based)
It works in four simple ways. You just need to point out your audience and Kicksta gets their attention by liking one or two photos of that user, following them as you. Next, it improves brand awareness and invites the user to visit your page and ultimately boosts organic growth. Kicksta is a bit expensive, offering "The Creative" package for $49 a month and "The Professional" package for $149 a month.
---
4
Ampfluence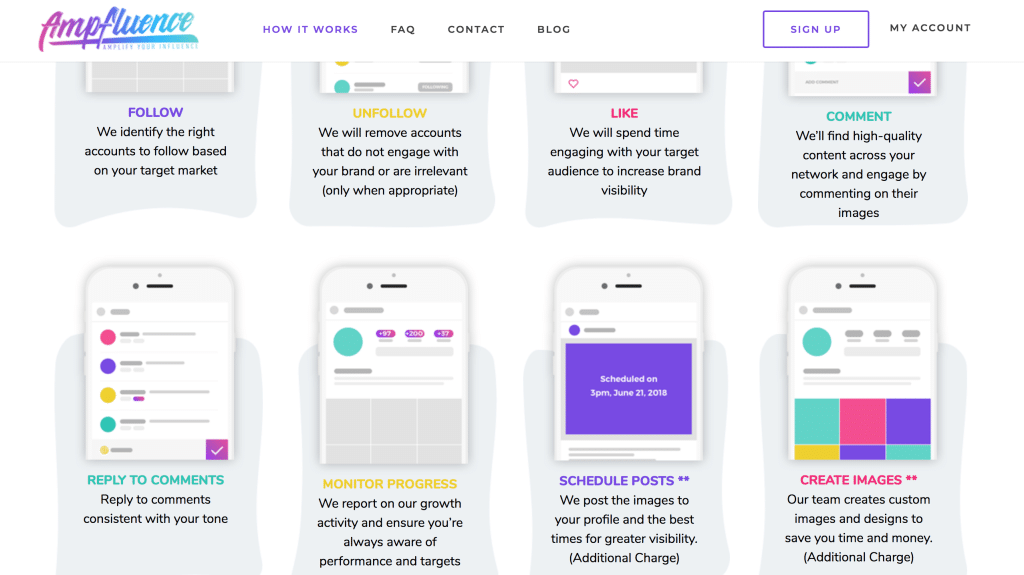 Ampfluence is yet another popular Instagram following promoter that neither uses bot nor any other gimmicks to improve your fan following online. Instead, this simple and colorful application is a 100% human-powered promotional service, focused on organically elevating the status of your Instagram account. This astounding tool offers a "NO RISK GUARANTEE", which means that they promise to refund you the % difference in the goal that was not achieved. The benefits they offer include:
A Targeted Approach
Instagram-wide Attention
Brand or Profile Exposure
Grow Your Influence & Reach the masses
Ampfluence offers three exciting plans, but each one at a premium price. Its Engagement plan costs around $119 a month, and its Growth and Growth x2 packages will cost you $149 and $249 a month, respectively. However, the Engagement plan does not guarantee results.
---
5
SocialBuddy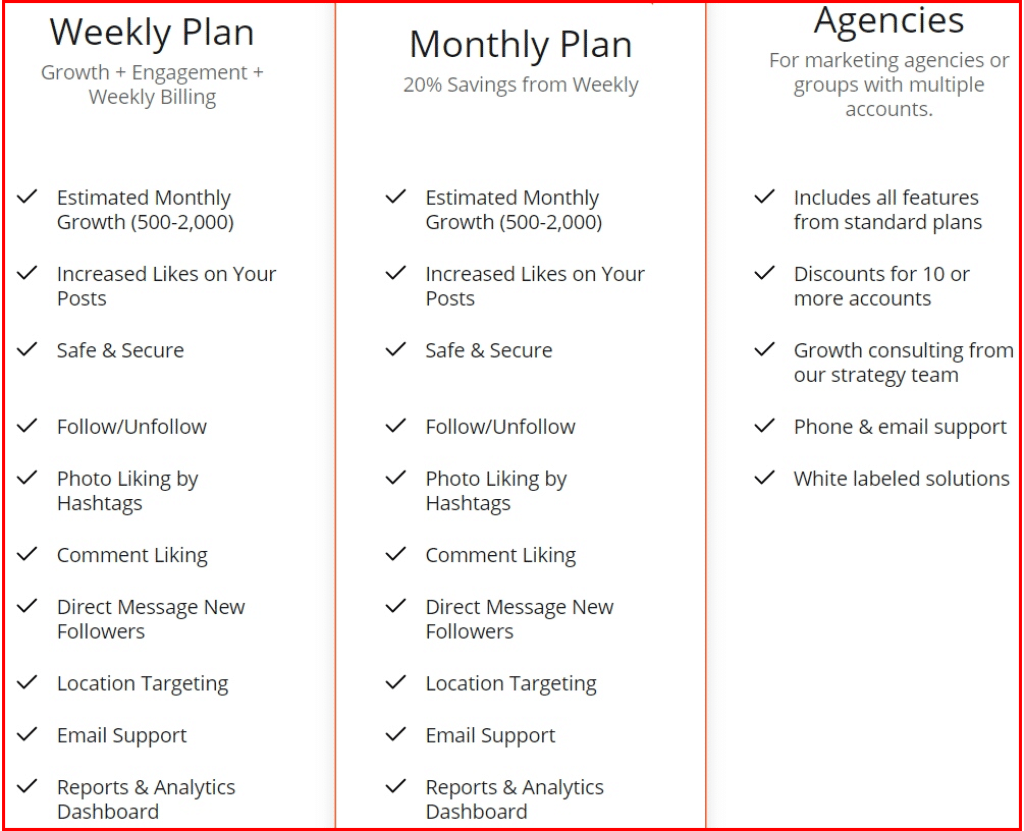 SocialBuddy is an amazing service that helps you grow Instagram followers organically. It uses smart and customized SM marketing techniques to drive real followers to your profile. Real popularity comes from real people and SocialBuddy helps you improve your standing in your niche, whether you are an individual seeking attention or a business seeking popularity. It offers the following features:
Easy Sign-up
Personal Instagram Account Manager
Targeting Audience according to your niche, through search, hashtags and location
Premium Support (Call, Chat or Email any time)
SocialBuddy uses the human curiosity of investigating others to gain followers and likes, without you putting in a lot of time and effort. They offer two easy plans. The weekly plan costs $17 whereas the Monthly plan costs $59 (20% savings from the weekly plan).
---
6
Likesocial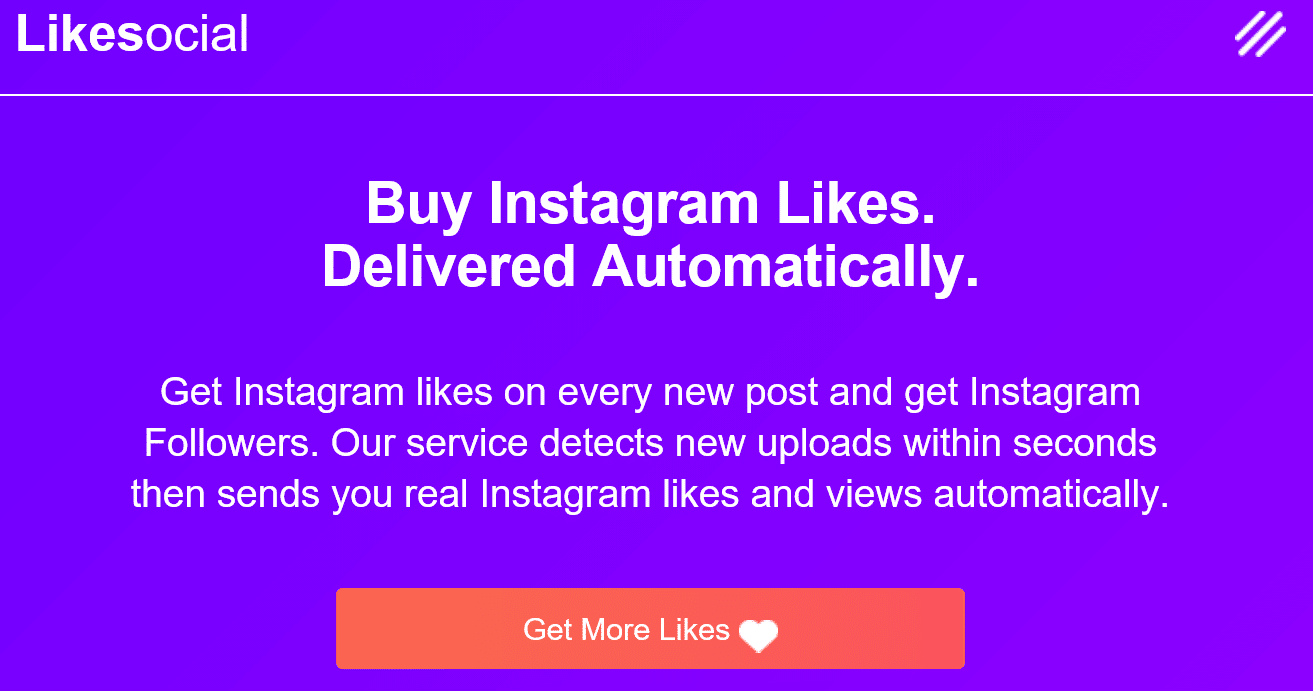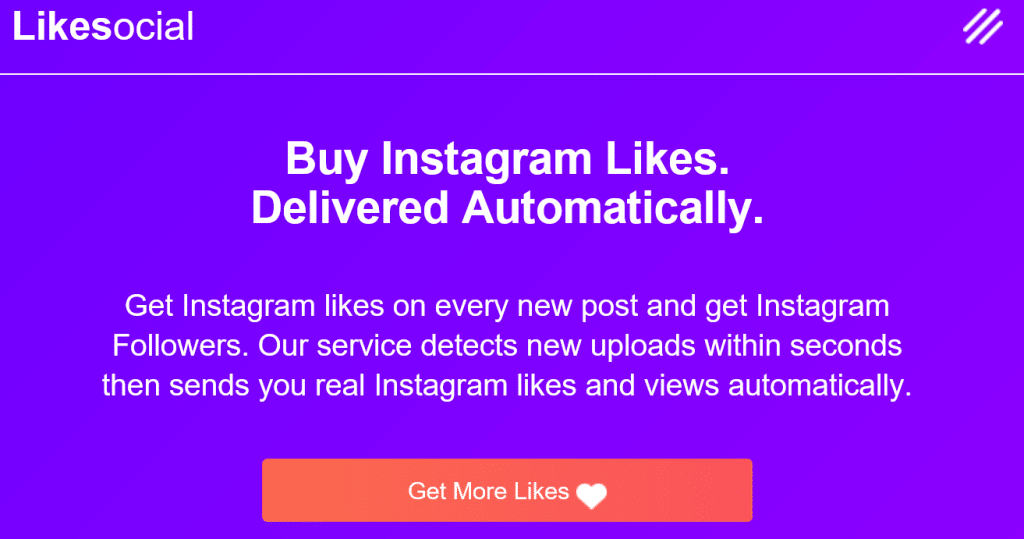 Likesocial makes it easier for you to get Instagram likes and a fan following without long procedures. It quickly detects new content and sends likes automatically, increasing the followers overtime. All you need to do is decide on the amount of likes you want, type in your username and purchase. It offers the following services:
Automatic Instagram Likes
Automatic Instagram Followers
Automatic Instagram Views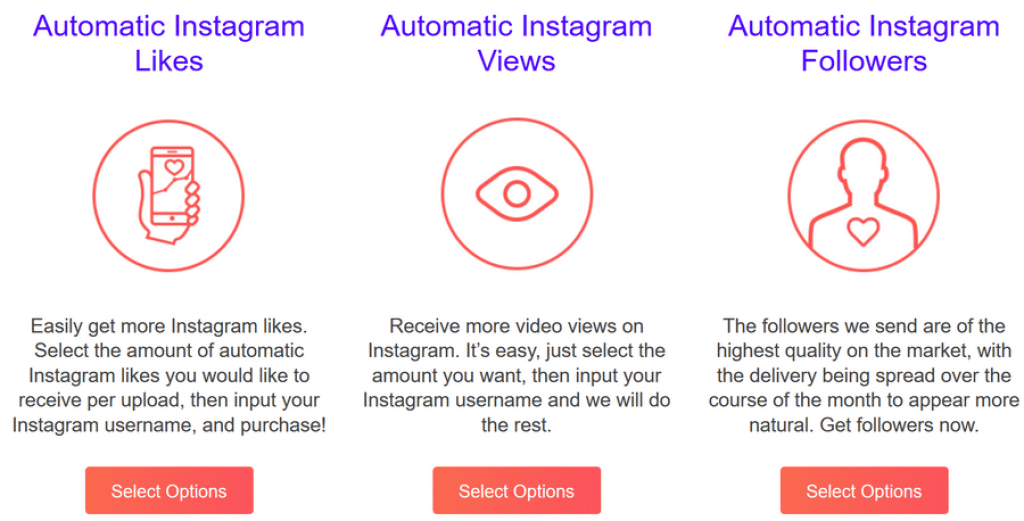 ---
7
CampGround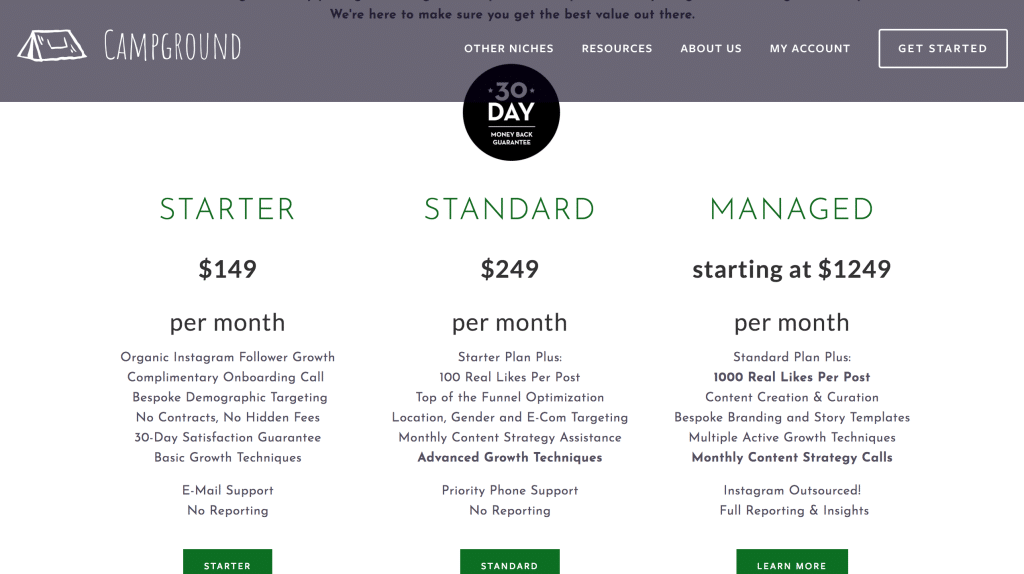 CampGround is an exciting service with an engaging website that offers organic likes and followers on Instagram. As per their moto, they "Supercharge your Instagram" and turn your new and occasional customers into loyal ones. They offer a 3-step process that asks for a connection, then targets and grows your profile without the use of computerized robots. They carefully assess your competitors and benchmarks to understand how followers engage to them, in order to modify the strategy and apply it to your profile. It helps increase the buzz and brand visibility through:
Focusing on you
Getting & targeting the right people
Geo targeting
Like Targeting
Total Control
Personal Account Manager
Building followers
Increasing Engagement
Generating interest
Budget Friendly Plans
30-day Money Back Guarantee
CampGround offers three packages that include the "Starter" package priced at $149 a month, a "Standard" package priced at $249 a month and a "Managed" package that will cost you a whopping $1249 a month (the most costly, by far). All plans include an onboarding call (complimentary), which is a positive move to get closer to people and understand their needs.
---
The Pros & Cons of Instagress Alternatives
You never know whether the followers are real or fake, even if the website you have purchased them from guarantees them as real. Most people will observe that after paying for a service, although they can see an immediate hike in their fan following and likes, the buzz starts to fade away and then you wonder what has gone wrong.
Therefore, if you ask yourself, "Is buying Instagram likes a scam?"… A qualified answer would be, "It is, and it is not!" Here are the Pros & Cons:
PROS:
Buying followers can push your authority upwards in the world of social media.
These services provide social credibility (Just imagine yourself being the cool kid in college or the people's person at your office).
They promote organic growth (which is what you want because real followers bring about the desired results).
A great online marketing tactic that meets the needs of the current era, and brings about success.
Websites with social widgets display their progress in likes, following, sales as well as conversions. Increase in following is a sign of trust.
CONS:
Most services promise real followers, but actually boost performance through bots and inactive accounts, which is short lived.
These services are not the ultimate answer to your popularity online. You will still need to use marketing tactics and hashtags, along with engaging content. In essence, they only act as a matchmaker and you still need to supply the right content, if you really want some results.
The stigma surrounding Instagram followers is negative. People who normally use the service keep these purchases to themselves.
You need to be aware of the scams. Many services have started and shutdown, therefore, you will need to conduct extensive research and read reviews before you end up with a match.
---
Now, what do I do next?
It all comes down to this… What to do next when you have all the information you need?
It is not a piece of cake to hit the bull's eye in your first attempt but you can try. When going through the Internet for a credible and trustworthy Instagress alternative, you need to keep the following 6 factors in mind:
Type of Followers you want
Level of Engagement you need
Organic / In-organic following
Short-term Goals or a Long-term View
Value for Money (Comparison with your choice of 2-3 competitors is a must)
User Testimonials
In the end, buying Instagram followers cannot make you famous overnight, and is definitely not the only path to success. However, making these purchases has proven to be directly proportional to sizeable growth in likes and following on Instagram in many cases. Therefore, I would not recommend sticking to one option only for social media success. Keeping 2-3 strategies operational simultaneously can help you achieve your goal, especially when the online marketing world has a lot to offer and different businesses use a combination of these market-wining strategies to stay on top of the social media buzz.