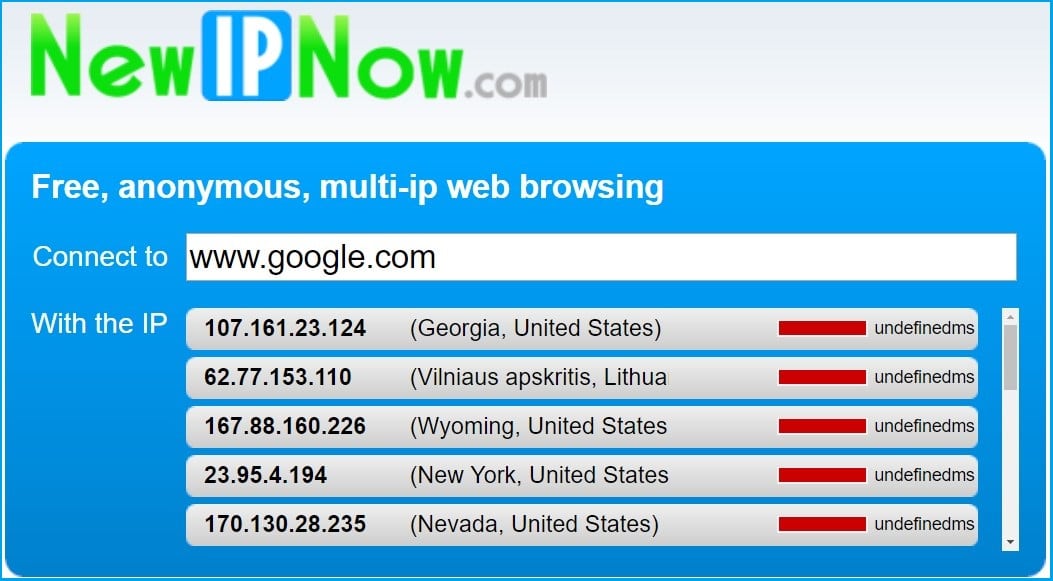 NewIPNow is a cheap proxy provider on the internet that has been selling proxies for over eight years.
They have been known to sell proxies at the cheapest price on the internet while maintaining a good quality of proxies. NewIPNow has been on the internet since 2011 and has made a big customer base on the internet with their cheap but good quality proxies.
---
Overview
Currently, NewIPNow is only providing a single type of proxy package on their website, which  is ;
NewIPNow DetailsUser RatingUser Reviews
| | |
| --- | --- |
| Dedicated Proxy | Yes |
| HTTP/HTTPs Proxy | Only HTTP |
| Socks5 Proxy | No |
| Speed | 1000 Mbps |
| Multiple Cities | Yes |
| Multiple Subnets | Yes |
| Bandwidth | Unlimited |
| Uptime | 99.9% |
| Non – Sequential IP's | Yes |
| Customer Support | 24/7 Ticket Support + live chat |
NewIPNow Review
0 out of 5 stars (based on 0 reviews)
User Reviews
There are no reviews yet. Be the first one to write one.
---
NewIPNow provides HTTP proxies to their customers. They also provide a free open proxy on their website which you can use to visit websites using the different IP addresses provided there. The private proxies that they provide are very cheap and really come in handy for web scraping and SEO purposes.
NewIPNow provides unlimited bandwidth on their proxies meaning that you can use the proxies as much as you want for a whole month provided that you pay for the proxy plan every month. Their proxies are really cheap and start from $1 a month!
They provide IP authorization on their proxies while Username and Password authentication of the proxies cannot be seen on the proxies. Their website is a little out of date, and not much variation had been seen in the development of their website since their launch 8 years ago. However, Their excessively long period of selling proxies on the internet is a sure statement in itself that they mean business. They have a lot of happy customers all around the world and have been selling a lot of proxies since their foundation in 2011.
NewIPNow does not provide a wide range of locations for their proxies. They provide three major locations which are the USA, Canada, and Europe. However, the specific location of the proxies inside these countries is unknown, but one can easily find out the location of their proxy using any free IP tracer tool available online.
They provide a ticket based system for their customer support and have a really responsive customer support program. Moreover, They provide a 7-day refund policy on their proxies as well. This means that if you encounter any problem with the proxies within 7 days from the time of purchasing, NewIPNow will give you a refund on your proxies and provide you with new, fresh ones.
NewIPNow may not be providing a lot of features on their proxies, but at the price which they are selling the proxies, They sure are doing a pretty good job. They are selling some of the cheapest private proxies on the internet with a better quality factor than most proxy sellers on the internet. That is what differentiates them from the rest.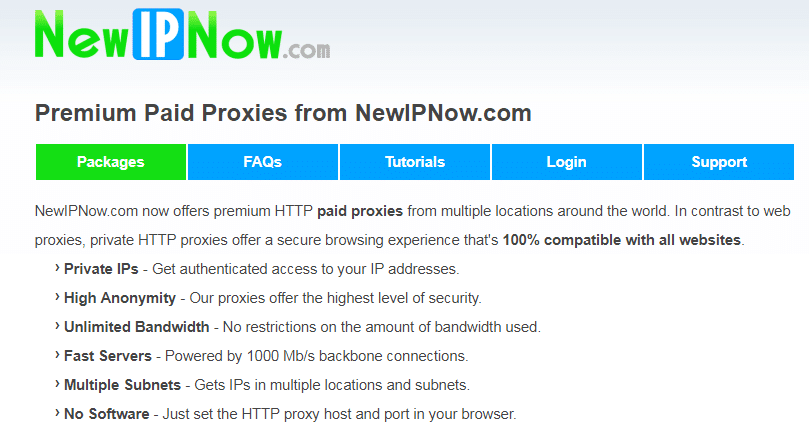 ---
NewIPNow has been selling proxies on the internet since 2011 and has made a huge customer base with a visible impact on the proxy community. Following are the advantages that you will receive if you use proxies from NewIPNow.
Cheapest Price – Better quality
Being an old company, NewIPNow has highlighted their name in the famous proxy companies on the internet. With over 8 years of experience in the proxy business, NewIPNow has been providing the best proxy services on the internet.
NewIPNow has been on the internet since 2011 and has been selling quality proxies with the cheapest rate on the internet ever since. They have a huge customer base and have surely developed their name among the leading proxy providers on the internet. Although they are only providing private proxies on their website and not other proxies like shared proxies, Instagram proxies, etc., they provide quality and working proxies on their website for a price that is very hard to believe. For a price of 1$ per proxy, NewIPNow has been the number one choice of the people for the cheapest proxies on the internet.
It is always seemed better to buy proxies from a known proxy provider that has enough experience in the field actually to know how to please their own customers. Fortunately, NewIPNow has enough experience in the proxy business to fulfill all of your needs.
The USA, European and Canadian Locations
NewIPNow provides the location in 3 different categories which are ;
European Locations
Canadian Locations
American Locations
NewIPNow provides locations which are present in these locations only. NewIPNow may not be providing a lot of locations for their proxies from which their customers can choose from, but their proxies are really cheap, and at a very low price point, The provided locations are more than enough!
Unlimited Bandwidth
All proxies that you buy from NewIPNow comes with Unlimited bandwidth. Most proxies come with a bandwidth limit, and once you finish up on that limit, you cannot use the proxy anymore. You do not have to worry about any sort of data limit when you're using the proxies from NewIPNow, and you can use the proxy to the fullest. In the case with NewIPNow, there's no such thing as a Limited Bandwidth. There are no restrictions when it comes to using your proxies limitlessly. You can use your proxies as much as you want, provided that you pay for them each month.
Authentication and Refreshing IP's
NewIPNow has been on the internet since 2011 and has been selling quality proxies for over 8 years now. NewIPNow currently Supports a single type of authentication method.
IP Authentication is really secure, and you can easily whitelist the IP's that you want to use to access your proxies and easily access your proxies from anywhere you want!
Moreover, NewIPNow comes with an option to refresh your proxies every once a month. Although their proxies come with fresh IP's, adding an option to randomize the IP address every once a month provides an extra layer of security as well.
Proxy Package
NewIPNow is currently only providing a single type of proxy plan on its website. Other then private proxy, They have an online open/free proxy available on their website which can be used by anyone and is completely free of cost.
Private Proxies
| | | | |
| --- | --- | --- | --- |
| Package | Multiple Cities | Multple Subnets | Price/Month |
| 5 Proxies | Yes | Yes | $5 |
| 10 proxies | Yes | Yes | $10 |
| 50 Proxies | Yes | Yes | $50 |
| 100 Proxies | Yes | Yes | $100 |
| 500 Proxies | Yes | Yes | $500 |
| 1000 Proxies | Yes | Yes | $1000 |
Refund Policy and Customer Support
Using their 7-day refund policy, you can easily get a refund of your money if you do not like the service that they are providing. This is a great feature as you can test their product for a duration of three days and if you don't like what you're paying for, you can get an instant refund.
NewIPNow has great customer support on their website, and if you have any queries related to their website or their products, you can easily contact them via Support Ticket or by email. Customer support is very supportive and replies quickly without wasting any time. Good customer support is like the backbone of a good website. It is safe to say that NewIPNow  has a pretty strong backbone.
Single Authorization Method
NewIPNowonly comes with a single proxy authorization method which is IP Authentication. It is currently not supporting Username/Password Authentication which is faster than the given method and allows easy access to the proxies that have been purchased. Having a dual authentication method provides more mobility to the proxies while making it easier to access your proxies from anywhere.
No SOCKS Proxies
We all know that SOCKS proxies are the best for use on the internet. Unfortunately, NewIPNow is not currently providing SOCKS proxies in its proxy packs. Moreover, The owner of the NewIPNow has not observed to be adding relatively new features on their website.
No Specific Locations
With NewIPNow, you cannot choose a specific location for your proxy. You can only select the region that you want. The location will be decided by the proxy website itself. This proves to be a major disadvantage to customers who are willing to get specific locations for their proxies.
Single Proxy Package
NewIPNow is only providing a single type of a proxy plan on their website which is a private proxy plan, unlike its other competitors. If you're looking for specific proxies like Instagram proxies, Craiglist proxies, etc., Then you might want to look for another proxy provider.
---
Do we recommend NewIPNow?
NewIPNow is a great website for the people who are looking for simple proxies at a very cheap price point. However, If you're looking for specific proxies and high-quality proxies, Then NewIPNow may not be the best choice for you. We would recommend this proxy provider only to those users who want a simple proxy for every use and not for very complex purposes.
---
Submit your review