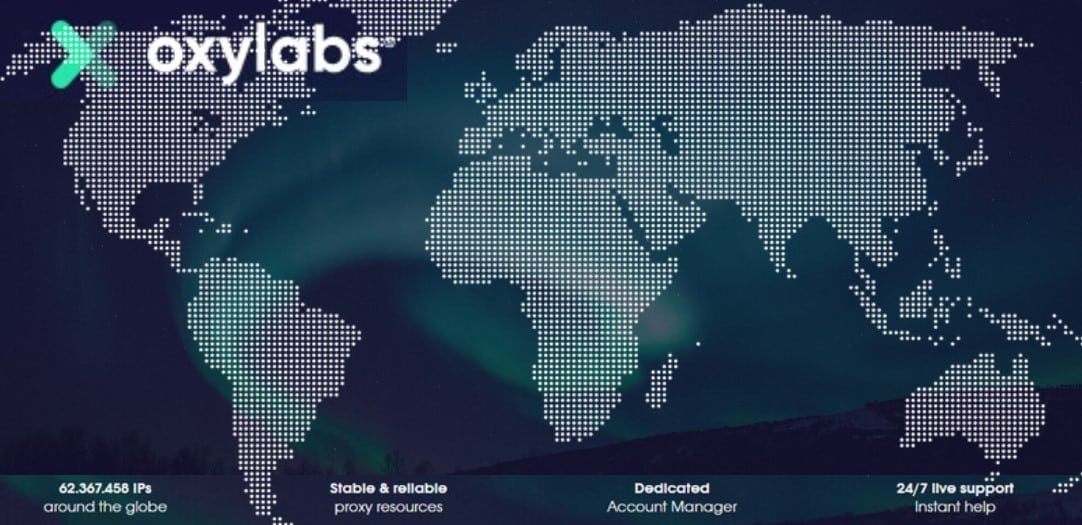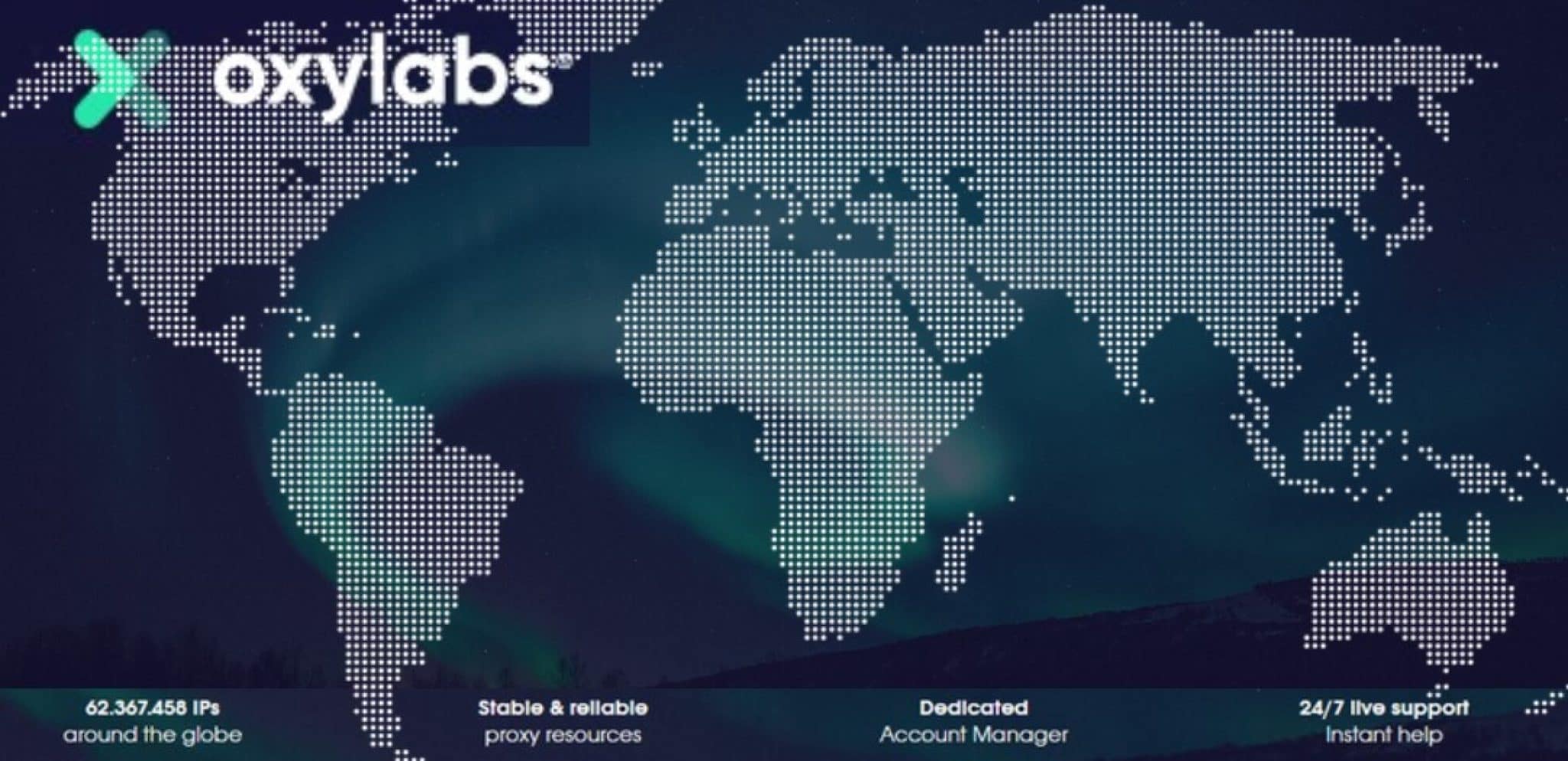 Oxylabs is one of the best and leading proxy providers on the internet. They are an elite service which provides both Datacenter and Residential proxies.
However, We will be only focusing on the Residential proxies as they are one of the most secure and trusted forms of proxies in the market. Oxylabs are one of the most widely known services and provide the best proxies and other proxies for Data Scraping.
---
Overview
Currently, Oxylabs is providing the following packages ;
Datacenter Proxies
Residential Proxies
Real-Time Crawler
Oxylabs DetailsUser RatingUser Reviews
| | |
| --- | --- |
| Dedicated Proxy | Yes |
| HTTP/HTTPs Proxy | Yes |
| Socks5 Proxy | Yes |
| Speed | 1000 Mbps |
| Multiple Cities | Yes |
| Multiple Subnets | Yes |
| Bandwidth | Unlimited |
| Uptime | 99.9% |
| Non – Sequential IP's | Yes |
| Customer Support | 24/7 Live Support + Live Chat |
Oxylabs Review
0 out of 5 stars (based on 0 reviews)
User Reviews
There are no reviews yet. Be the first one to write one.
---
Residential proxies are safer and secure than normal datacenter proxies and more expensive as well. Residential proxies contain an IP address provided by an Internet Service Provider (ISP) to a resident. Almost all of the residential proxies are mainly rotating proxies.
This means that your IP address keeps changing after a short period and it never stays the same. Hence the Proxy IP address cannot be traced back to you. The IP address of the rotating proxies provided by Oxylabs changes every 5 minutes. This ensures better safety and security to your online identity and a lesser chance of getting your IP blacklisted considering you don't have just one IP address!
Oxylabs are providing locations in almost every city and country in the world. This is why they are one of the best proxy providers in the world. They have surely expanded its company to a leading online proxy selling company with globally high standards than the rest. When you buy proxies from Oxylabs, You get to choose from an IP pool of 30 Million IP's. Hence you get to choose from a lot of IP address while your IP address also keeps changing after every 5 minutes. How cool is that!
They are offering both types of proxy authorization, Username/Password authentication, and IP authentication. This is great as you can whitelist the IP's that you want to use to access your proxies as well as you can use username and password to access your proxies as well. In this way, you will be able to access your proxies no matter your circumstances.
Oxylabs are currently providing only three types of proxy packages, Datacenter proxies, Residential proxies, and Real-Time Crawler. Their proxies work for every legal use on the internet, and for that, they provide a guarantee. They provide proxy which is directed more towards online marketers and data scrapers with their shared and private proxies for the best marketing. They have fast and reliable servers, packing a speed of 1000 MB/s and high anonymity, all of this at an affordable price.
Their proxies may not be the cheapest proxies that you may find on the internet, But they have the best quality, and you will not be encountering any problems while you are using them. That is why they are one of the most known and probably the best proxy selling service on the internet.
Oxylabs is one of the best proxy providers on the internet. They have slowly expanded their company to a point where they have a huge customer base which uses their products daily and have become an integral part of the proxy community. They have set high global standards for all proxy selling companies and have been doing so since the time of their foundation. They provide Data center proxies as well as Residential Proxies with Dual Authentication Methods. Following are the perks of using Oxylabs.
Residential Proxy Provider
The best thing about Oxylabs is that they provide both Datacenter proxies and Residential Proxies. However, We will only discuss Residential proxies here because they are one of the most important types of proxies on the internet, which are not only legit but more secure and safer than normal data center proxies.
Residential Proxies are more secure and safer than datacenter proxies. Almost all the residential proxies are rotating proxies. This means that the IP address of your Residential proxy keeps changing after every recurring period and your IP never stays the same. Residential proxies have an IP address of a Resident, which is provided by an Authentic ISP. This means that the Residential proxies are legit and can be used for Data Scraping and social media marketing.
Numerous Locations

Oxylabs provide a long list of locations for their proxies. They are potentially almost all the locations of the world, Every county there is. This long list of numerous locations of the world provides the customers with a better opportunity to select the best location for their proxies. If you're looking for specific locations for your proxies, Oxylabs  should be your choice!
Following are some of the most popular locations provided by Oxylabs for their proxies.
Locations
USA
Canada
Italy
Turkey
Spain
UK
Greece
Netherlands
Portugal
Israel
Poland
Ukraine
Belgium
Germany
Sweden
Proxy Authentication and IP Refreshing
Oxylabs  is a leading proxy selling platform on the internet. Their proxies not only come with the best quality, but they provide both types of authentication methods on their proxies as well. Having both authentication method makes it easier for customers to access their proxies quickly and easily. The proxy authentication method provided by Oxylabs are ;
IP authentication
Username/Password Authentication
This provides you with a better approach to your proxies whilst adding mobility and flexibility as well. You can easily authenticate your proxies with either of the methods indicated above without any problem at all.
Moreover, Oxylabs comes with an option to refresh your proxies every once a month. This provides you with better proxy quality and management as you can easily refresh your proxies every month with ease
Unlimited Bandwidth on Datacentre Proxies
All Datacenter proxies that you buy from Oxylabs comes with Unlimited bandwidth. This means that you do not have to worry about any sort of data limit when you're using the proxy, and you can use the proxy to the fullest.
Most proxies come with a bandwidth limit, and once you finish up on that limit, you cannot use the proxy anymore. In the case with Oxylabs, there's no such thing as a Limited Bandwidth. There are no restrictions when it comes to using your proxies limitlessly. You can use your proxies as much as you want, provided that you pay for them each month.
However, The residential proxies offered by Oxylabs has a monthly bandwidth limit.
Proxy Packages
Oxylabs is providing the following packages on their website.
Datacenter Proxies
For Locations outside the US
| | | | |
| --- | --- | --- | --- |
| Package | Multiple Cities | Multiple Subnets | Price / Month |
| 100 IPs | Yes | Yes | $400 |
| 500 IPs | Yes | Yes | $1750 |
| 1000 IPs | Yes | Yes | $3000 |
| 5000 IPs | Yes | Yes | $12500 |
For US Locations
| | | | |
| --- | --- | --- | --- |
| Package | Multiple Cities | Multiple Subnets | Price / Month |
| 100 IPs | Yes | Yes | $180 |
| 500 IPs | Yes | Yes | $800 |
| 1000 IPs | Yes | Yes | $1500 |
| 5000 IPs | Yes | Yes | $6000 |
Residential Proxies
| | | | |
| --- | --- | --- | --- |
| Package | Multiple Cities | Multiple Subnets | Price / GB |
| 50 GB | Yes | Yes | $12 |
| 100 GB | Yes | Yes | $9 |
| 1000 GB | Yes | Yes | $6 |
| 10+ TB | Yes | Yes | – |
Real-Time Crawler
| | | | |
| --- | --- | --- | --- |
| Package | Multiple Cities | Multiple Subnets | Price / 1K Pages |
| 100K Pages | Yes | Yes | $4.00 |
| 1M Pages | Yes | Yes | $2.00 |
| 100M Pages | Yes | Yes | $0.50 |
| 500M Pages | Yes | Yes | 0.30 |
Callback Crawler
| | | | |
| --- | --- | --- | --- |
| Package | Multiple Cities | Multiple Subnets | Price / 1K Pages |
| 100K Pages | Yes | Yes | $3.50 |
| 1M Pages | Yes | Yes | $1.50 |
| 100M Pages | Yes | Yes | $0.45 |
| 500M Pages | Yes | Yes | 0.25 |
Faster Servers and Uptime
Oxylabs  has been known to use Squid Proxy servers which are more stable when it comes to online use while packing a greater speed as well. Their proxy servers run on 1000mb/s, which provides the best experience when using their proxies.
Oxylabs  claim to provide a 99.9% uptime. This means that their servers are never down. You can also check their website for the status of their proxy servers if you encounter any problem at all.
Refund Policy and Customer Support
Oxylabs  does not have any option for having a trial period and using the proxy beforehand to check the quality of the proxies. However, this drawback is excellently overcome by the availability of a refund policy. Oxylabs  is currently offering a 7-day Refund policy. If you don't like the experience, Oxylabs has to provide, or if you simply think the proxy isn't suitable for your needs, you can easily refund the money you invested in the proxies in a seven days time.
Not only do they provide one of the best proxies on the internet, but Their customer support is also commendable. They have a ticket support system. If you have any queries related to their website or the proxies, you can submit a ticket, and they will respond in around 10 minutes. Moreover, there is also a live chat option where you can chat with one of their customer support representatives.
---

No specific Proxies
Though Oxylabs only provides two types of proxies which are categorized as HTTPs and SOCKS Proxies, It does not provide shared proxies or the proxies which are specified for certain purposes like Instagram proxies, Craigslist proxies, etc. Having a separate proxy for specified purposes ensures the satisfaction of the customers and also guarantees the working of these proxies. The absence of these specific proxies is a serious downside.
---
Do we recommend Oxylabs?
Yes, we definitely do. Oxylabs  has established itself as the leading company on the internet when it comes to proxies and other products. They have surely strengthened their grounds based on their experience since they started and have evolved into a leading proxy company with data centers all across the globe. Oxylabs should is everyone's choice when it comes to online security and safety.
---
Submit your review