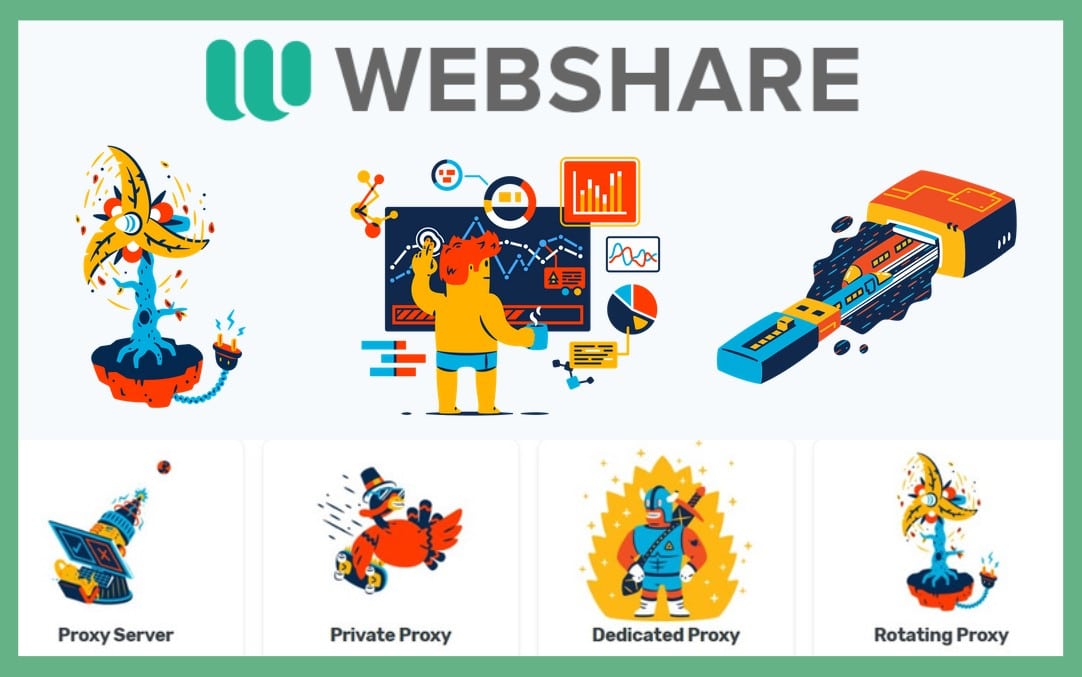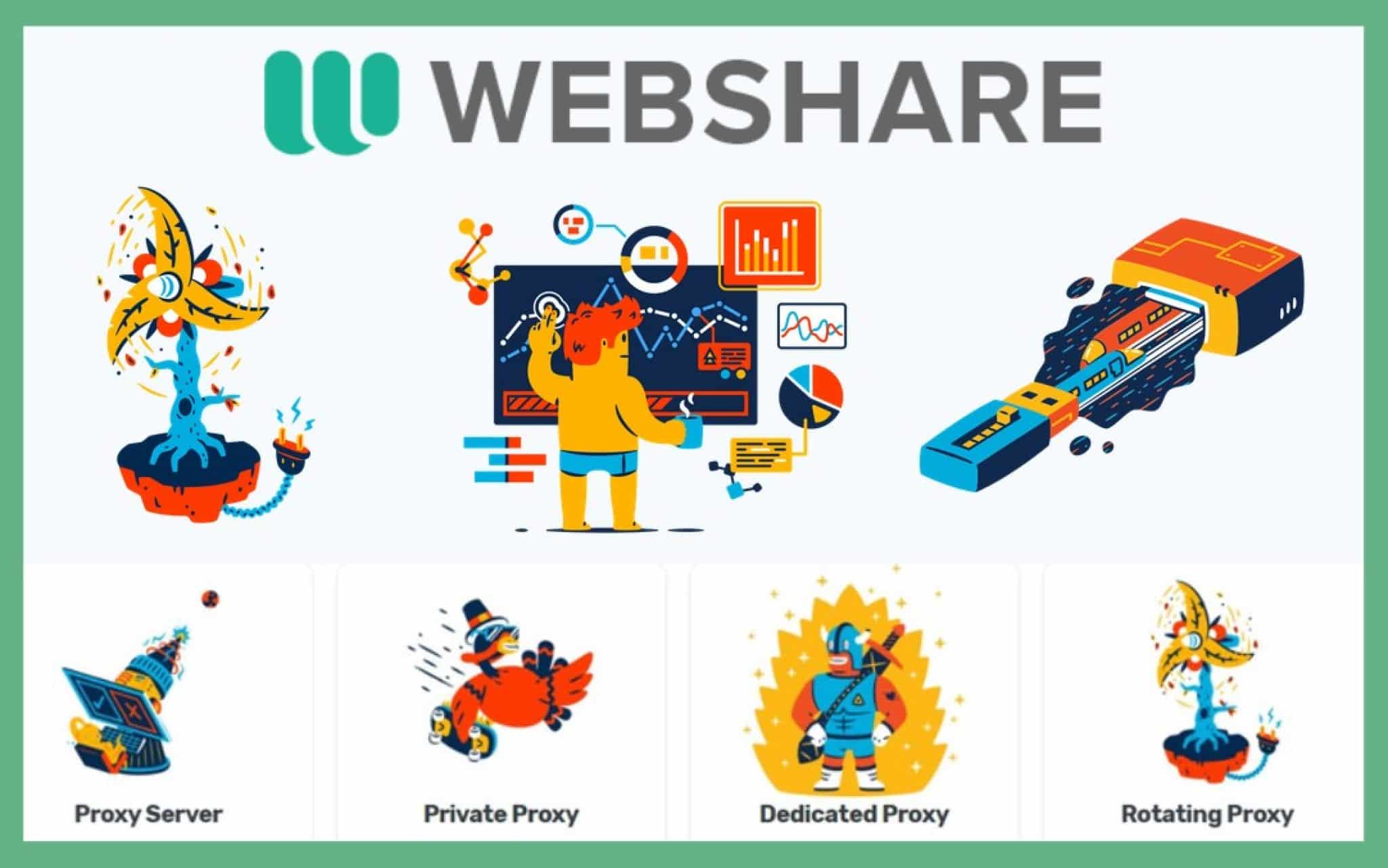 Webshare is a datacentre proxy provider on the internet which provides HTTP/HTTPs protocol proxies on very cheap rates to their customers.
Webshare is a Canada based online proxy company that surfaced the internet about 3 years ago.
This proxy service is not of the most famous services on the internet, nor do they provide exceptional proxy quality in their plans. Webshare  is more like an average proxy service whose proxies can be used for everyday usage like browsing and surfing the internet.
---
Overview
Webshare is very much aware of the quality of their website and adds constant updates to the websites and the proxies themselves. They have an up to date Website interface for their website, which is very user-friendly and easy to use. They have great customer support and have a responsive ticket based system. Overall they are more or less a good proxy selling service.
Webshare is providing the following proxy package on their website.
Webshare DetailsUser RatingUser Reviews
| | |
| --- | --- |
| Dedicated Proxy | Yes |
| HTTP/HTTPs Proxy | Yes |
| Residential Proxy | No |
| Speed | 1000 Mbps |
| Multiple Cities | Yes |
| Multiple Subnets | Yes |
| Bandwidth | Limited |
| Uptime | 99.9% |
| Non – Sequential IP's | Yes |
| Customer Support | 24/7 Live Support + Live Chat |
[/su_table]
Webshare Review
1 out of 5 stars (based on 1 review)
User Reviews
It's SCAM service. I bought 3 packages for 350$ each (with option for high concurency 2500+). After 2 days these guys reduced me threads limit and level of failed requests raised in a moment from 10% to 90%. After I requested refund they decline it explaining that everything is normal :). So, in the end I got no money and no working proxies. Be afraid of using this service.
---
Webshare  provides dual authentication methods on their proxies, which makes it easier to access proxies from anywhere and easily without any problems. Having a dual authentication method not only increases the security of your proxies but also increases the mobility of your proxies and makes it easier for you to access them from anywhere.
Upon signing up on their website, You get 1000 free proxies with a 1 GB bandwidth usage limit on these proxies that you can use. You can use these proxies for basic surfing and using the internet anonymously. However, If you wish to use more than 1GB with these proxies, You will have to upgrade your plan and pay for these higher plans to get more bandwidth limit on your proxies.
It should be noted that you will get a lot of proxies for a very little price when you're buying proxies from Webshare. This is because of two reasons. The first reason is that there is a discrete bandwidth limit related to each proxy plan, and the price increases with an increase in the bandwidth limit of these proxies. The second reason is that these proxies have flagged IP's. This means that these ips are either blocked or deemed suspicious by popular websites like Instagram, Craigslist, etc. This is also the reason why you will constantly be getting CAPTCHA's on different websites from time to time.
Webshare is providing a total of 10 locations from around the globe for their proxies. Having such a number of locations provides a wider range of choice for the customers to choose the desired location for their proxies. They have locations from the United States as well as International locations from Europe and Canada as well. The list of all of the locations provided by Webshare will be provided later in this article.
---
Webshare is a relatively new proxy selling service that surfaced the internet a few years back. Webshare provides a high number of proxies at the lowest of prices and may as well be one of the cheapest private proxy selling service currently in the market.
You can easily cop 1000 proxies for free for a whole month, and you don't even have to use a credit/debit card. Webshare may not be the best selling service on the internet, But they sure do provide a lot for a minimum price.
Following are the advantages that you will receive when using Proxies from Webshare
High Number of Proxies
If it's one thing that Webshare is known for, It is that they provide a lot of proxies. You can easily get more than a 1000 private proxies for a whole month without even paying for anything. For their higher plans, You can easily get more than 5000 proxies at a very minimum price.
Webshare also has a Rotating proxy plan which you can use. This rotating proxy changes its IP address after every HTTP request, meaning that your proxy IP never stays the same. There are hundreds and thousands of IP addresses in a single IP pool in which the proxy IP keeps changing. These rotating IP's are very good for scraping purposes.
Emerging Proxy Selling Service
When it comes to buying proxies on the internet, we always go to the services which have been in the proxy business for a long time and avoid the services which are new in the market. In some aspects, New proxy selling services may be much better than those proxy selling services which have been in the business for a long time. This is because new proxy selling services experiment with brand new features which can benefit their customer base.
New proxy selling services come up with better and efficient features which can provide a lot more benefits to their customer base. Webshare is an excellent example of an emerging proxy selling service that is surfacing the internet.
Diverse Locations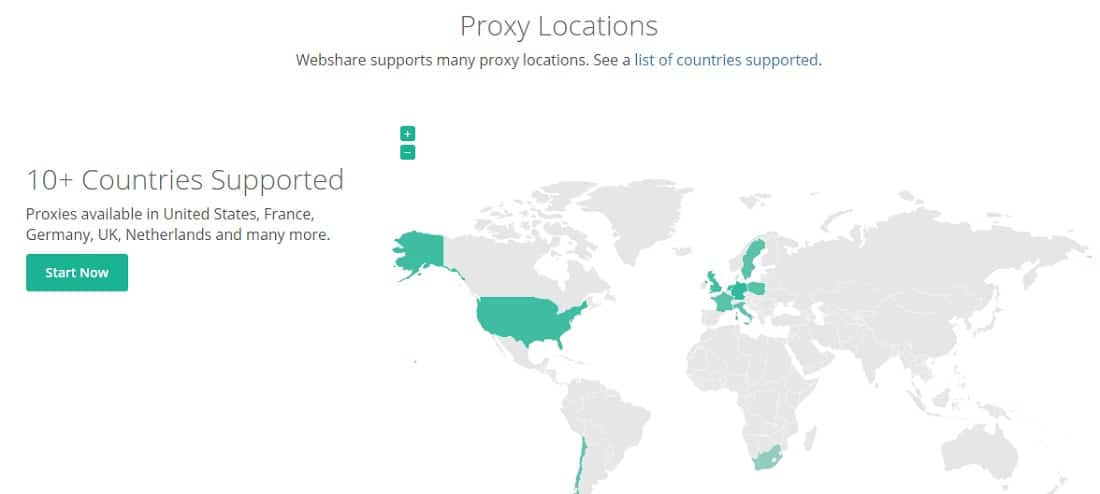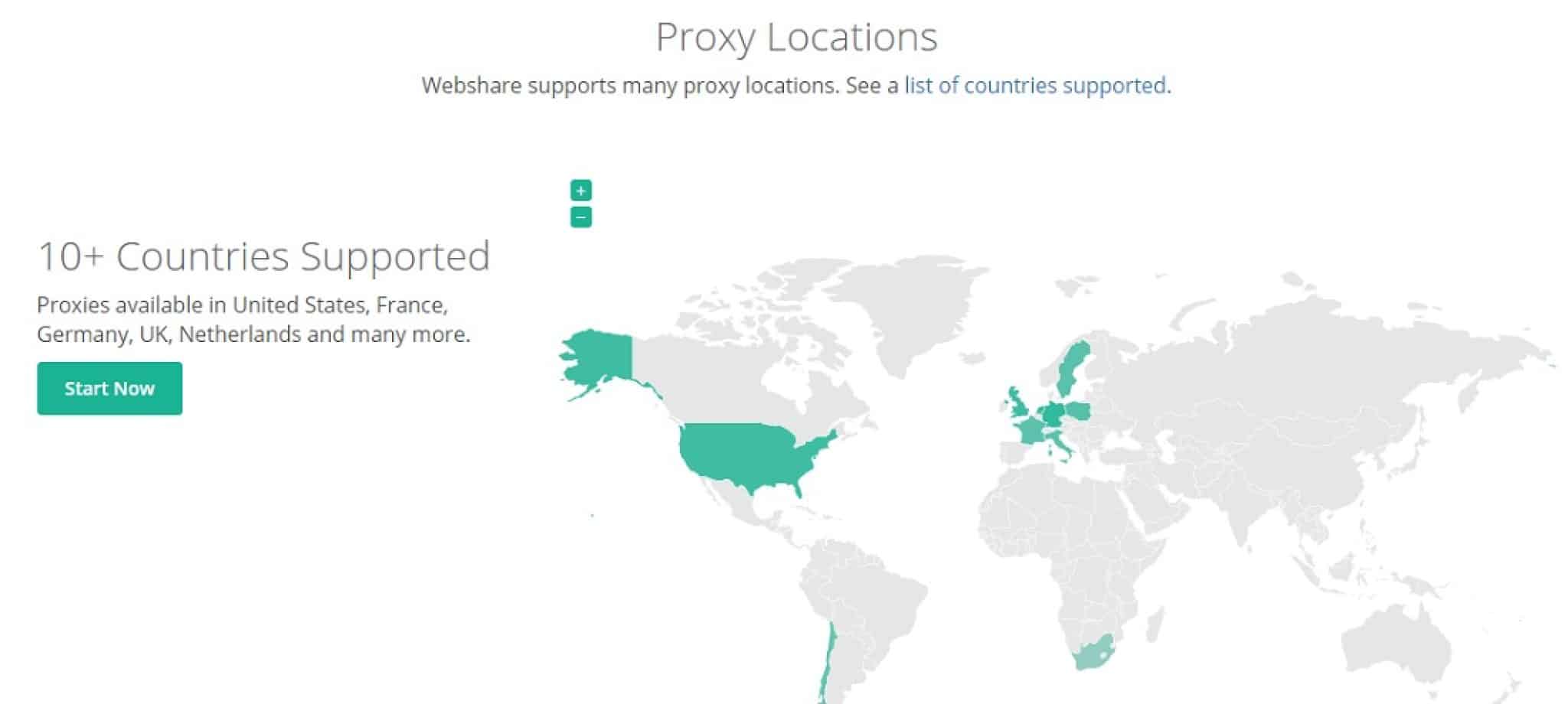 Having multiple locations to choose from is one of the most important aspects of a proxy selling service. Having a wide range of options to choose from provides the customers with a wide range of locations that they can choose for their proxies and can essentially choose the best locations which suit their needs.
Following are all the locations provided by Webshare for the proxies.
Locations
USA
Italy
Chile
South Africa
United Kingdom
Sweden
France
Germany
Poland
Rome
Proxy Authentication and IP Refreshing
Webshare is a leading proxy selling platform on the internet. Their proxies not only come with the best quality, but they provide both types of authentication methods on their proxies as well. Having both authentication method makes it easier for customers to access their proxies quickly and easily. The proxy authentication method provided by Webshare are ;
IP authentication
Username/Password Authentication
This provides you with a better approach to your proxies whilst adding mobility and flexibility as well. You can easily authenticate your proxies with either of the methods indicated above without any problem at all.
Moreover, Webshare  comes with an option to refresh your proxies every once a month. This provides you with better proxy quality and management as you can easily refresh your proxies every month with ease.
Affordable Datacentre Proxies
Webshare provides the internet with cheap and affordable datacentre proxies. They provide a large number of proxies at a very low price, which is very beneficial to the customers, which require large amounts of proxies with the minimum budget. They have different kinds of proxy plans, and the price of these plans depends on the bandwidth limit of the proxies.
Following are the proxy packages listed on their website.
Starter Plan
| | | | |
| --- | --- | --- | --- |
| Package | Bandwidth | Maximum Threads | Price / Month |
| 4000+ Proxies | 50 GB | 1000 | $4 |
| 4000+ Proxies | 250 GB | 1000 | $10 |
| 4000+ Proxies | 500 GB | 1000 | $20 |
| 4000+ Proxies | 1000 GB | 1000 | $40 |
| 4000+ Proxies | 2000 GB | 1000 | $70 |
| 4000+ Proxies | 5000 GB | 1000 | $140 |
Standard Plan
| | | | |
| --- | --- | --- | --- |
| Package | Bandwidth | Maximum Threads | Price / Month |
| 4000+ Proxies | 250 GB | 2000 | $15 |
| 4000+ Proxies |  500 GB | 2000 | $30 |
| 4000+ Proxies |  1000 GB | 2000 | $60 |
| 4000+ Proxies | 2000 GB | 2000 | $105 |
| 4000+ Proxies | 5000 GB | 2000 | $210 |
| 4000+ Proxies | 1000 GB | 2000 | $300 |
Professional Plan
| | | | |
| --- | --- | --- | --- |
| Package | Bandwidth | Maximum Threads | Price / Month |
| 4000+ Proxies | 1000 GB | 10000+ | $80 |
| 4000+ Proxies | 2000 GB | 10000+ | $140 |
| 4000+ Proxies | 5000 GB | 10000+ | $280 |
| 4000+ Proxies | 10000 GB | 10000+ | $334 |
| 4000+ Proxies | 20000 GB | 10000+ | $500 |
| 4000+ Proxies | 50000 GB | 10000+ | $834 |
Free Proxies and Customer Support
Webshare provides free proxies for a whole month which you can use to check the proxies and satisfy yourself with them . Free evaluation can give a better insight to the users who are reluctant in buying the proxies and can easily test these proxies beforehand.
Not only do they provide one of the best proxies on the internet, but their customer support is also commendable. They have a ticket support system. If you have any queries related to their website or the proxies, you can submit a ticket, and they will respond in around 10 minutes. Moreover, there is also a live chat option where you can chat with one of their customer support representatives.
---
No Refund Policy
Webshare  does not provide any type of refund policy on any of their proxies or any other product. Having a good refund policy provides an advantage to new customers as they can easily check the insights of the proxies that they are buying without any hesitation about money. Not providing a refund policy is a serious disadvantage in itself.
No specific Proxies
Webshare only provides a single type of proxies, which is Private Proxies. It does not provide shared proxies or the proxies which are specified for certain purposes like Instagram proxies, Craigslist proxies, etc. Having a separate proxy for specified purposes ensures the satisfaction of the customers and also guarantees the working of these proxies. The absence of these specific proxies is a serious downside.
Lesser Locations
Webshare is providing lesser locations as compared to other competitors on the internet. They are only providing 10 locations in total, which is a very small number when it comes to proxy locations. They should definitely be adding more locations to their proxies as it provides more convenience to the customers in having to choose the best locations for their proxies.
Limited Bandwidth
Having Unlimited bandwidth on proxies is one of the best features that a proxy can have. Webshare does not provide unlimited bandwidth on their proxy package. They have a limited amount of bandwidth after which you have to pay for the additional bandwidth that you request from Webshare.
---
Do we recommend Webshare?
Webshare is not one of the most recommended proxy selling services on the internet. Their proxy IP's are mainly flagged, which is what accounts for their ridiculously cheap rates and a large number of proxies. Proxies from Webshare are mainly good for Simple browsing and surfing. If you want to perform complex tasks with proxies, Webshare is definitely not a good choice.
---
Submit your review