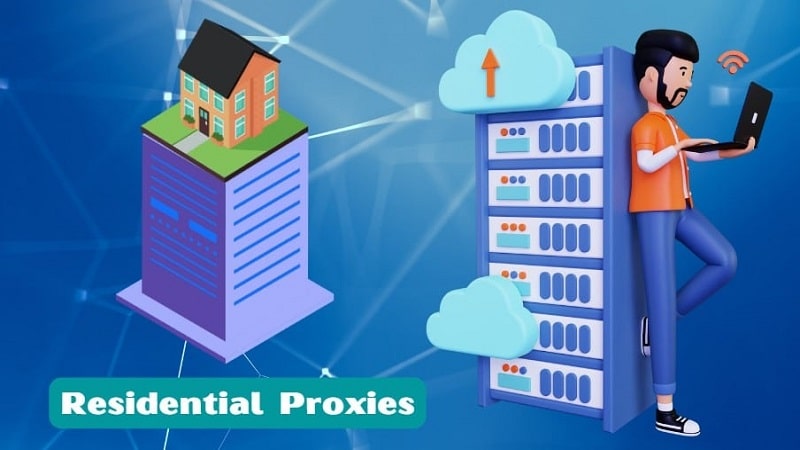 Here is a top 5 best residential proxy server list, and proxy can hide and change IP addresses, including YiLu Socks5 proxy, Smartproxy, Bright Data, NetNut, and KProxy.
Are you looking for the best proxy server in 2022?
The most common reason to use a proxy is to hide or change the IP address while browsing the website, so you will be incognito online. In this article, we will evaluate some factors(feature, convenience, support, price) to help you do the choice to access the internet safely.
---
1. YiLu Proxy  

Equipped with its own global network of residential proxies, YiLu proxy (a Socks5 proxy server) provides 90+ million rotating residential IP addresses in 200+ countries. And residential proxies are customizable, which allows you to choose from thousands of cities. And you can get 24/7 customer service if there is any trouble.
Available to select from every proxy type no matter where you're located around the world, which makes it visibly convenient for all kinds of business and personal application cases where reliability is necessary.
It has shared static IPs, dedicated static IPs, and rotating residential IPs. No matter which one you choose, they will provide you with limitless traffic, global node coverage, professional customer support, a dedicated proxy customer terminal, and it is fully compatible with the most well-known SEO, internet marketing, and website testing tools.
With YiLu proxy, you can get a random IP address of locations around the world. This gives you complete anonymity when browsing the internet. You also needn't worry about the issue of IP having been banned. So you can do web scraping, market research, ads verification, and brand protection and accomplish SEO tasks with ease.
If you want to use a cheap Socks5 proxy server, YiLu with the client version is the best choice.
---
2. Smartproxy

Smartproxy is suitable for running basic online scrapping assignments such as data collection.
Either Firefox or Google Chrome extensions are feasible. Getting started with it is extremely simple because it supplies comprehensive instructions containing almost everything you'll need to know to set up and install proxies. Best of all- you can chat online for customer support to assist you at any time.
Moreover, a different address is assigned in a minute as soon as the distributed time passed(30 minutes). It protects users from involving in abusive activity.
On the other hand, some users are unsatisfied with delaying internet speeds when using it. It is the expected result because there's no Socks5 protocol.
---
3. Bright Data

Bright Data is a famous corporation with multiple programs that can be beneficial for work.
It unlocks websites with intensified anti-crawling technologies. Besides, you gain an approach to over 70 million real-user IPs to improve its effectiveness. Only successful requests are charged as well.
Diversified options are included. First of all, it possesses a search engine crawler. Real-time data collection by scrapping multiple websites is easily available for you to get. In addition, accompanied by mobile proxies that use 3G/4G connections which are assigned to authentic mobile carriers from all over the world, it performs more perfectly.
The company furnishes a professional account manager for support. Although that sounds great, they're accessible during working hours only.
---
4. NetNut

NetNut is ideal for data collection and tough market exploration.
There is a simple control desk that is furnished with tutorials for proxies configuration. Furthermore, you can combine it with third-party software.
The supplier provides rapid connectivity, unlimited concurrent connections, and 99.9% assured uptime. Owing to 100Gbit/s bandwidth capacity, customers can enjoy extraordinary speeds and superior reliability, which makes it preferable to many similar services.
Similar to other leading providers, the company chiefly provides stable HTTP/s connections. However, mobile proxies are to be developed at present, which is its downside.
---
5. KProxy

If your budget is nervous, and you are also seeking a high-quality and reliable proxy server, KProxy may be a perfect option. It is friendly for both starters and expert users that have not so many requirements for web surfing.
It is easy to configure with a proxy. You can apply either Google Chrome or Firefox extensions. Actually, KProxy's proxy browser is readily available as well. It is substantially convenient for users.
KProxy makes contributions to offering functions. For new hands, it automatically selects a server for you. So it is not necessary to worry about unintelligibility. There are also 5 countries for you to switch to if you need, including France, Canada, and the USA.
Your location will not be exposed because of the default setting of IP leak protection. This also allows you to access blocked or restricted sites.
Occasionally, users are involved in abusive activity, which is possible to result in a ban on IPs. Subsequently, user experience would be certainly influenced. In order to avoid that incidence, you can use server management to remove affected related areas. You can separate lingering proxies from your network.
KProxy provides you unlimited bandwidth. But things are not always perfect. It is not reachable to transfer large documents because it has ultimate download/upload limits.
---
Conclusion
In the end, if you want to buy the best residential proxy server, whether for an enterprise or a person, our list will help you to choose.