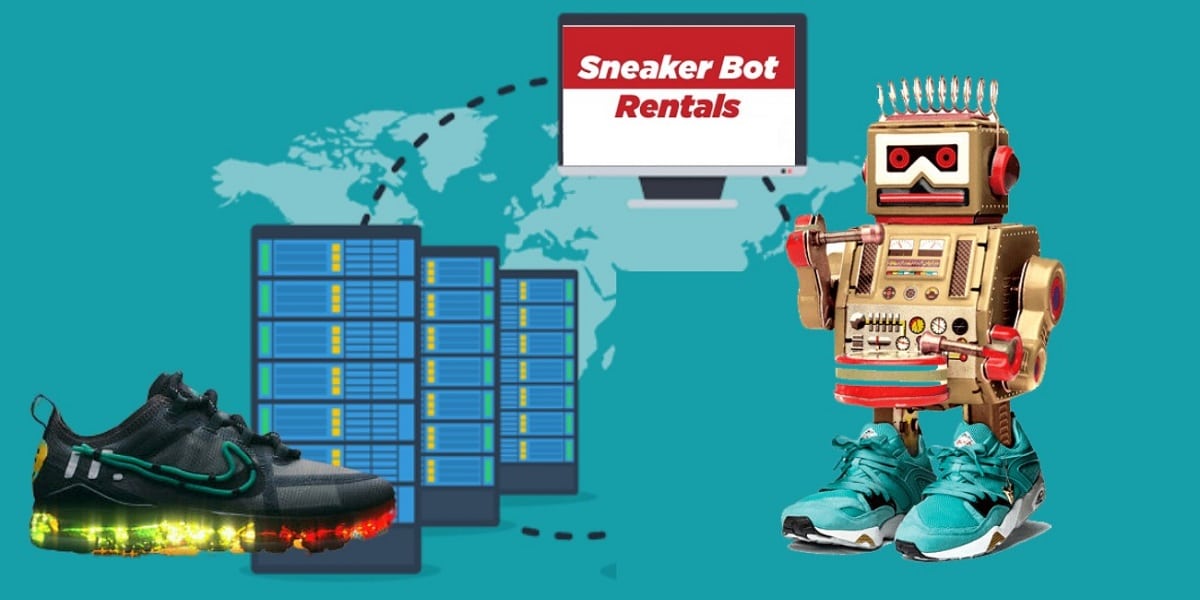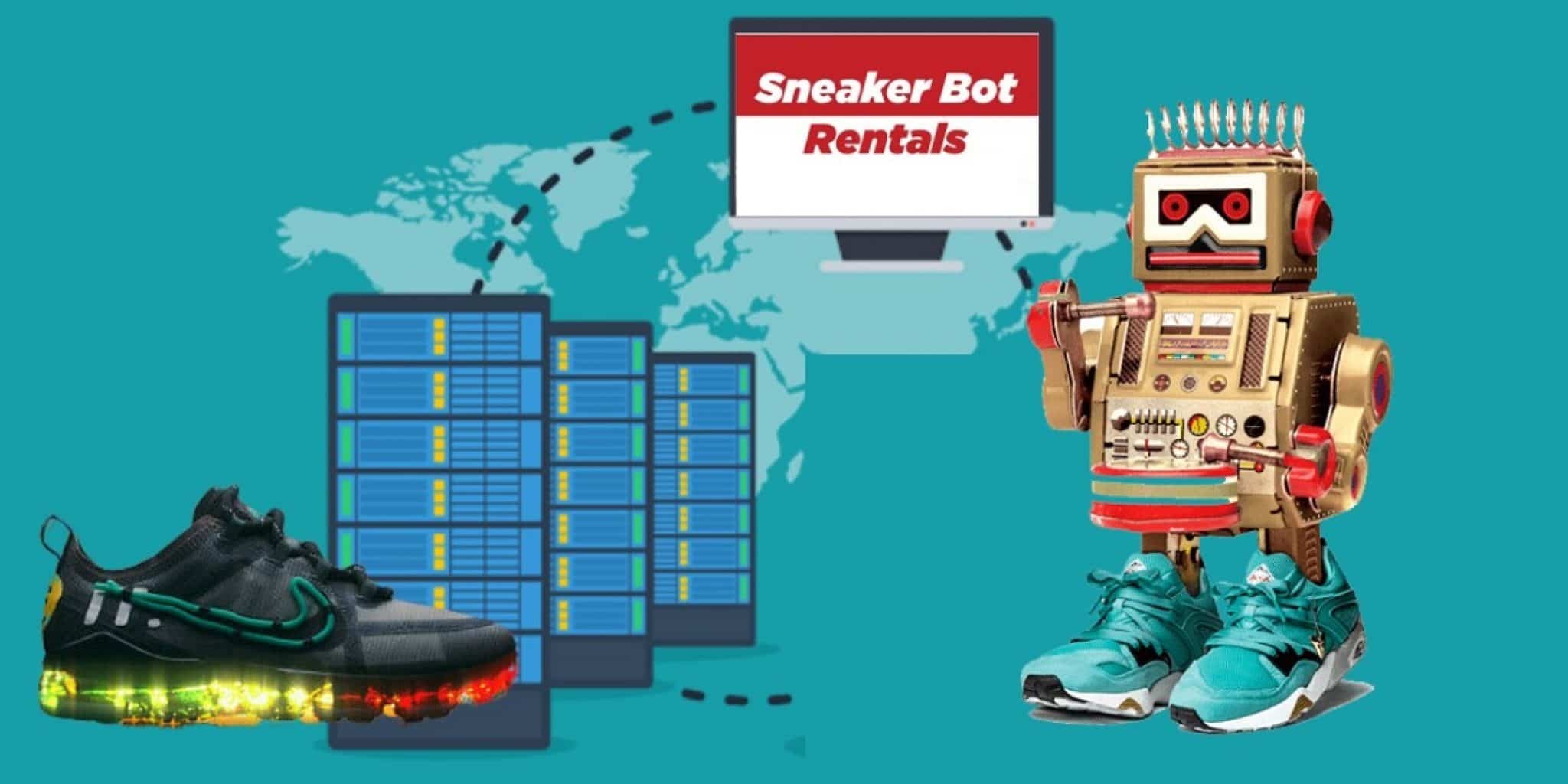 Do you want a bot, but it's always sold out? Besides waiting for restocking, you rent as well from various platforms. Our article covers the best platforms where you can get a sneaker bot for rental.
The sneaker industry thrives on sneaker bots. Everything depends on the sneaker bot, not only on reselling but also copping. At a time, your needs and budget do not go hand in hand. This is what drove us to research this topic about sneaker bot renting.  Since serious sneakerheads always tend to hit the online stores other than consignment stores in the copping game. Each step involves profit-making potential.
You are here because you need to rent a bot but don't know where to start. This is the right place for you. We will cover the best platform to rent a sneaker bot and explain why you should consider renting. Before we go to the tested and trusted platforms, let us first discuss why you should rent a bot.
Why Rental Sneaker Bot?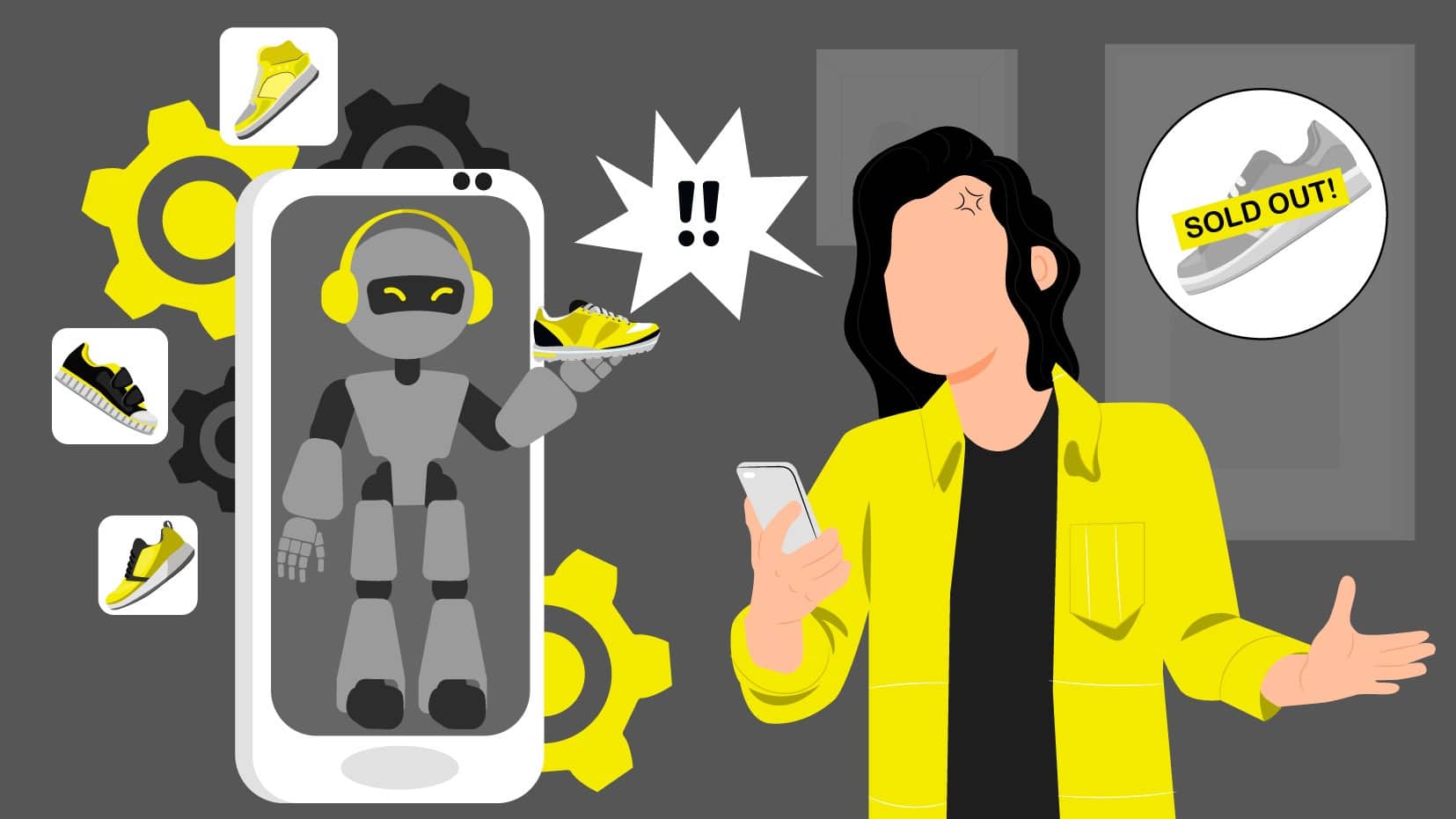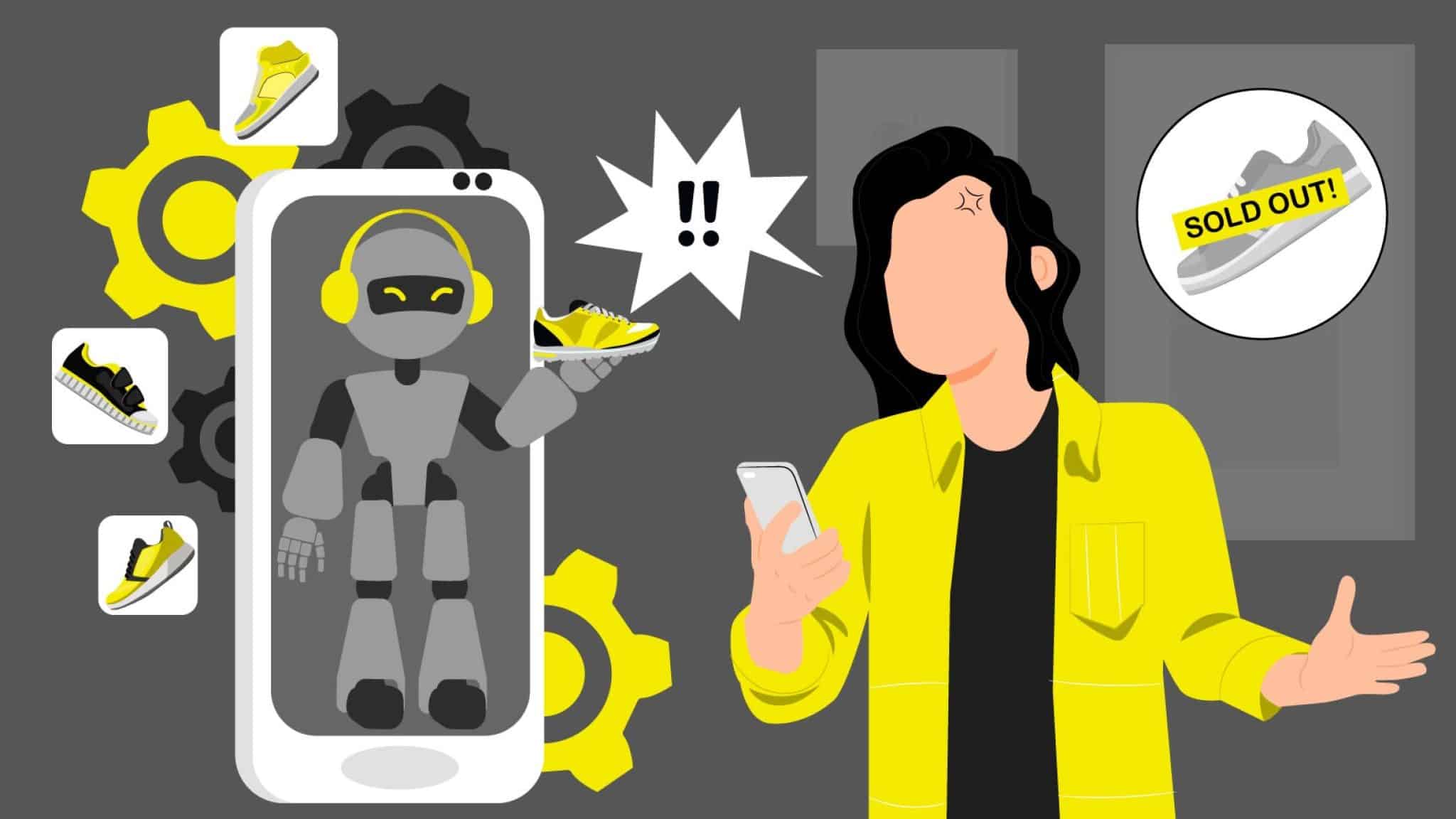 Because you are here, there is a reason why you need to rent a sneaker bot. The experts understand, and it's evident that sneaker bots are expensive but still out of stock. That could be the reason why you are here. However, there are various reasons why sneakerheads prefer renting a sneaker bot. Besides high retail prices and OOS (Out of Stock), most retailers also rent a bot intending to gain experience in the botting game at a reduced financial risk.
In summary, renting a sneaker bot that, in the long run, fails to work will never hurt you more than buying at retail price. Before deciding, you should always weigh the option and if you are still unsure, consult or research. Renting is not a complex process. The process and cost depend on the duration you need to use the bot. Before you rent a bot, consider 3 things; Never rent a bot because it is incredible. Consider its price tag, reliability, and the sites that particular bot supports.
If you want to wait for a restock, it might cost a fortune on Twitter pages. There is not enough reason to waste time waiting. These marketplaces we highly recommend, and they never disappoint by renting a  bot from them. We can now dive into details.
Best Shoe Bots Rentals Platform
Not all rental platforms are worth your search, a good number of them are full of scammers. Go for the well-known platforms to rent a sneaker bot. Never worry; we have done everything for you here.
---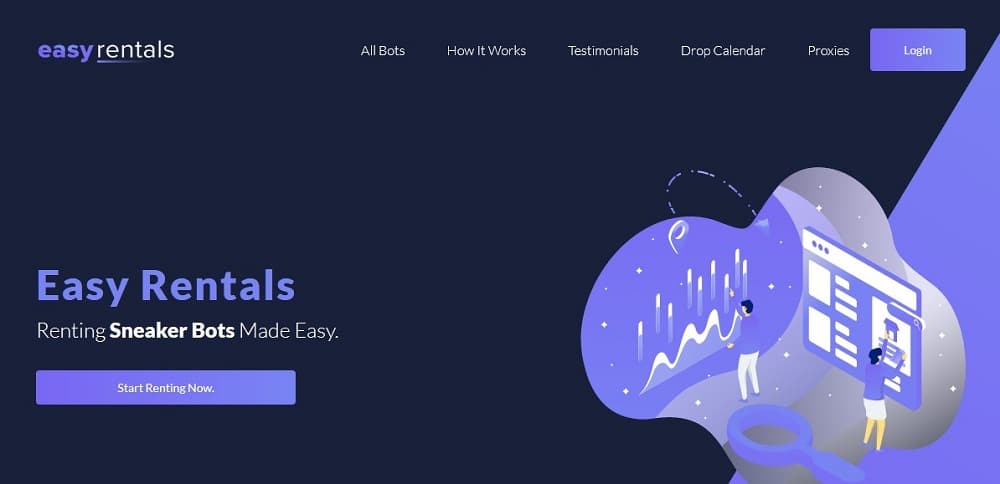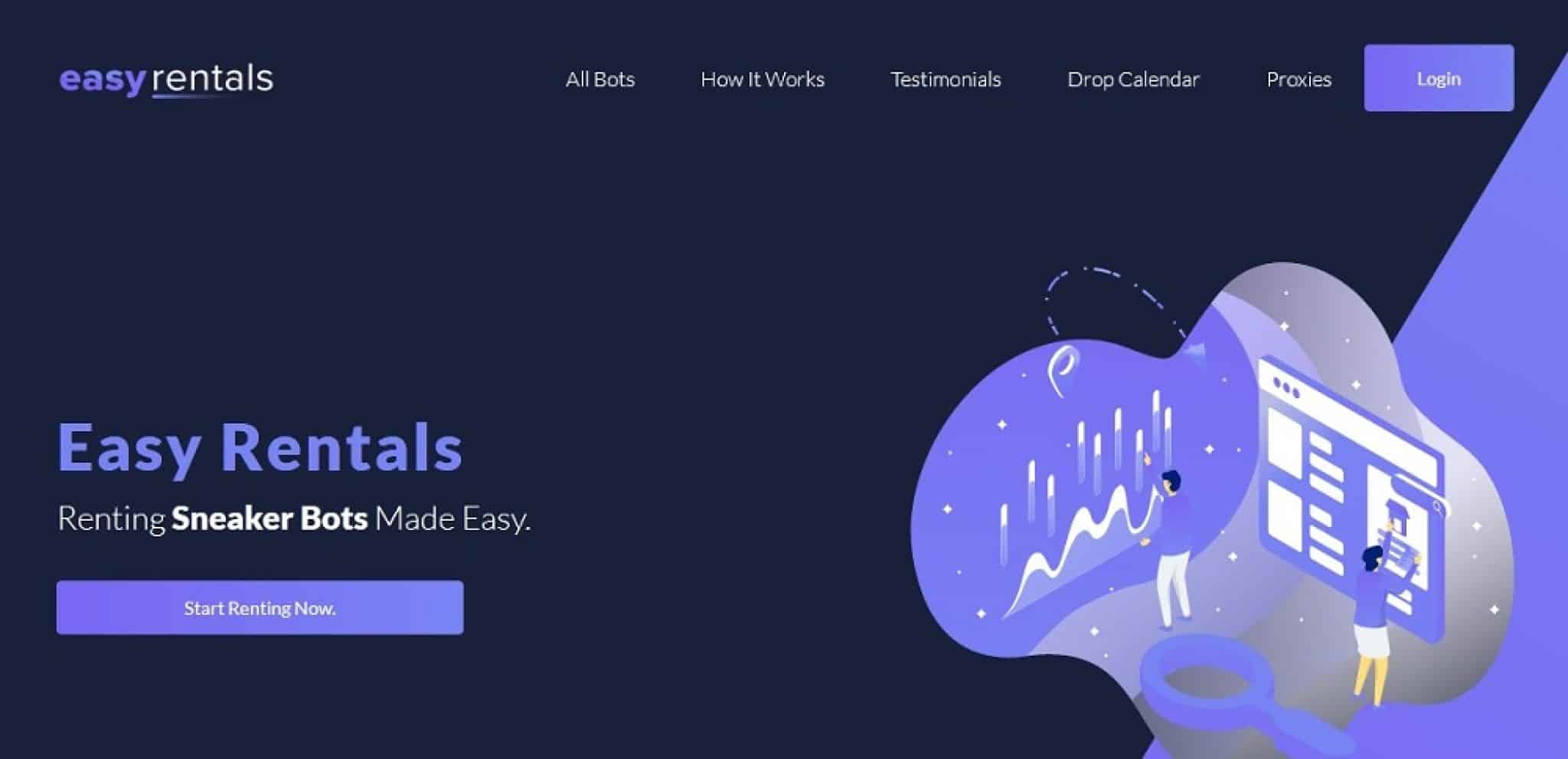 Easy rental is a good and trusted platform for renting and buying a sneaker bot without experiencing any issues. The developers made the platform easy hence convenient whether you are renting, buying, or renting out your bot. The whole process is always protected.
The easy rental has a vast number of bots available for renting. It would help if you were not left stuck while your preferred bot is OOS. Come in and enjoy using this service. When you look at the features, the website is exceptional and stands out from the rest. It's sleek.
The user can always check the time left to access the rental or view the recent rental for the sake of presenting you the price after accounting for all factors. When you want to rent out, you can also check on the prices to judge the price you should rent out your bot and decide on the period for renting out.
Besides renting and renting out bots, they also sell proxies, and drop calendars are another excellent feature. The calendar gives notification of the next release for sneakerheads to get prepared. Everything is made easy.
Their website has detailed information and has videos to help you learn more. Equally, you can follow them on their Twitter page for updates. Their pricing depends on the kind of bot and rental time.
---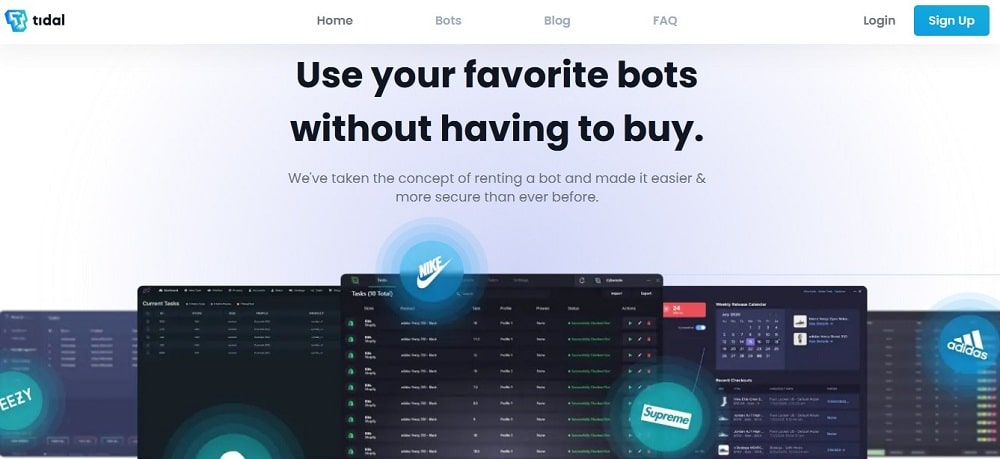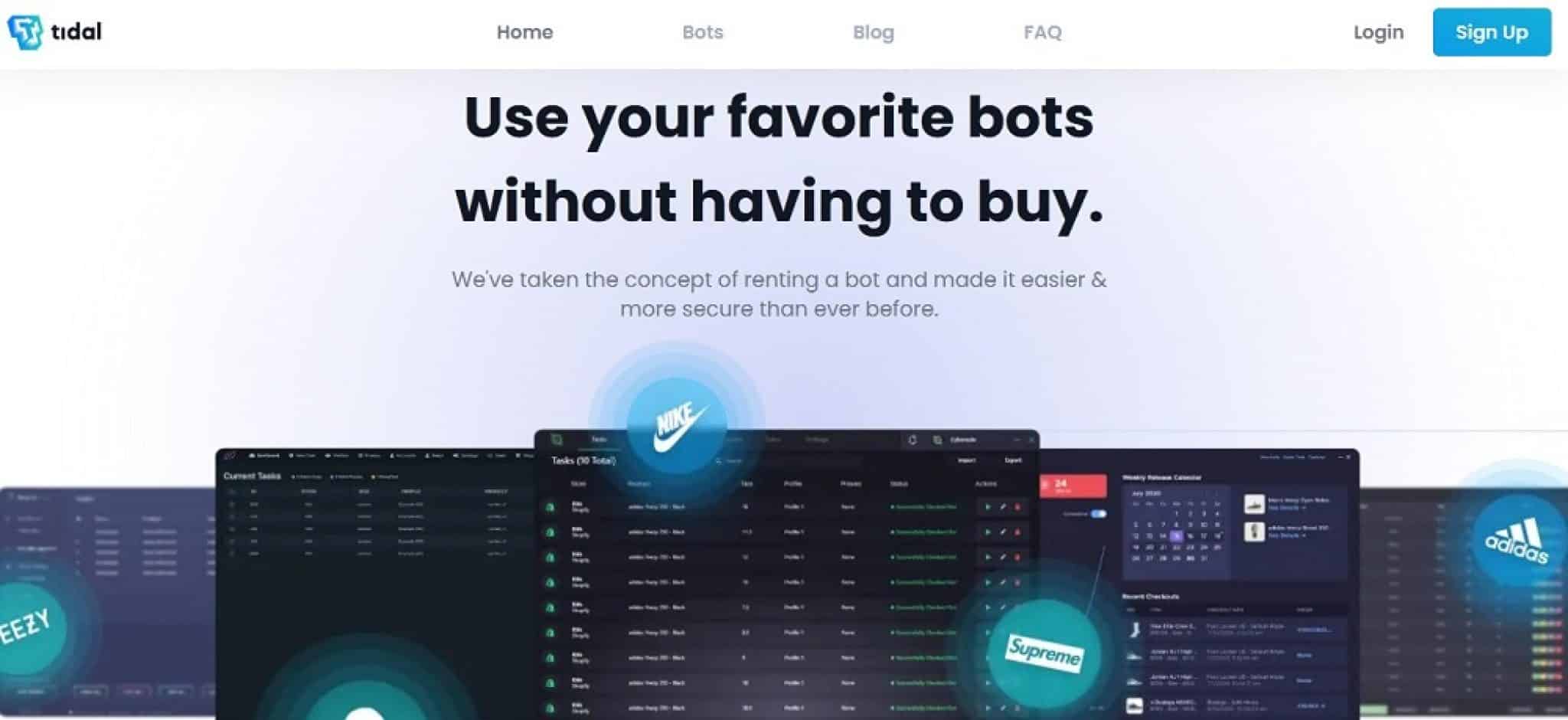 Tidal Rentals is another secure platform where you can rent a sneaker bot without purchasing the license. They made renting concept an easy task, and anyone willing can take part. They handle many transactions daily, and this has made it popular as 6he best sneaker bot platform. While they have been in operation for a long, they gained community trust.
About the sneaker bots, they have a good number for renting. You can browse through them on their website, and we are sure you will encounter bots like Balko, CyberAIO, EVEaio, Polaris, Dashe, and many more sneaker bots. The sites can expose the community to the best sneaker bots at a fraction of an aftermarket cost.
So, if you want to rent a sneaker bot, this is the best platform for you. Go check out the latest sneaker bots. The website has a detailed blog and FAQ pages to guide you on the way forward.
The service is best of the best for all the parties. This has made botting accessible and easy. But if you want to follow them for updates, reach out to their Twitter page. Like other platforms, renting price depends on two factors, the type of bot and rental time.
---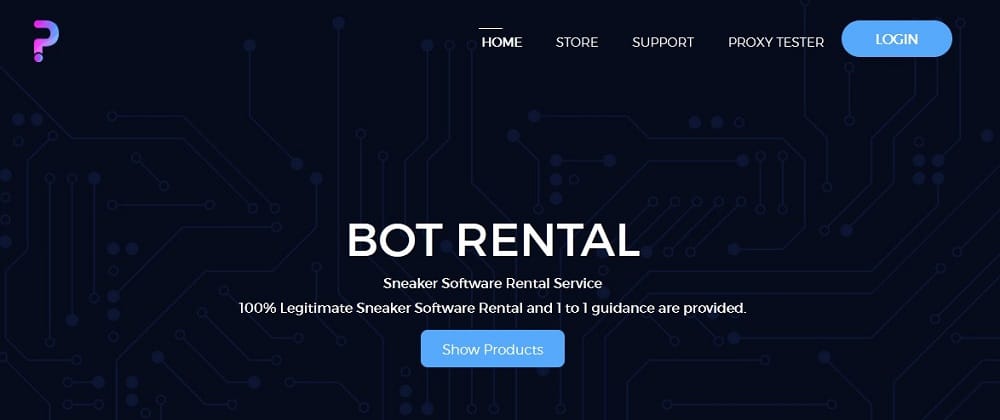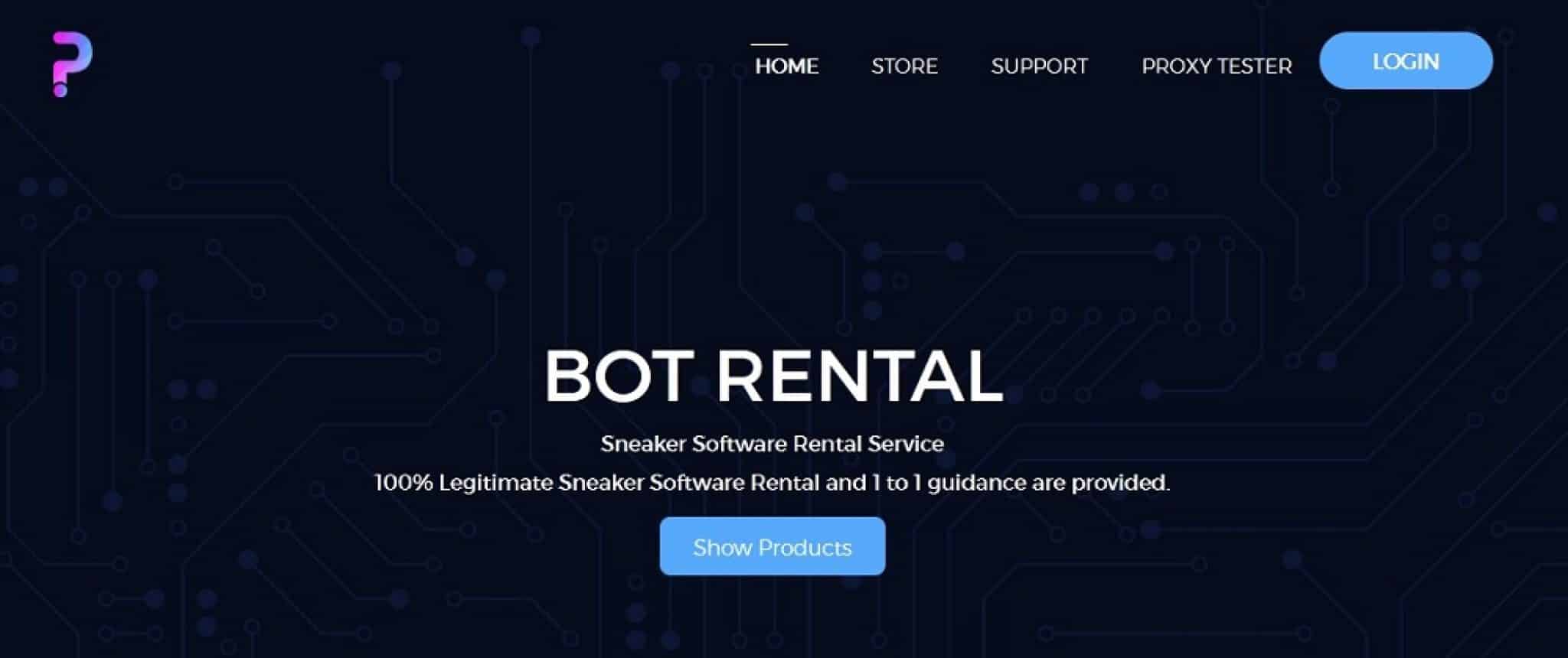 Pookyy Rental also offers sneaker bot rental services to the community. The site is legitimate, and you can gain access to the beat software while enjoying one-to-one guidance. This gives the community confidence when using the bots. Even though the site is not HTTP protected, it remains 100% legitimate.
They have a good number of bots available for renting to consumers. You can rent reputable bots to give you the best services on the botting market. But again, you also rent a small bot according to your budget, and above all, their pricing reflects accordingly. Sign up and access the sneaker bots available in the community at a cheaper cost. Never miss out on any release because of a bot; go and rent one. In terms of pricing, this site seems different. The rental price depends on the kind of proxies you purchase.
The customer service is on another level. The site is packed with detailed information, and if you are not satisfied, you can always join the discord and reach out to the community for help anytime. They have achieved a lot, and their bots support Adidas, Supreme, Shopify, footlocker, and more major sneaker stores. You can at any time follow them on their Twitter page and access daily updates.
---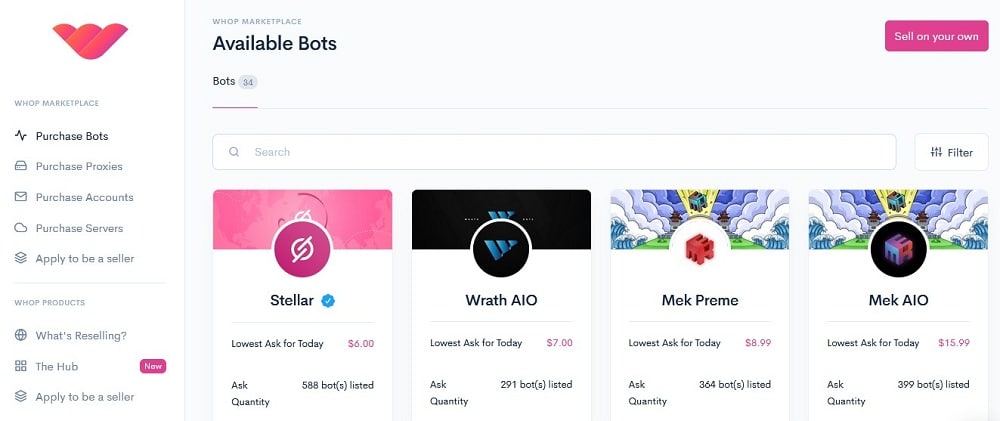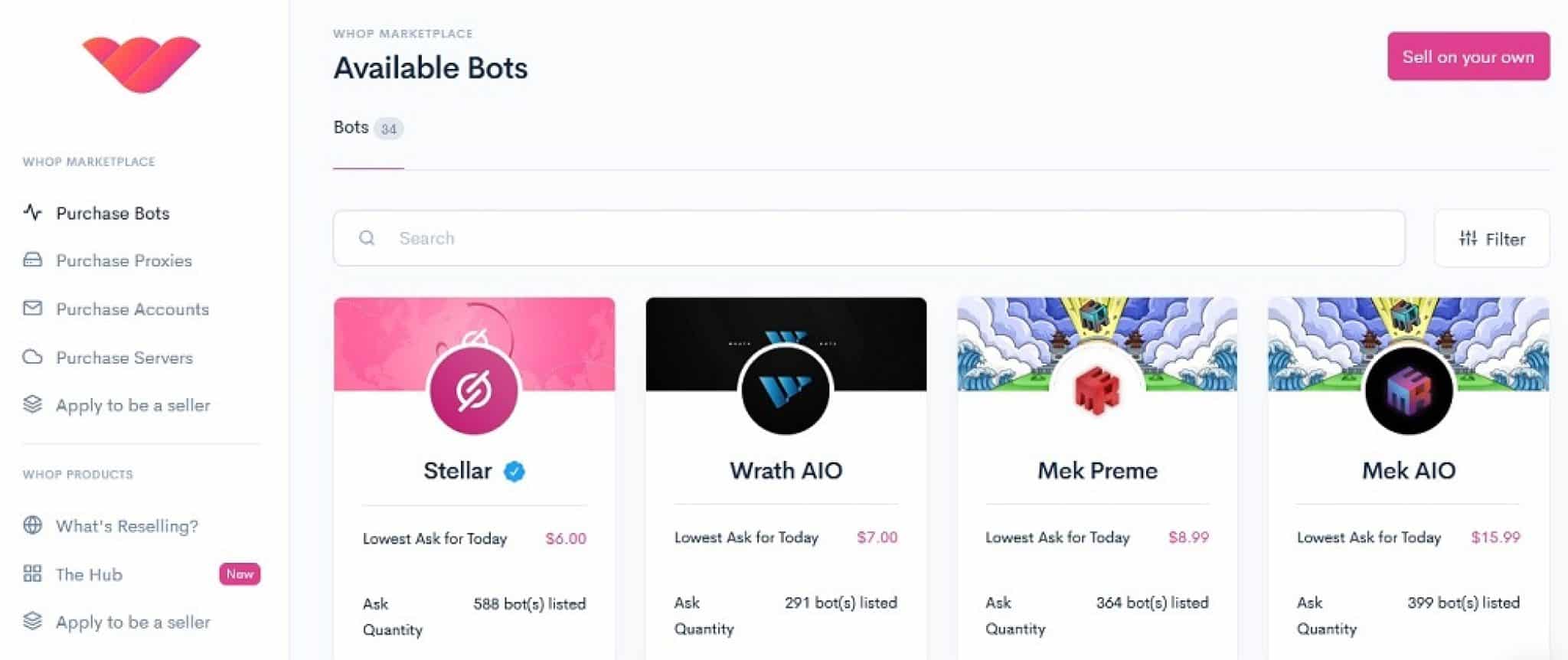 Whop is still a new platform but is becoming a guru in offering rental bots. It has come with a unique experience in sneaker bot renting. But still, you can purchase a sneaker bot at an aftermarket price. However, this is a good platform for renting a bot, and you can again rent it out for a profit.
The whop marketplace is easy to use just from the way it was designed. Simple user interface hence best for the newcomers. You can never experience any problem while navigating through the website, even though it's not protected by HTTP. This means you should be keen on your details while on this platform. You can buy, sell, or rent a bot to make extra profits with only a click through easy account switching.
Every member can see the pricing and bot available for renting to compare according to your need. That is well said, they have a release calendar for upcoming drops, and you can also see the sites each bot supports. This is important in botting. Their pricing is dependent on the wide range of the products and rental duration.
They offer good customer support with an interactive Twitter page.
---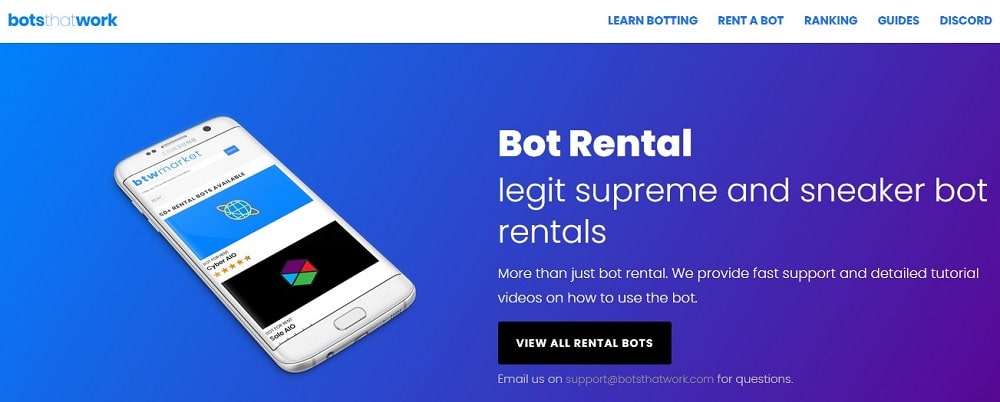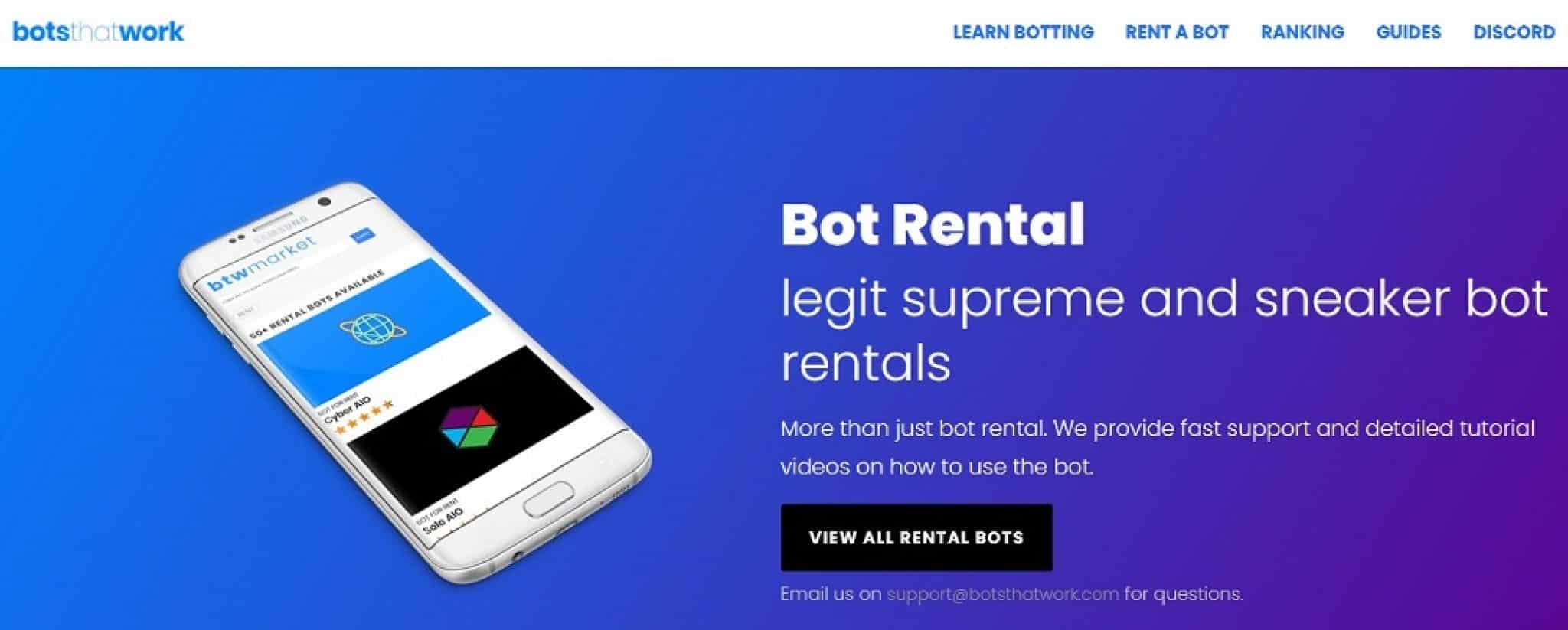 Last but not least on our list is the BotsThatWork platform. Though it is still new,  it is worth trusting and secure. They do rent not only sneaker bots but also sell legit supreme. While the available robots are not much,  they are constantly expanding their sneaker bots inventory. We hope in the future, if not soon, it will be the leading sneaker bot rental marketplace. They put their customers first by providing fast support services with detailed tutorials about using the bots.
Since they are aggressively building on their collections, you should regularly check for new bots for rental updates. Aside, they still have a good stock, and you can rent at a considerable and friendly price. We can attest that the site is reliable, and security should not be a concern.
They make botting easier when others overprice or stress you. Their price is indirectly proportional to the rental duration. That is, the more weeks you rent a sneaker bot, the lower the price. Enjoy bot rental at its finest. Although they are still expanding, the site is full of information enough to get you started.
---
6

Other Smaller Sneaker Rental Platforms


Because you are convinced that the best way to access a sneaker bot is by renting out of stock, many platforms exist. However, the trusted sites might be experiencing shortages of sneaker bot renting. When the demand is high with short supply, you should also try unofficial channels like Twitter pages, e.g., CopWrld, Sneaker Bot Rentals, Reddit, or a community in discord.
Most of the transactions also take place on these smaller platforms. However, there are huge risks with high chances of being scammed. Sneaker bot rentals is another unique platform that anyone can rent or lease their bot for a particular period. You can access bots like Supreme, project destroyer, CyberAIO, etc.
Conclusion
Renting a sneaker bot could be the only option when the bots are out of stock on the retail market. Many sneakerheads prefer renting for different reasons, which is good. Therefore, there are many platforms where you can rent a sneaker bot. And the process is straightforward.
Although most sites are secure and trusted, there are others full of scammers. It would be best if you only looked for trusted platforms to evade scammers. The above marketplaces have the best and affordable pricing rate with an extensive collection of sneaker bots. Head over to one, if not smaller unofficial platforms, and rent a sneaker bot today. They all guarantee you the best, legit and secured services.