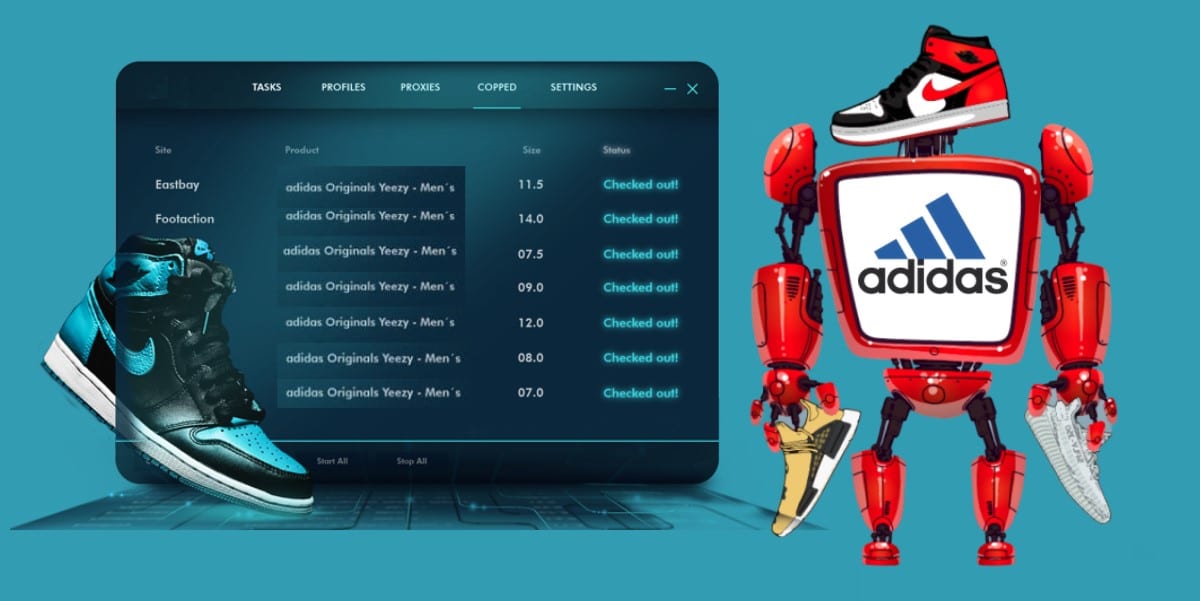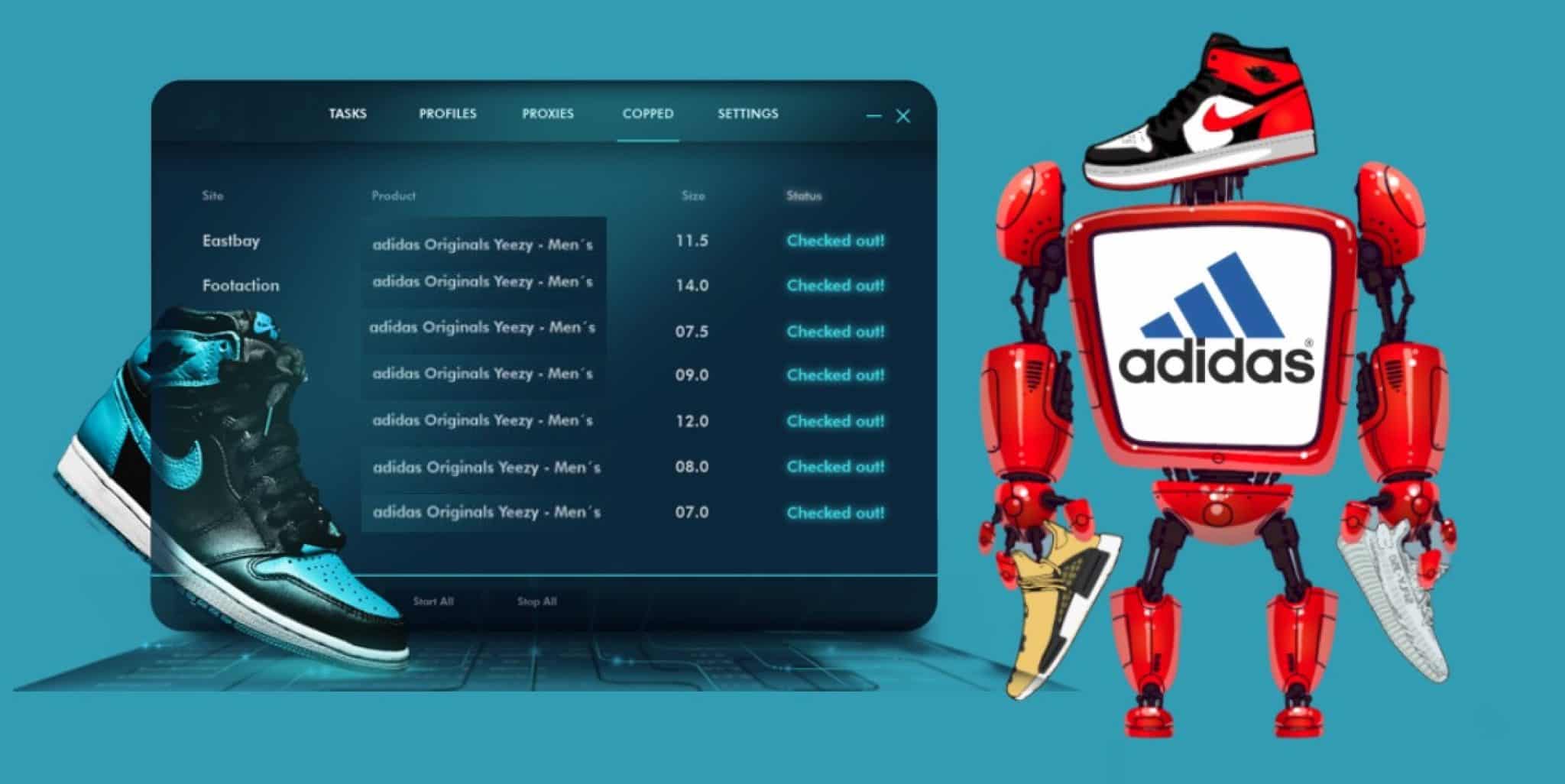 Do you want to get your hands on the latest Adidas releases? Why not try any of these sneaker bots! You can use them to get Adidas sneakers that you can resell for profit.
Many people normally decide to speed up their checkout so that they can get more commodities than others. This is with simple bot automation, simulated clicks, and auto-filled payment forms. Retailers and eCommerce platforms are working hard to mitigate these sneaker bots.
The technology identifies the bot activity before the checkout process has been completed.  It also allows merchants to customize their checkout experience. Additionally, the Google Re-captcha in most platforms helps to identify bots that are being used. Sneaker bots are a big business as many people earn profit by reselling the latest released sneakers.
10 Best Adidas Bots in 2023
This is one of the best sneaker bots that you use to get Adidas sneakers. The beauty of this is that it can work on most Mac and Windows machines. This allows you to use the platform that is most convenient for you. It has over 200,000 user checkouts and can be used by many online retailers.
Moreover, it features many powerful techniques to ensure that you get the best benefits. It can be used on Shopify, Supreme, EU footsites, US footsites, finishline, Adidas, and much more. All the KodaAIO users have access to the online dashboard that contains a wide variety of features. KodaiAIO restocks once a month, and you can get updates on their Twitter account. It is powerful enough to bypass any sneaker limit available on Adidas.
---
This Project destroyer bot features a waterfall monitor to ensure you get the best services when using the sneaker bot. Custom shipping rates that are affordable for everyone.
Moreover, it features a new captcha harvesting logic to ensure you can track all the activities. It also features mass task editing, proxy delay switch, and account login groups. The bot developers keep updating it to ensure it goes with the current trends. It supports a wide variety of sites like Shopify, Adidas, Yeezy, Supreme, Palace,kith, and much more.
---
This is one of the best bots that you can use to get the Adidas limited sneakers. It was founded in 2018 and has tried its best to reach the top. Balkobot features a lot of success stories across all the supported stores and platforms.
The balkobot retails at $200 with different renewal types. Whenever they restock, they always announce it on their Twitter social media handle. It supports Adidas, Shopify, Supreme, Footsites, and Off-White. It has a wide variety of features that range from detailed analytics, customer purchase history, and segregated captcha harvesters. You can decide to enable or disable the solvers.
On the analytics page, the user can see an overview of the successful checkouts and an illustrative graph. On the settings page, one can configure a lot of things for the bot. Moreover, balkobot allows you to add a wide variety of accounts that you can use with your tasks.
---
To use NSB simply, setup your NSB account, and add your billing & shipping details. Remember, to follow all the instructions and when the release drops, click on start.
After all, is done, check your email for order confirmation. Moreover, it is easy to use and install. In the email, you will get the best instructions on downloading, installing, testing, and using the bot when the sneakers are released. It also has a great support system. You can use this bot on Shopify, Adidas, YeezySupply, Supreme, Nike, EastBay, and much more.
---
Major releases sell out in minutes, but the AIO bot is thousands of times faster than any human. This bot has helped sneakerheads to cop over 300,000+ hyped items at retail.
In this sneaker bot, you add your billing and shipping information. After that, it lets you create unlimited profiles. Hence, on the Adidas site, you can use the various accounts to cop as many shoes as you can.
You can use it on over200 + sites that include Adidas, Footsites, Yeezy Supply, and much more. When the sneakers drop, you can start your tasks. It is super-fast, uses multi-threading technology, supports 100 tasks, monitors the target platform, and notifies you when there is a restock. It also features proxy support to prevent any kind of geo-restriction and works on Windows and Mac. AIO Bot features a multi-captcha solver to ensure you bypass all the captchas.
---
It features two bots, the Mekpreme and Mekaio. The Mekpreme is a checkout automation software built with utmost efficiency and user simplicity. You can use it for 6 months including the discord service.  It can be used on Windows and Mac.
The other bot is the Mekaio, which is a fully designed checkout automation software. It is built with utmost efficiency and user simplicity in mind. It can be used on Shopify, Adidas, Footsites, and YS platforms.
---
The application can accommodate different setup types. This can be when you are managing servers or running on your computer. The platform supports, Yeezy, Supreme, Finish Line, EasyBay, Adidas, Best buy, and much more.
You can carry out a wide variety of tasks at the same time. It also supports real-time notifications, native analytics, and much more. Moreover, it has an easy-to-use user interface.
---
This is another sneaker bot that supports some of the largest retailers. With 5 years in the industry,you can secure limited items at ease. It allows you to perform a wide variety of tasks at the same time. The most intense setups are also effortlessly handled. Additionally, the system supports restock monitoring to notify you whenever Adidas and other platforms restock.
You will be able to cop easily. The customer support is also extra reliable to ensure all your needs are catered to.In the dashboard, you can view and manage all the created tasks. This is from the advanced tasks creator to optimizing the setup as you wish. You can use the proxies to get the best user experience.
---
Adept bot allows you to get sneakers as they are released. The advantage of this bot is that it has rapid checkout speeds, provides proxy support, a mobile app, restock mode, a captcha solver, and great customer support.  You can use it to manage a wide variety of tasks, solve captchas, review checkouts, and get instant notifications. It supports Adidas, Supreme, Yeezy, Shopify, and much more.
---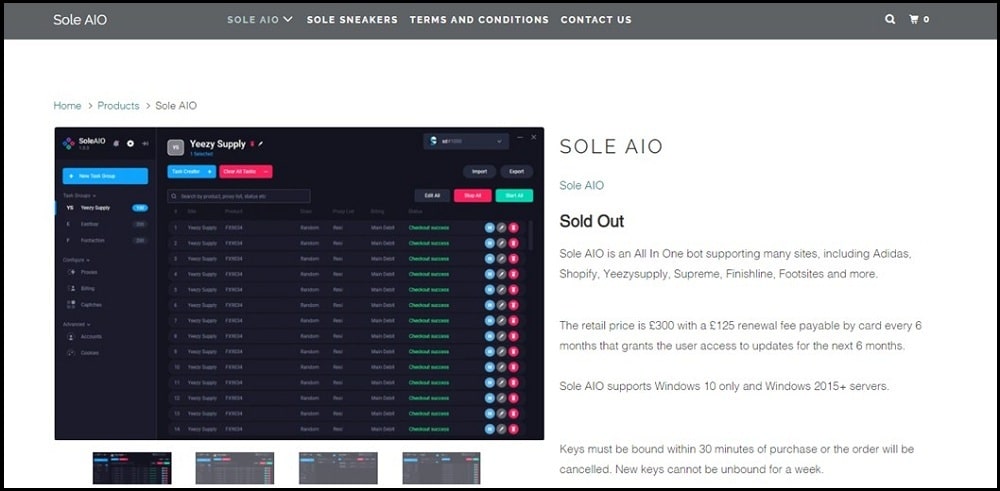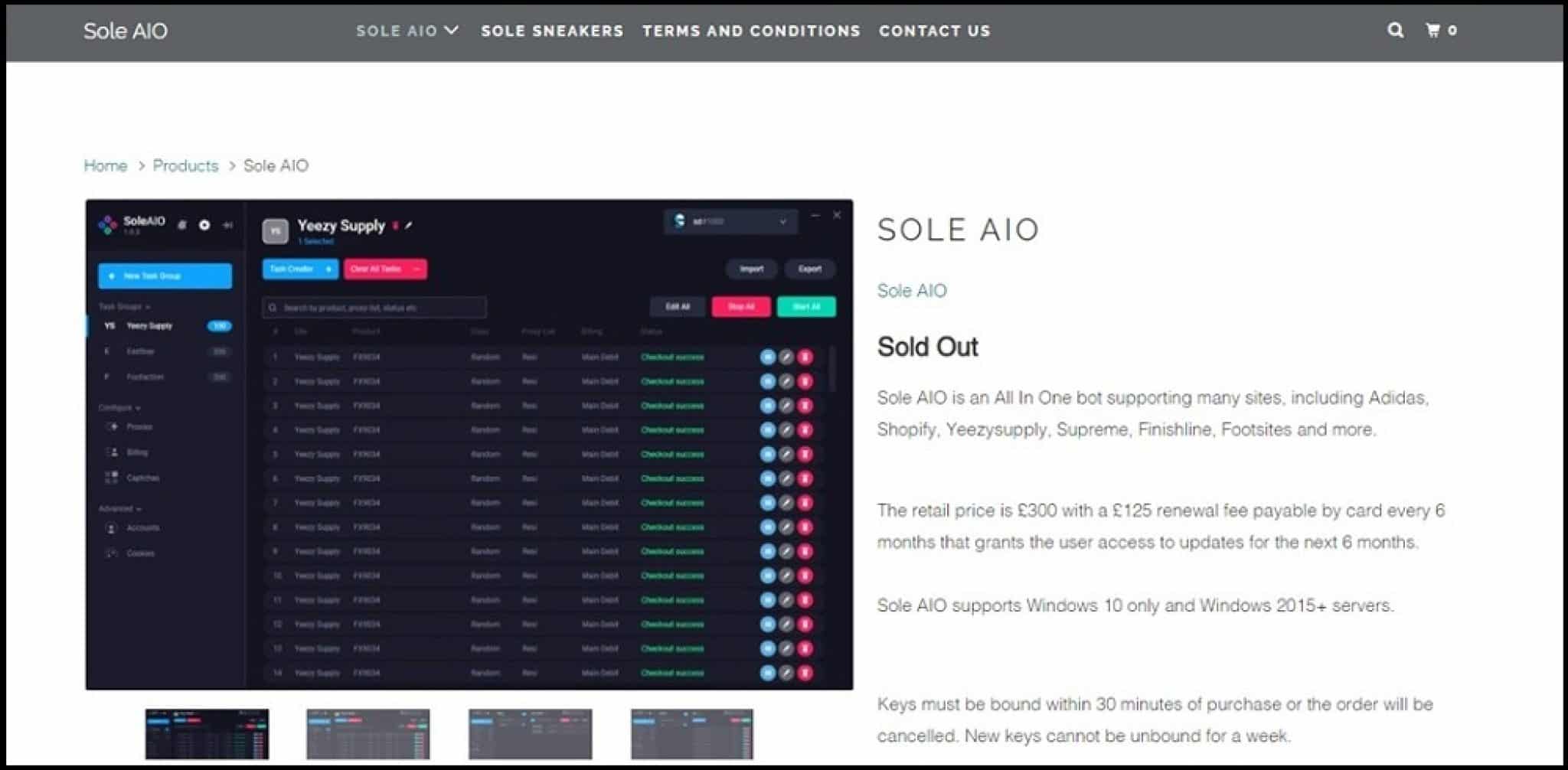 This sneaker bot supports Adidas, Shopify, Yeezy Supply, Supreme, Footsites, and much more. The retail price normally ranges at £300 with a £125 renewal fee that can be paid after every 6 months. However, it only supports Windows 10 and Windows 2015 + servers.
The keys must also be bound within 30mins of purchase from the time the order was made or it will be canceled. However, new keys can't be unbound for a week. The keys will also need to be renewed within 1 month after expiry or they will be removed. Ultimately, it will help you to get limited sneaker releases.
Conclusion
Most sneaker bots are illegal as they go against most site's terms and conditions. Sneakerbots affect businesses by making a missed connection with true customers, lost business intelligence, damaged brand reputation, and much more.
However, you can still use them legally to get Adidas sneaker releases to add to your shop. However, try not to overprice to let the customers get the sneakers at a good price.